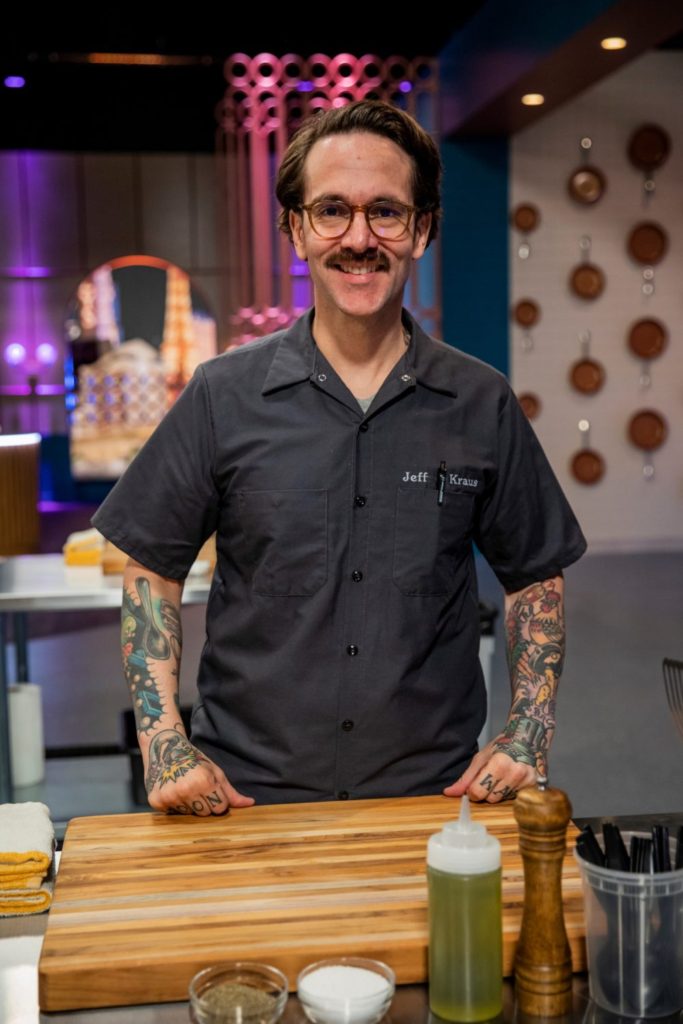 Food Network's newest series Vegas Chef Prizefight is making a culinary dream come true for one chef. Competing to be named Head Chef at a brand new $10 million restaurant at the Flamingo in Las Vegas, contestants will make their rounds at a different restaurant within the Caesars Entertainment empire, taking over a busy dinner service for the night and proving they have what it takes. Among the eight chefs competing for the big title is Tempe's own Jeff Kraus of Crêpe Bar. We caught up with Kraus to learn more about his experience during the biggest interview ever and how his prior time competing on Chopped helped him this time around.
The six-episode series is hosted by Anne Burrell along with restaurant expert Scott Conant and Regional President of Caesars Entertainment Eileen Moore. Catch Vegas Chef Prizefight every Thursday at 10 p.m.
What was it like to be handpicked for this amazing opportunity?
It was exciting and a surprise. I've never won the lottery but I felt like I won the lottery. It's really hard to describe because the interview process was really long. They handpicked some really great people and just to be amongst the group is an honor. I won't forget the phone call. It happened on my mom's birthday, so it almost felt like a gift. It was pretty special.
I know Crêpe Bar is a breakfast and lunch outlet and this competition seemed to be centered around dinner service. Did you do anything to prepare yourself for that change?
I've done a lot of pop-ups and collaborations around the Valley so dinner for me is in my wheelhouse. I'm classically trained as a chef and there's such a hybrid between what we do at Crêpe Bar and what fine dining restaurants do. It's all based around the Michelin and James Beard standards. I didn't think there was going to be another breakfast chef coming into this competition so to be honest, I thought I had an advantage because I'm the first one up in the morning anyway.
What were some of the biggest challenges you faced while leading a busy dinner service at some of Vegas' top restaurants?
It's just like any other service. I went into this with the mindset that there was nothing that was going to stop me. I took what I learned from Chopped and went into it saying I was going to be the best version of myself. It didn't matter who was around or who was going to eat or judge my food. It was my opportunity to create an experience that every day I try to create.
Was there anything about the Vegas dining scene that surprised you?
Yes. I'm pretty sensitive to my surroundings. I thought it could potentially be a challenge because I'm outside of a comfortable environment since it's nonstop busy. But I started doing some research before we got in there and realized Vegas is a hotspot for up-and-coming chefs, OG chefs and definitely a destination, not what I expected. The food scene there is exciting.
I know you mentioned earlier about being the only breakfast chef. Do you think being one of the only chefs from the southwest set you apart at all?
I think I acclimated to the weather better and I was in the same time zone. But I'm originally from St. Louis, Missouri, I went to culinary school in Chicago and I've lived in Baltimore. I kind of felt like I had an advantage a little bit though because it was in my neck of the woods. I understood the season, ingredients and temperature a little bit better.
Is there anything you learned from this experience that you'll bring back to Crêpe Bar with you?
I came back with a whole nother level of focus and determination to create something that was going to set me, my staff, south Tempe and its food culture apart. I can't even describe that experience. When I knew I was competing to be an executive chef for a $10 million restaurant, I didn't think I was going to be able to level up my intensity and focus but I did and I'm bringing it back to Tempe and the Phoenix food culture. There's a lot of opportunities here so I want to be ahead of that game and trailhead that.
Do you think your experience on Chopped helped you at all?
It did. These shows are smart. They're casting the best of the best. We all know how to cook and it's what you do in those environments that nobody really sees. What I wasn't prepared for was the craziness that goes into the production of the show and I took my failure [on Chopped], which was one of my greatest successes, and took it with me to Vegas. I just wanted to focus on making my team proud and myself proud. That's what I took from Chopped; don't let everything that I can't control get in my way.
From your own personal experience, what are three words to describe your experience on the show?
Forever lasting memory. That doesn't quite represent it though! It was scary, inspiring, challenging, beautiful, motivating, fun, exciting. —Interview by Suzanne Koch