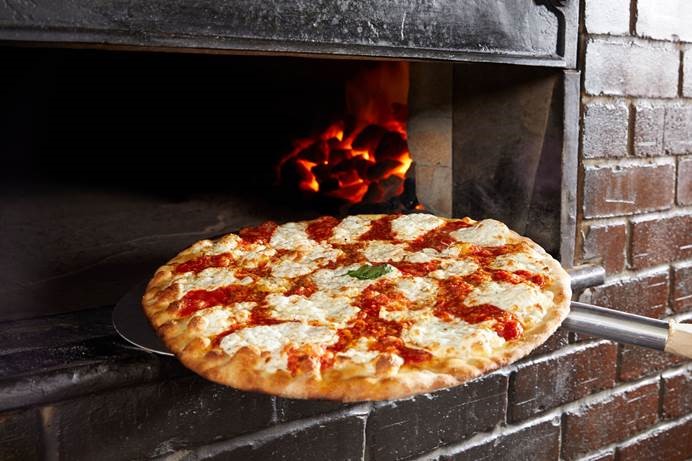 Foodie news roundup for the week of April 15.
Just in time for its 20th anniversary, Scottsdale-based Jalapeno Inferno is expanding to Peoria, launching its third location by late fall in the Park West outdoor shopping complex at 99th and Northern Avenues. The Mexican restaurant joins two other outposts in North Scottsdale. The restaurant will offer authentic fare like street corn, ceviche and tomatillo chicken enchiladas, plus elaborate margaritas.
Hop in to The Screamery ice cream parlor in Phoenix on Easter Sunday and enjoy a special $5 ice cream sundae all day long. (Regular price for an ice cream sundae is $7.50.)
Monday, April 22, is Earth Day. To celebrate, Grimaldi's Pizzeria (pictured) will be offering a 16-in. traditional cheese pizza at a nice round price – only $10. Dine-in or to-go only. Plus, in honor of Teacher Appreciation Week, Grimaldi's Pizzeria will award 45 lucky teachers with a pizza party. One winner will be selected from the neighborhood around each pizzeria. Teachers must be nominated by an adult by filling out a form on grimaldispizzeria.com/teachers explaining why their teacher deserves a pizza party.  Nominations will be taken April 22 through May 10. Must be 18 or older to participate.
Tocaya Organica will partner with Bird scooters in honor of Earth Day to offer 10 percent off checks for Tocaya guests (available at Kierland Commons location) who Bird or use alternate forms of transportation (like walking, running, biking, mass transit) on Monday, April 22. All Tocaya guests have to do is take one of these forms of transportation and say "Happy Earth Day!" to the cashier to redeem this offer. BIRD is also gifting Tocaya guests $5 in ride credit to celebrate Earth Day on April 22. Users can go into the BIRD app and enter "TOCAYA" as a promo code in the payment section to activate.
Juby True is also getting in on the Earth Month celebrations. Now through April 31, Juby True guests can toast to a greener Arizona with a green juice. Juby True will donate 5 percent of total sales from all green juices purchased during the month of April to the Arizona Sustainability Alliance (AZSA). AZSA's mission is to create and sustain cutting-edge, project-based sustainability solutions in Arizona.
On Saturday, April 27, guests can enjoy a special meal at Tres Restaurant in Tempe in honor of National Prime Rib Day. Diners can enjoy a bone-in prime rib for two in a port wine sauce served with dauphinoise potatoes, grilled broccolini and salsa criolla for $54. Plus, Keeler Hospitality Group restaurants, including Keeler's Neighborhood Steakhouse in Carefree and Liberty Station American Tavern and Smokehouse with two locations in North Scottsdale, are celebrating National Prime Rib Day as well. At any of the restaurants, guests can enjoy the "Prime and Wine" Special, including a 10-oz. prime rib, choice of two sides, dessert and a glass of house wine for $45 per person.