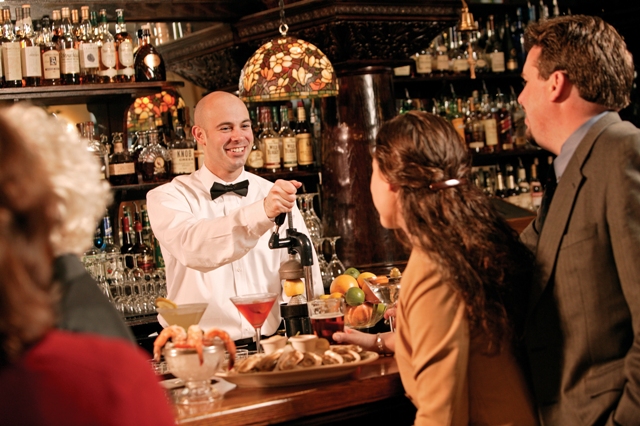 Even without an ocean in sight, the Valley is still home to some top-tier seafood restaurants, doling out the freshest catches of the day.
Eddie V's Prime Seafood On Valentine's Day, the longtime DC Ranch seafood restaurant re-opened at Scottsdale Quarter and recently named Tom Harvey as its new executive chef. Eddie V diners can expect a selection of ice-cold shellfish, a few sushi and sashimi offerings, Louisiana red fish, lemon sole, Chilean sea bass, tasty sides like truffled mac and cheese and an heirloom tomato Greek salad and much more. For carnivores in your dining party, there are several premium Black Angus steaks for the ordering. 480.730.4800, http://www.eddiev.com/.
McCormick & Schmick's Seafood Restaurant Valley residents with a hankering for seafood have two McCormick & Schmick's Seafood Restaurant locations to choose from, one in Scottsdale and the other in Phoenix. To start, diners can order from the raw bar or choose a few appetizers including crispy buttermilk fried oysters and a Dungeness crab tower. From there, diners can indulge in some of the Valley's freshest fish like Oregon Ling Cod, Idaho Rainbow Trout, Kona Mahi Mahi (there are several Hawaii-based fish to choose from) and Washington Hama Hama oysters, to name a few. If seafood isn't your style, try the Kobe burger or the New York strip. 602.468.1200 (Phoenix), 480.998.2026 (Scottsdale), http://www.mccormickandschmicks.com/.
Wildfish Seafood Grille This Downtown Scottsdale hot spot (and Eddie V's sister establishment) dishes up quality seafood in a cool, contemporary setting. Appetizers include a Maine lobster bisque, crispy salt-and-pepper shrimp and spicy shrimp-and-crab potstickers. (Also, be sure not to miss Wildfish's oyster bar and new sushi and sashimi offerings.) Seafood lovers' mouths will water at the site of the parmesan-crusted lemon sole, seared ahi steak, crab-stuffed colossal shrimp and West Australian lobster tails; meat eaters won't feel left out with the Scottsdale restaurant's selection of steak, chicken and lamb chops. Wildfish also has a rockin' happy hour with daily specials from 4 p.m. to 7 p.m. and all night Monday and Sunday. Happy hour offerings include specially priced appetizers, wines by the glass and cocktails. 480.994.4040, http://www.eddiev.com/.
Mastro's Ocean Club  Ocean Club, located at Scottsdale's Kierland Commons, is known for its signature create-your-own seafood tower. Guests can pick and choose from a wide variety of seafood offerings including caviar, steamed mussels, seared ahi tuna, lobster cocktail, escargot and more. After taking on the tower, vanilla-battered twin lobster tails–among several other seafood and meaty eats–awaits. 480.443.8555, http://www.mastrosrestaurants.com/.