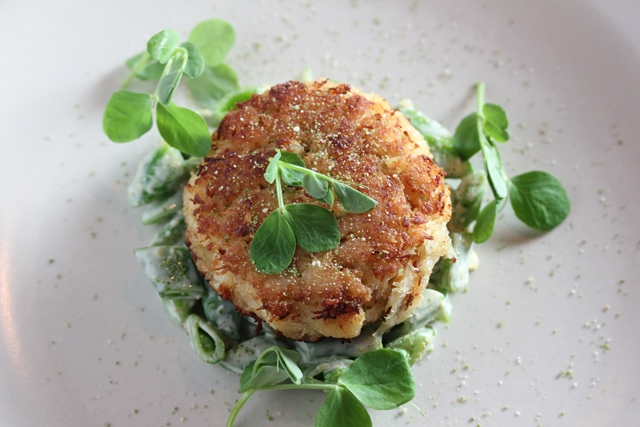 Easter Sunday is the perfect time to show off your brunchtime skills, especially with a little help from Chef Jacques Qualin of J&G Steakhouse. Here, Chef Qualin gets you started with two showstopping recipes: crab cakes and risotto (search last week's posting for two more scrumptious brunch recipes from Chef Qualin).
Parmesan Risotto, Mushrooms and Herbs
For the herb tea:
14 oz hot  water
1 tsp thyme sprigs
1 T rosemary sprigs
½ pc fresh bay leaf
½ tsp red Thai chili
½ T Meyer lemon peel, pith removed
½ tsp salt
Put everything except salt  into a bowl and cover with the amount of hot water.  Cover with plastic and let sit for 30 minutes.  Pass through chinois, pressing on the solids for full extraction.  Season with the salt and reserve.
For the risotto:
3 T extra virgin olive oil
1.4 oz Spanish onion, small dice
1 oz  fennel, small dice
½ T salt
2 oz Nishiki rice
1 oz white wine
6.5 oz herb tea
In a flat medium pot, heat the oil over medium heat.  Add the onion and the salt and sweat slowly for a few minutes.  Add the fennel and cover with a lid, stirring often.  Once the onions and fennel are translucent and soft, add the rice and coat with the oil.  Cook the rice until it is well coated and the grains begin to become slightly translucent.  Add the wine and stir the rice until the wine has evaporated.  Add just enough herb tea to barely cover the rice.  Stir the rice as the liquid evaporates.  Repeat the process until all of the tea has been used.  Place risotto in a hotel pan and cool immediately.
For the mushrooms:
1 oz Shiitakes, cleaned, stem removed and quartered
1.1 oz Trumpet Royals, cleaned, sliced ¼-inch thick
1 oz Honshemejis, cleaned
Toss the trumpet royals with extra virgin olive oil, salt and pepper and grill.  Roast the shiitakes and honshemejis, separately in extra virgin olive oil, and season with salt and pepper.
For the hedgehog mushrooms:
½ oz hedgehog mushrooms
1 T extra virgin olive oil
¼ tsp salt
3 T water
Add all the ingredients together into a small sauté pan and cover with a lid and cook until the mushroom are cooked through.
For the finishing tea:
2 oz herb tea
3 T Meyer lemon juice, strained
¼ tsp salt
Combine all the ingredients and reserve for service.
To serve:
Risotto
Finishing tea
Cooked mushrooms
2 T basil
2 T chervil
2 T mint
Meyer lemon, micro planed to order
2 oz parmesan
2 oz butter
Add mushrooms to a pan with a touch of water and butter and cook covered until hot; adjust seasoning.
Heat the risotto in a sauté pan with a small amount of finishing tea and stir over medium heat.  Add more liquid as necessary.  Once the rice is cooked through and the proper consistency, add butter as well as the parmesan and stir until creamy.  Plate in and top with the mushrooms.  Tear of pieces of the herbs and sprinkle on top of the mushrooms.  Micro plane lemon on top of herbs and sprinkle with a little more parmesan.
Peeky Toe Crab Cake with Remoulade (four per)
For the mayonnaise:
1 oz egg yolk
1 tso celery seeds, finely ground
2 oz fresh lemon juice
1/2 oz  green Tabasco
¼ oz  red Tabasco
¼ oz  Worcesteshire sauce
¼ oz salt
½ oz  Colmans mustard powder
8 oz  safflower oil
 In the robot coupe, combine all except oil until smooth.  Emulsify with oil at the end
For the crab cake:
15 oz   Peeky toe crab, picked
3.5 oz  mayonnaise
3 oz White bread, large dice
Mix crab and mayonnaise well, then mix in bread.  Portion crab into 150 g and shape into thick round cake.  Reserve in refrigerator.
For the remoulade:
¼ oz shallots, brunoise
1/8 oz cornichon, brunoise
1/8 oz caper, chopped
1/16 oz parsley, chopped
2 oz mayonnaise
½  tsp salt
½  tsp green Tabasco
Combine all and reserve.
For the yellow pepper pickle:
7.5 oz  yellow peppers, charred, peeled, fine chiffonade
1.75 oz sugar
5 oz Champagne vinegar
½ oz salt
½ oz mustard oil
¼ tsp cayenne
Combine all in a medium-size pot and bring to a simmer (do not let boil). Remove from heat and cool over ice. Blot well as needed and serve 8 per portion.
Herb salad:
11/2  oz yellow frisee salad
½ oz tarragon leaves
½ oz Italian parsley leaves
½ oz chervil picked
½ oz chives cut in 1 inch
½ oz dill picked
1 lime juice
1 oz extra virgin olive oil
Salt/ pepper
To serve:
1 crab cake
Wondra flour
1 oz remoulade
1 oz  herb salad per each
Dust the crab cake liberally with Wondra, then pan fry in a hot pan with grape seed oil.  Blot well and season with salt.  Place on plate with herb salad and put remoulade in a ramekin on the side.