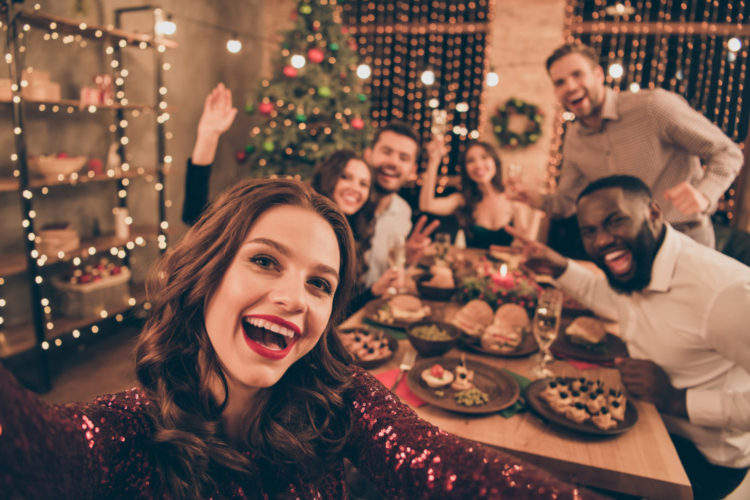 It's easy to splurge during the holidays and give up on healthy eating because we "promise" to start healthy in the New Year. Those decisions to take two months off our healthy choices and fitness can be detrimental to our goals and can actually completely kill our ability to stay on track in the New Year.
What's even better: you can still enjoy the festivities and eat many of your fave foods during the holidays – as long as you have a plan! Here are some tips from the two founders of nationally-known Scottsdale Weight Loss Center.
Problem: Going to a holiday party when hungry causes you to overeat.
Solution: "Pre-loading" makes a difference in how much food you consume. Eat a salad or veggies and drink at least 16 ounces of water before eating.  Start the meal with a protein, such as grilled chicken strips, and the veggie tray before picking a few starchy finger foods.
Problem: Alcohol calories add up quickly.  Drinking also lowers your inhibitions, so you will likely eat more than usual.
Solution: Alternating each alcoholic beverage with diet soda or water will cut your intake in half.  If you choose to drink, stick with hard alcohol, light/ultra beer or wine, rather than sugary margaritas or daiquiris. If you want to drink, plan to exercise earlier in the day.  By "earning it in advance" you can feel good about your choices and reduce the weight-gaining impact. Remember, a six-ounce glass of wine takes 1.5 miles of walking to burn off.  
Problem: People who eat rapidly consume 30 percent more food than those who eat slowly. It takes 20 minutes for your stomach to feel full after eating.
Solution: Take your time chewing and set down your fork between bites. Eat on a smaller plate such as a salad plate. Try to avoid foods you can eat with your fingers. They are more often an unhealthy choice. Ex: Avoid chips, nuts, popcorn and candy.
Problem: Many people load up their plates at holiday meals without thinking about their food choices. People typically eat more at buffets because a vast selection of food is readily available.
Solution: Don't waste calories on food you don't really want to eat. If it doesn't taste great, put it down. Study the buffet carefully and select only foods you really want and healthy items. Meats and non-starchy veggies will keep you full longer. Sweets and starches will make you hungrier. Limit yourself to one trip.
Problem: The average person gains four to six pounds each holiday season.
Solution: Set a specific goal to maintain your weight over the next  month.  Start now so you won't spend January losing the same pounds that you gained last year.  Remember, if you struggle with your weight , consider seeing a specialized physician at Scottsdale Weight Loss for help, weight loss you can only get from a doctor. –Robert Ziltzer, MD and Craig Primack, MD of Scottsdale Weight Loss Center