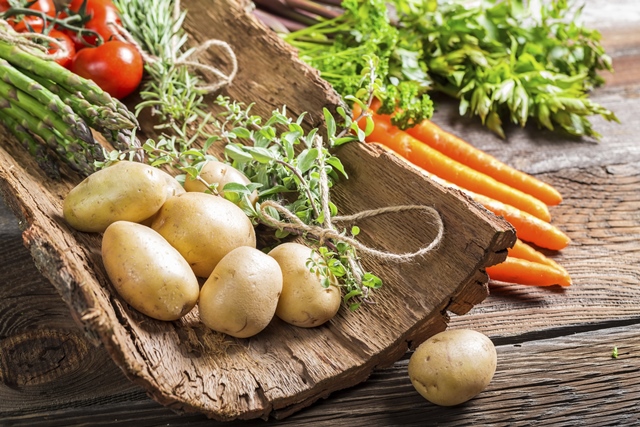 Think twice before stuffing your face with, well, stuffing this Thanksgiving. Read on for healthy holiday-eating tips and tricks from Executive Chef Frank Caputo of Cancer Treatment Centers of America at Western Regional Medical Center.
Thanksgiving is a special holiday about family, having fun and making memories, all while breaking bread together. The very word "Thanksgiving" evokes images of family reunions, football, roasted turkey with stuffing and, of course, pumpkin pie.
While food takes center stage during the holiday, there are ways to make the most out of every bite. As you head to your Thanksgiving party, keep these tips in mind to create a healthy eating experience.
• Have a healthy snack a short time before dinner.
• If you are going to dinner at a friend's or family member's home, offer to bring a healthy dish.
• Try and avoid consuming excess alcohol as it contains empty calories.
• When assembling your plate for a meal, choose smaller portions or use a smaller sized plate.
• When eating, take your time and engage in conversation.
• When you are done eating, excuse yourself and leave the table, this removes the temptation to continue snacking.
• Try to incorporate a new family ritual of a morning or afternoon walk to inspire movement.
Also, be sure to include plenty of whole fruits, vegetables, dairy, nuts, whole grains, lentils and lean meat as options for your Thanksgiving feast. Try to use less fat and sugar in recipes, even a small decrease can be impactful. Or, substitute spinach for iceberg lettuce which is much more nutrient dense. It all comes down to mindful cooking and eating.
Cancer Treatment Centers of America at Western Regional Medical Center's Director of Nutrition Sharon Day suggests that you keep the whole day and food consumption in perspective. Try having a light breakfast of one yogurt, one piece of toast with peanut butter, or a half a cup of cereal. By eating breakfast with less than 200 calories, you'll have a little room for calories later in the day. Try to avoid grazing on snacks prior to dinner. Sometimes grazing before meals can have more calories than the meal itself.
My favorite non-traditional recipe for the holidays is roasted root vegetables. So many of the traditional holiday vegetable choices are smothered in cheese, butter and cream; roasted vegetables have all of the flavor without the saturated fat. I like to roast Brussels sprouts, carrots, parsnips, and sweet potatoes with fresh rosemary and a little olive oil, salt and pepper. You can place all of these vegetables in a cast iron skillet, and bake at 450 degrees for 40 minutes. If you buy the vegetables already chopped, this requires little preparation, and you can place the pan in the oven right after you pull out the turkey. By the time your turkey "rests" and is carved, your vegetables will be ready. Another tip for those with a healthy waistline and heart in mind, is to remove skin from the turkey before eating, and limit sauces and gravies. The extra saturated fat adds flavor but also adds risks. Mindful eating during the holidays and every day is the key to success.