In this week's Grocery Great, guest writer, ForXx, gives readers a super-easy recipe for kale chips–an Earth Day-friendly snack.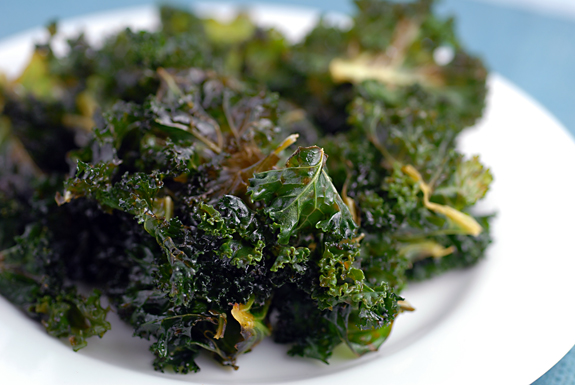 Earth Day is coming around. From  earth to oven, my favorite Grocery Great is kale chips. Here's my recipe to get them crunchy and delicious. Wash the kale really well a few times by submerging in a sink of water. (You'll be shocked at what floats to the top.) Now, put the greens in a colander so some of the water can drain off. Grab a bunch with both hands and give it a good shake. Try not to tear the leaves. The bigger the better.  Lay the leaves flat on paper towels. Blot with paper towels to dry. Spread them out on a non-stick baking sheet, and drizzle with olive oil. Sprinkle with sea salt and Parmesan cheese powder. For best results, bake at the lowest temp in your oven for 6-8 hours. If you forget they're in there, don't worry–the kale won't burn.  Because the temp is so low, once they finish baking to a perfect crispness, they'll keep warm.  They bake until crispy, light and delicious. The time may seem long but if you start them early enough, they make a great evening snack when we're worried about calories the most.
From 6-8 hours to 6-8 seconds. Here's a little Grocery Great bonus: a healthy dessert. Want some ice cream without the calories?  In a blender, toss in a banana, a little almond milk and ice. Blend really quick to get it super thick. If you start with some bananas from the freezer, even better. Yummy and healthy.