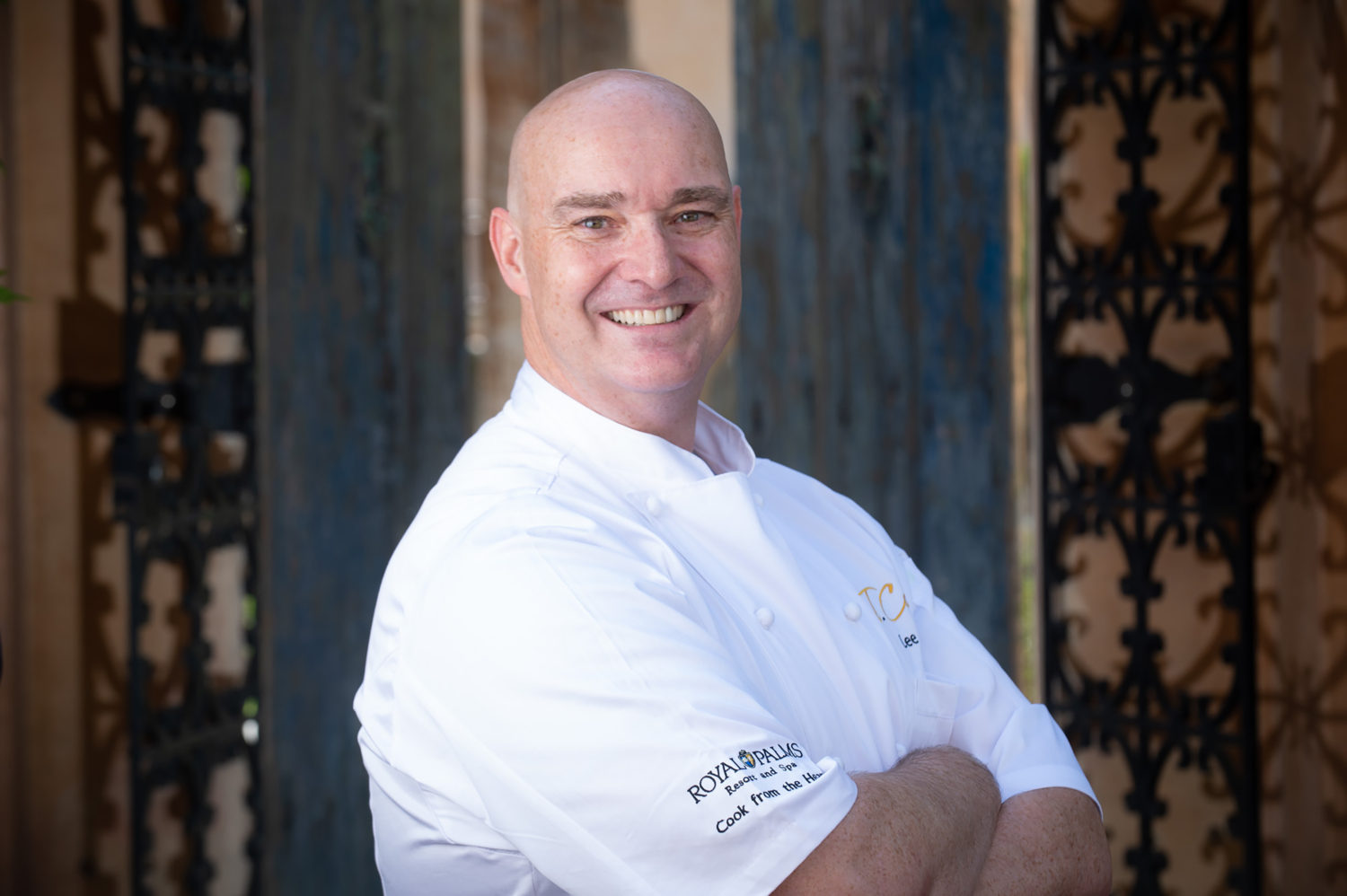 Chef Lee Hillson returns to T. Cook's at Royal Palms Resort and Spa as executive chef, the same spot he made a name for himself during 12-year tenure, starting in 2000. Here, we chat with Chef Hillson about his exciting return and what beloved dishes guests might spy on the menu once more.
Welcome back, Chef! What brings you back?
The reason I came back is simple—Royal Palms is my home, just as so many who work here feel. There is something special at Royal Palms—maybe it's the history or maybe the charm. For me, it is both and, above all, the people. I still get to see some of the regulars, so being here is kind of like visiting with old friends while working with my family. When I walk the grounds and bump into a guest, it is great to be able to talk about the property and its history. We have a unique property which I have always been very proud of, and that never pride has never left me. I guess deep down I always knew I would be back when the opportunity was right.
How do you plan to switch things up since your last time at T. Cook's?
I don't think switched up is the right term. We will be taking the food back to its Mediterranean roots and continue having fun with the menu. We have a great young team and it will be rewarding to help mentor and shape them, along with the help of the sous chefs, to be successful in their careers.
Are there certain dishes you're excited to bring back?
There are a couple dishes such as the lobster bisque and paella that I am excited to bring back. The lobster tortellini, a Chef Michael DeMaria classic that I loved, may make another appearance eventually. Hopefully, the jars of marmalade and jams will make a comeback as well.
What has been the response from restaurant regulars?
I have had so many messages, calls and Facebook posts, and it has been amazing and overwhelming, in a very humbling way. Several have come in and it is great to see them. I have been able to visit with a lot of old friends. I don't call them guests or regulars—we are beyond that!
How have you seen the resort evolve since your last tenure there?
The resort has evolved greatly since I was last here, and there have been a lot of changes around the property. I am thrilled to be back and continue to grow and evolve with the team.
The holidays are just around the corner; what do you have planned at the restaurant?
We have a lot going on for the holidays at the restaurant this year. We have some great menus for Thanksgiving, Christmas and New Year's coming up. Take your pick or join us for all three! We even have events for all holidays coming up in banquets, too. It's going to be so much fun.
What is the most rewarding part of your career? What about the biggest challenge?
There are a few things that have been rewarding in my career. One is seeing my team grow, leave and become a success in their own right. I feel like a proud parent sometimes. Two is being able to give back to the community here and in other states. Three, is being able to make my parents proud. They inspired me to become the man I am and encouraged me to follow my dreams. If it wasn't for them, I wouldn't be where I am now and have the amazing wife and daughters that I have. The biggest challenge in my career is finding a work life balance. At times, I miss a lot of seeing my children grow. Another challenge is staffing, since there are less people wanting to cook now.
What are you most excited about as we head into the new year?
As we head into the new year, I am most excited about having a new start here with my Royal Palms friends and family. I can't wait to see what the future holds for us.