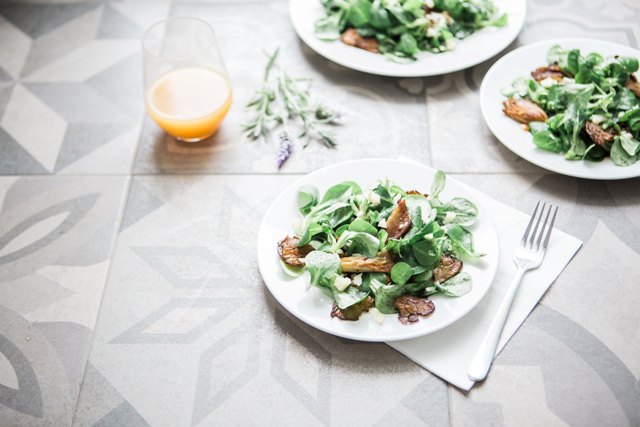 Photo by Brooke Lark on Unsplash
Now that July 4 is behind us, it's time to ditch heavy potato and macaroni salads for something lighter, healthier, more flavorful and colorful. The restaurants below have some lip-smacking sides for your next pool party or family barbecue. Call ahead or place an order online to simplify your life and summer. ​
Oregano's Pizza Bistro recently created a mouthwatering dish called the Power Greens Salad, and it is outstanding. Whether you decide to order it from "Carb-side pickup" or emulate the dish from home, everyone will love it. The salad begins with black organic kale (but any kale will do) then adds layers of diced red apples, dried cranberries, sliced almonds, hot chopped bacon, and raw chopped broccoli on top, before tossing it all around in a refreshingly delicious poppyseed dressing. Another healthier, more colorful alternative to traditional ​summer​ sides is the Tree Hugger skillet, which consists of sautéed squash, broccoli, portobello mushrooms, fresh herbs, garlic, and lots of other good stuff, including freshly grated Parmesan cheese.​

Kneaders Bakery & Cafe has 14 convenient Valley-wide locations to make picking up satisfying summer sides a breeze. Those looking for something crisp and refreshing should opt for a quart of the broccoli sunflower salad. This colorful concoction is a mixture of fresh broccoli, red grapes, sunflower seeds and raisins tossed in a creamy dressing with a sweet finish. Another great option to enhance any poolside gathering is Kneaders' chicken raspberry nut salad. This offering consists of spring mix, grilled chicken breast, feta cheese, red onions, fresh berries, candied pecans, salt and pepper with raspberry walnut vinaigrette dressing on the side. When ordering from Kneaders, opt for dessert every single time. This summer, the best option for treats everyone will rave over is Kneaders' freshly made fresh key lime tart or their mouthwatering coconut cream pie, because if you can't be at the beach, this is the next best thing.
Locals know there's a Pita Jungle nearly around every corner, so that makes it a convenient spot to order unique summery sides from, no matter where you live. Since variety is the spice of life, try its new Mediterranean antipasto platter filled with ​ hummus, baba ganoosh, tzatziki, taboule, dolmades, falafel, ratatouille, feta, kalamata olives, tomato, cucumber ​and lots of fresh ​pita for dipping. There's something for everyone on that platter. Another delightful option is ordering a side of lemon-cilantro mixed beans. These are an easy and appreciated swap for traditional baked beans and have a lighter, more summery flair with lemon and cilantro seasoning, plus all shapes and sizes of beans are present to enhance texture and flavor. ​
Need more avocado in your life this summer? Give your friends and family what we all want more of, and try Flower Child's avocado hummus. This simple, tasty dish comes with sweet corn, radish, clementine and pumpkin seeds to top it all off. You can add or substitute raw veggies to give it an extra healthy kick. If you want something with a little more pizzazz, try Flower Child's Vietnamese crunch. This salad is loaded with savoy cabbage, romaine lettuce, quinoa, tomatoes, bell peppers, pineapples, cashews, avocado, Thai basil, cilantro, mint and mixed in spicy lemongrass vinaigrette. You can order either of these dishes online, and as Flower Child says: pick up, and peace out.
True Food Kitchen's vibrant menu changes regularly to allow its customers the opportunity to experience the season's ripest ingredients and produce at the peak of their freshness. Don't miss the colorful Mediterranean quinoa, which comes with Persian cucumbers, Peppadew peppers, cherry tomatoes, pole beans, olives, feta cheese, almonds and sauced with oregano vinaigrette. We also can't get enough of the brand-new Heirloom Tomato & Watermelon Salad for summertime. Stop by one of their two locations in Arizona. –Lisa Cardinale