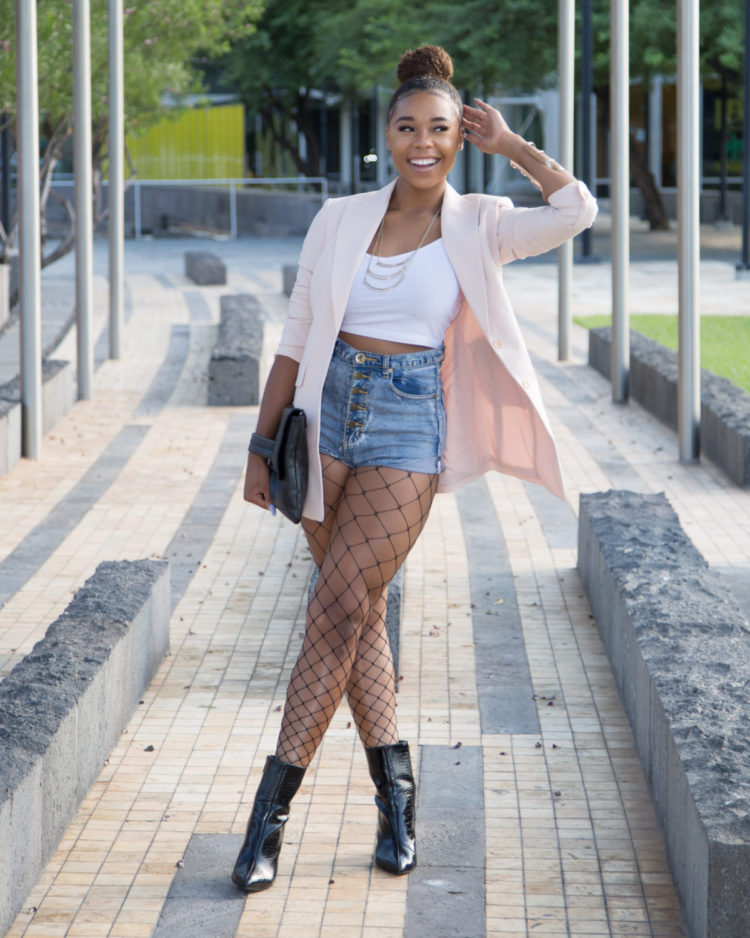 Name: ​Milan Johnson
Instagram: ​@millidoezsit
Age: ​22
Title: Model and Teacher
Married/Single: ​Single
Kids: ​I have no kids right now, however in the near future I would like to have two.
City you live in: ​Mesa
A typical day in my life includes…​A typical day in my life would first start off with waking up and going for a morning jog about 2 or 3 miles. I love beginning my day by working out, it helps me to jump start my day and get me going. Following that I'll read my daily bread, which helps to set my intentions for the day. After that, I am ready to go teach my amazing 8th grade students.
I was born…​I was born in Flagstaff, Arizona.
My favorite thing about Arizona…​Honestly I do not have a favorite thing about Arizona, however, I do love living here and would not rather be living anywhere else. 
My family…​My family means the world to me. I have a huge family. And 9 times out of 10 it is very likely that whenever I meet someone for the first time, that they will typically already know someone from my family.
If I could have dinner with anyone, it would be…​Family is very important to me; so if I could have dinner with anyone, it would be with a relative that passed away who I never met before.
One thing I cannot live without…​One thing I cannot live without is coffee. I love Starbucks, almost all of my students know that I have an obsession with Starbucks.
When I was younger, I wanted to be…​I always said that I wanted to be either a pediatrician or teacher.
I'm inspired by…​My students inspire me to be the very best version of myself. Many of my students come from diverse backgrounds and do not all have the same opportunities, which is why I strive to make an impact in their lives and teach them that their circumstances do not define who they are or what they can become.
The one person who motivates me is…​Ketonya Bankston is my mother, and she is an amazing woman of God, who motivates me. I grew up with a single mother, which is powerful, because I saw firsthand how hard she worked to provide for me. Seeing this, gave me all the motivation in life that I needed to make something of myself and to work in the purpose that God has called me to be.
If I could change anything in the world, it would be…​The one thing I would like to change in the world is education. What I mean by this specifically, is the fact that students in lower income neighborhoods are not given the same opportunities and resources that students in affluent and higher economical status neighborhoods are given. Regardless of the background of the students, they all deserve to have the resources that will help them to be successful within their academic career.
The perfect day would be…​I do not believe that there is such a thing as a perfect day. Everyday that I am given in life I strive to be purposeful. Time waits for no one, which is why I am a person who does not like to waste time, and believes in making each day count.
My first job was…​I started working at the age of 14 at McDonalds and have not stopped working ever since.
My favorite escape…​Working out is my favorite escape, I turn up my music and get in a zone to where nothing else matters.
My life…I am content with my life and thankful for the state that I am currently in. It's easy to only​ think about the negative things going on in our lives, which is why I like to take time to reflect and think about the things that I may be taking for granted and take a second to be thankful.
I'm currently working on…​Currently, I am working on completing my masters degree in secondary education, and then I will begin working on my PhD.
Always…​It is always better to give than receive.
Never…​Never say you can't…maybe you can't yet, but that does not mean that you cannot work towards your goal.
Favorite Quote…​While growing up, my mom always told me- "never give up".
Biggest Dream…​My biggest dream is to have my own school that I am the principle of.
My Pet Peeve(s)…​One pet peeve of mine is when people are smacking. It is funny because many of my students wonder how I always catch them chewing gum, and I keep telling them they make it obvious when they are smacking.
More about Milan Johnson
Please allow me to introduce myself, my name is Milan Johnson and I am an Arizona native. I am a person who wears many hats. Not only do I model, but I also teach 8th-grade math. Education is my passion and something that I feel I was called to do.
I graduated from Grand Canyon University at the age of 16 and have continued pursuing my education ever since. Aside from education, I love volunteering in my community and doing my part to make the world a better place.