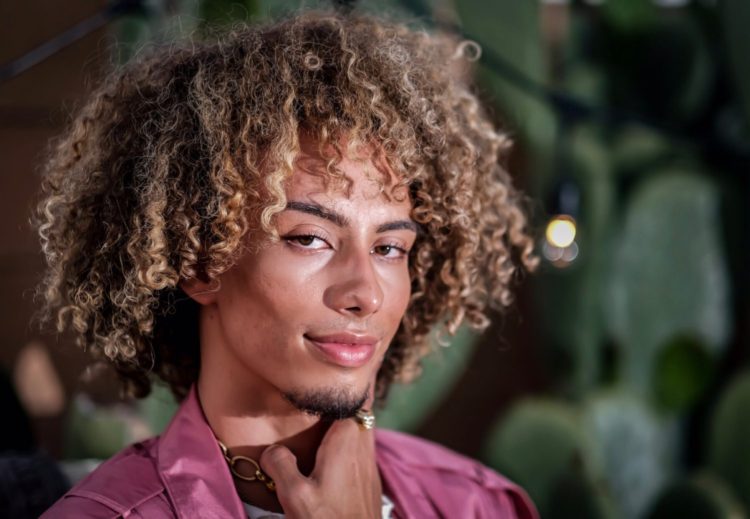 Name: Jaylen Feliciano/Ava Love St. James
Instagram: @AvaLoveStJames & @Jaylayage
Age: 22
Title: Drag Queen & Beautician/Hairstylist
Married/Single: Single
Kids: Are adorable, but it ends right about there
City you live in: Chandler
A typical day in my life includes… Usually waking up, and going for a jog early in the morning before the deadly heat kicks in. Aside from taking clients for hours a day, working around the salon I try to incorporate my morning & night cardio to remain active, at least in my head. After that, I'm typically in the salon majority of the week doing colors, cuts, and makeup. Though, on my down time from work I'm always trying to promote, make plans and look toward the future for starting up my own wig business.
I was born… In a little city on the North-East coast called Springfield, located in Massachusetts. Whenever I mention that people ask if I'm from Boston, no, it's more mid-western about an hour and a half from New York & Boston respectively. Born and raised there, I moved to Arizona about roughly 8 years ago right before starting high school. While at the time it was rough getting adjusted to everything being so new and across the country for a long time, I'm grateful for the change and leap we took in doing so.
My favorite thing about Arizona… Aside from the beautiful scenery change from where I had grown up, one of my favorite things since coming to Arizona has been the shift in opportunities and potential for growth. Where I'm from it's hard to really do what you're passionate about and see yourself grow out of from just being in the small town and surrounding cities. Phoenix is one of the fastest growing major cities at the moment, and since starting my career here as well as being a drag performer for about 3 years now there's so much more area and space for success. Arizona has shown me a community that I'm open and proud to be a part of, being a member of the LGBT+ community, and being accepted, as well as finding my people has helped me accept myself on many deeper levels over the past few years.
My family… Is something I could not live without, they are the people who've pushed me to continue to do my best and give my all towards the goals I have in life, especially my mother. She's been a huge, amazing support system when I'm hesitant to take the leap of faith, it's helped me become a person who seeks change and transformation with a sort of thrill.
If I could have dinner with anyone, it would be… I dream about having a seat at a table for Roc Nation Brunch one day, but I'd still be happy to just sit down with Beyonce one on one for a dinner date. Or Rihanna, I'll take both.
One thing I cannot live without… My family is one group I couldn't live without, but also my phone probably. I definitely would be lost without it, literally and figuratively.
When I was younger, I wanted to be…An artist, an actor, but also a star, in my own sense – I've always wanted to be someone who shines bright and radiates from the self-love and confidence they've found within, to help inspire others. Growing up I struggled a lot with depression and self loathing because I couldn't see with clarity who I was on the inside, or what I could grow into. When I started doing the inner work for years I saw myself blossom into the beautiful, happy, confident person I see myself as today. In my sense, I have begun to achieve what I always wanted to go after, but as all stars grow they shine brighter, so I'm excited to see what the future holds.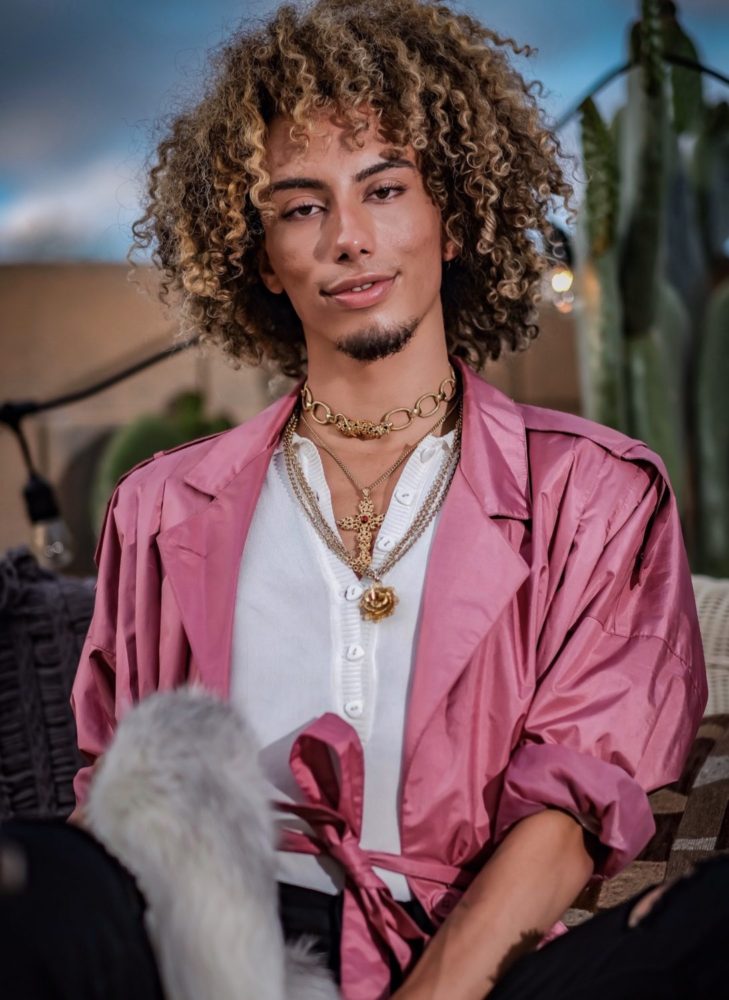 I'm inspired by… Aside from my own family, friends, and coworkers, I'm inspired by Rihanna immensely from day to day life. To me, she's an amazing example of someone who is self-made, started from the bottom and truly worked her way up to the top. She's a powerhouse with an empire in many different umbrellas, from makeup, to lingerie, to music, to a designer house brand, now skincare. Rihanna is truly a genius with her work ethics, and is someone I look up to a lot. As well as us both being Pisces.
The one person who motivates me is… My mother, she's one of my best friends who I've grown even closer with over the past couple years. She's a very powerful woman who goes after and reaches the goals she sets up for herself, and I've learned that I try to take after her a lot in that sense. She definitely keeps me grounded where I lack it, and couldn't accomplish half the things I have in life without her influence.
If I could change anything in the world, it would be… All the hate and negativity people and society have towards different views/lifestyles. I would love for us to make the step in the direction for people to coexist with a sense of community, and not a divide based on race, sexuality, class, etc.
The perfect day would be…Honestly just any day I get to wake up, do what I love and have a passion for. Of course I have my dreams and goals, so if I could fast forward a couple years and get there then everything would be peachy and perfect. Though for now, enjoying the process.
My first job was… One of my first jobs was actually in high school was a Halloween zombie themed attraction where they shot paintballs at us as targets…it was all fun and games until my protective mask and gear would shift and I'd got shot in the bare throat and skin. I quit soon after that.
My favorite escape… As much as I'd love to be on a beach somewhere with no worries for my perfect escape, my favorite place to get away when needed is anywhere with time to myself to unwind or create new visions. I think of myself as a very creative person, when I get to truly be with myself and map out for future projects, drag performances, or just get to dance it's a bit of heaven for me.
I'm currently working on… Building my career as stable as possible and expanding skills under my belt. I'm also working on starting up a custom human hair wig business with a partner I've recently joined with. Mostly things are in the process of future ideas, and how we want to launch, though for now we are taking custom wig orders for clients who are interested.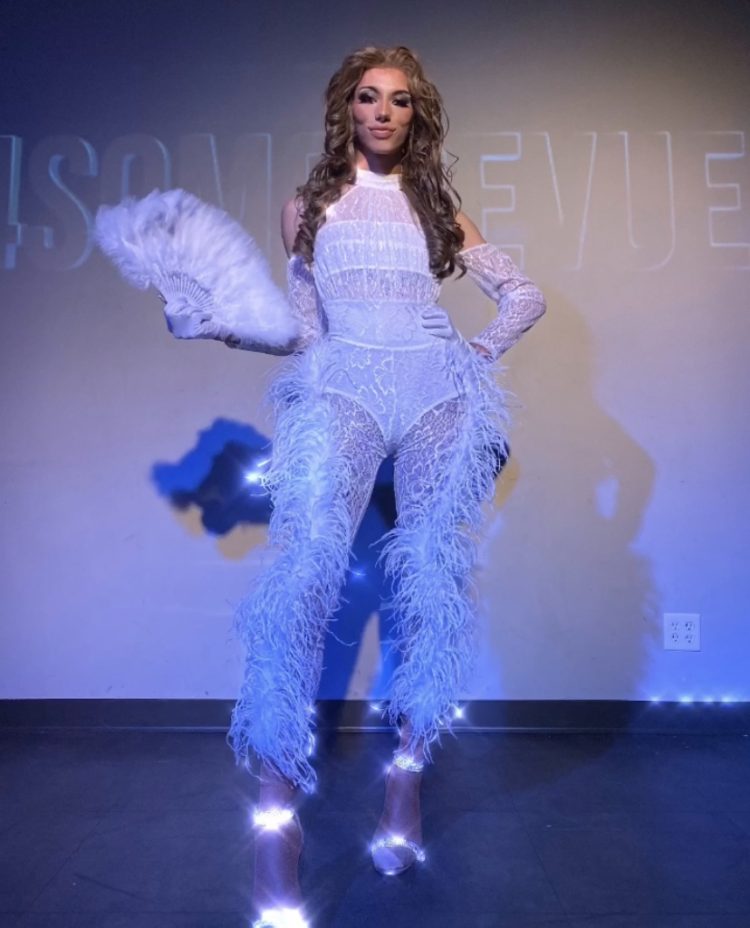 Always… Looking forward to the future with optimism.
Never… Get stuck in the past, unable to let go.
Favorite Quote…"In reality, other people liking you is a bonus. You liking yourself is the real prize." – Alexandra Elle
Biggest Dream… To one day get to travel for work. I aspire to become a celebrity level stylist down the road, I love working in the creative setting behind the scenes of editorial photoshoots, I love being a part of the creative team for hair and makeup for fashion runway shows. One of my biggest aspirations is to get to do all this, while also being an educator one day to teach masterclasses and techniques that I've learned and picked up on. I have a lot to perfect in my own craft before then, but I know one day I can make it if I work hard enough toward my goal.
More About Jaylen Feliciano:
Hey everyone, my name is Jaylen Feliciano – also known as the gorgeous, the tantalizing, Ava Love St James. I am a 22-year-old drag queen performer and beautician located in the Phoenix-Scottsdale Metropolitan. I am currently working as a hairstylist and makeup artist at Vidogi salon in Scottsdale. I've worked behind the scenes for Phoenix Fashion Week, and editorial collection shoots, always looking out and hoping for more doors to open my way for what I love.