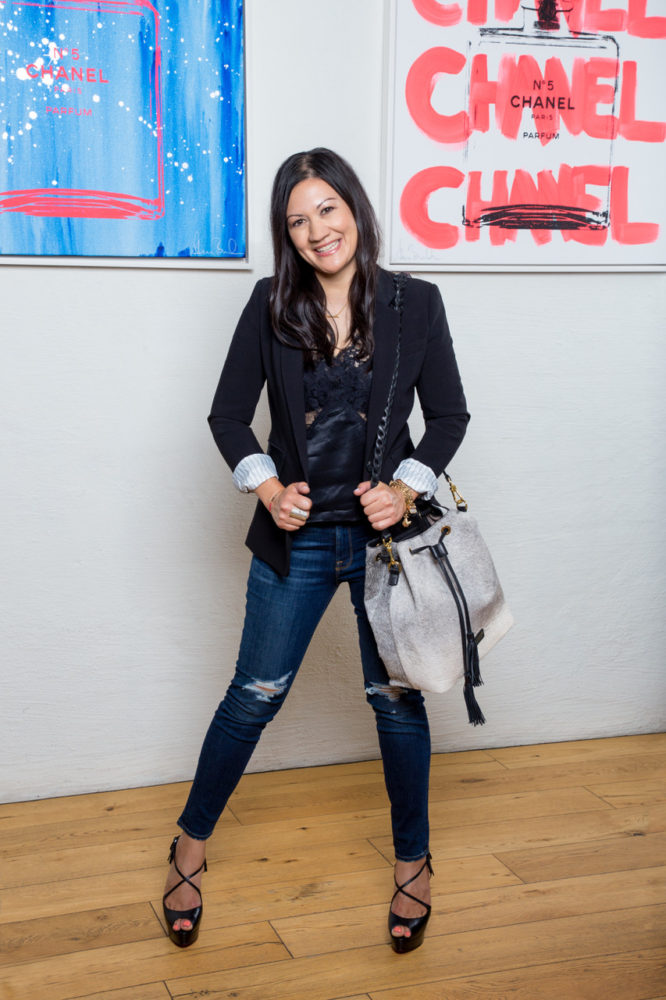 Age: 42
Title: Lead Soul – owner and founder of Soul Carrier, 
Married/Single: Single
Kids: 0
City you live in: Phoenix
A typical day in my life includes… a morning hike or walk, lots of Kygo/EDM to get me inspired for the day, WhatsApp messages to my factory in Leon, and emails to keep things on track here at home. 
I was born… in Phoenix.
My favorite thing about Arizona… My family and most of my best friends reside here. Our Winters and Spring. 
I'm listening to… Kygo, Rachel Platten's "Soldiers", Welsey Arm's "Sanctuary", Avicii, podcasts by Greg McKeown, Brene Brown, The How I Built This Podcast, Armchair Expert with Dax Sheppard. 
My family… makes me tear up in gratitude – I love them with all my heart. 
If I could have dinner with anyone, it would be… Kygo, Brene Brown, Glennon Doyle, and Marc Jacobs.
One thing I cannot live without… My Beats By Dre Headphones and Spotify
When I was younger, I wanted to be… a fashion designer who owned her own retail stores
I'm inspired by… Kygo (can you tell I am obsessed LOL) seriously, when I listen to EDM the ideas, creativity, and new design inspiration just flows out of me. I am also inspired by architecture and packaging and graphic design. 
The one person who motivates me is… Andrea Nelson – a best friend and someone I have professionally worked with as a consultant. She has transformed my business and she always helps me see the big picture. Another person who motivates me is another bestie, Courtney King who was the former owner of the teres nail bar in old town Scottsdale. Courtney and I are soul sisters and we can pow-wow over just about every subject from entrepreneurship, to politics, to how to manage people to the matter of the heart and soul. I couldn't get through life without her. 
If I could change anything in the world, it would be… getting people to accept that there is going to be more than one way of doing things, more than one angle/perspective of approaching problems, and more than one way to live your life. If we could stop shoving our own personal standards and rules on other people and allow everyone their journey, I think the world might be a calmer place. There are 7 billion people on this planet, that means 7 billion different ways of doing life. I would also ask that kindness and respect become the golden rule and the ONE STANDARD we all DO adhere to – there is way too much anger, hatred, and snarky-shaming going on right now! 
The perfect day would be… taking a spin class (man I miss Susie Steven's Studio 360 spin classes), doing some kind of creative collaboration (working with other artists, designers, and creatives to bring my visions to life is absolutely my happy place!), and then ending the day with those I love and who bring me joy. 
My first job was… selling cookies at Paradise Bakery at Paradise Valley Mall LOL.
My favorite escape… watching the Kygo documentary "Stole The Show", spin class, traveling. 
My life… has been saturated with a lot of pain as well as a lot of joy. It's been a wild ride and I am far from done yet! 
I'm currently working on… deciding where to go with Soul Carrier. 2020 threw us all for a major loop. I have so many design ideas, but first I have to take in the state of the world and balance that against sales. 
Always…Listen to your soul! Always be authentic to what your intuition is asking of you! Don't ever go against it! 
Never…give more power to the outside noise and chatter than the silent whispers of your soul! 
Favorite Quote… "I understand now that on one else in the world knows what I should do. The experts don't know, the ministers, therapists, the magazines, the authors, my parents, my friends, they don't know. Not even the folks who love me most. Because no one has ever lived or will live this life I am attempting to live, with my gifts and challenges and past and people. Every life is an unprecedented experiment. This life is mine alone. So I have stopped asking directions to places they've never been to. There is no map. We are all pioneers. " – Glennon Doyle
Biggest Dream…go back to the days of concerts, conferences, and big gatherings. Be able to attend the International Spa Conference and get back to selling and networking with all the top spas and resort hotels – Soul Carrier's sweet spot has been selling to spa boutiques and hotel gift shops at luxury resorts – Four Seasons, Miraval, Royal Palms, Fairmont Princess, Andaz, Mountain Shadows, Hotel Yountville, Silver Oak Winery, Eau Palm Spring, etc. 
My Pet Peeve(s)… Snarky Shaming On Instagram.  When people try to convince you that their advice should hold more weight in your life than what your own heart and soul are telling you to do.
More About Jennifer Paige Boonlorn:
Jennifer Boonlorn is the owner and founder of Soul Carrier, a leather handbag brand based out of Phoenix, Arizona. Jennifer proudly proclaims that Soul Carrier is:
Fueled by a love of creativity, design + collaborations. 
Dedicated to the principles of having a true north + essentialism.
Sustained by soulful alignment. And Driven to ask humanity Where do you want to go? 
Soul Carrier is currently carried at 21 luxury resort properties and gift shops across the US including multiple Four Seasons, Miravals, Hyatts, Silver Oak Winery, and Hotel Villagio in Napa. Soul Carrier is also carried online at www.soulcarier.com.
Thanks so much for wanting to share my story! Soul Carrier is the answer to a question my mother posed to me the summer before my senior year at ASU. That summer, my entire family was involved in a car accident that took the lives of both of my parents. Moments before my father's SUV rolled over in a tire blow out, my mother turned around and said to me, "Where do you want to go…" She never got to finish that sentence, and I never got to tell her my answer. 
I thought becoming a prestigious attorney should be my answer to that question. However, my soul had other plans. And so I set out for the shiny lights of Manhattan and Parsons The New School of Design. My time in NYC included interning for Oscar de la Renta, dressing models at New York Fashion Week, designing products for Henri Bendel, and working in product development at American Eagle.
My fashion adventures also took me to Christmas parties with Marc Jacobs, fashion shows where I sat behind Anna Wintour, and jobs at Conde Nast that eerily resembled the movie The Devil Wears Prada.
As incredible as Manhattan was, my soul longed to be back in Phoenix. And so I moved home and started working for a marketing firm that was coordinating the festivities surrounding the grand opening of Barneys at Scottsdale Fashion Square. The mall decided to host an event called "The Mannequin Is Our Muse," in which valley residents were invited to take blank mannequins and turn them into art.
I collaborated with my friend Bob Wilkinson. The mannequin we created was covered in vibrant rag rugs from the Dollar Store. Bob, a fellow creative, encouraged me to use my design degree, and thus, out of a pile rag rugs, Soul Carrier started to take shape. 
I want to design products that bring more beauty and light to the world. Products that inspire people to carry their soul in every action they take. I want to encourage my customers to walk with integrity towards THEIR true north (not the direction other people want them to walk towards), and to be authentic to what their soul truly desires. I believe your soul is your moral compass and learning to tune out the external noise is the one of the greatest things you can do for yourself. 
In the words of Avicii, "Life's a game made for everyone and love is the prize." I hope my l handbags make an impact on you and inspire you to pursue what you LOVE. May your soul always be your greatest guide as you journey through the game of life.