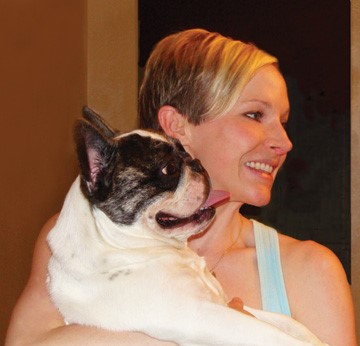 Name: Charlotte Reichman
Age: 30
Title: Jewelry Designer, Owner of Norbu Designs
Married/Single: Married
Kids: None
City you live in: Flagstaff
I was born…
in Vermont.
My favorite thing about Arizona…
are the beautiful colors at sunset.
I'm listening to…
my French bulldog snoring.
My family…
is silly.
If I could have dinner with anyone, it would be…
Coco Chanel.
One thing I cannot live without…
is shopping.
When I was younger, I wanted to be…
a famous actress.
I'm inspired by…
beautiful things around me.
The one person who motivates me is…
my dad.
If I could change anything in the world, it would be…
eliminate the suffering of children.
The perfect day would be…
eating cupcakes in the park with my dog and my husband.
My first job was…
working at a clothing boutique.
My favorite escape…
is taking a walk while listening to music.
My life…
has meaning.
I'm currently working on…
my wedding collection.
Always…
consider the feelings of others.
Never…
forget how fortunate you are.
Favorite Quote…
"Fashion fades, only style remains the same" – Coco Chanel
Biggest Dream…
to become a famous jewelry artist.
My Pet Peeve(s)…
aggressive drivers.