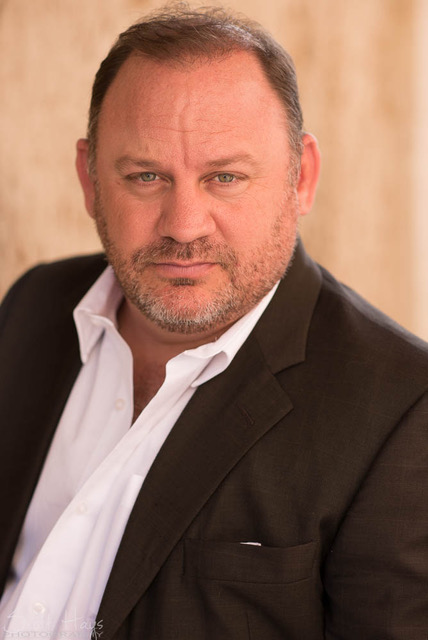 Name: Sean Dillingham
Age: 50
Title: Actor
Married/Single: Married
Kids: 4
City you live in: Phoenix
A typical day in my life includes…
reading lots of scripts, filming and submitting for more acting jobs! Also teaching Improv and standup comedy.
I was born…
in Europe and grew up in the 70's and 80's. Long before cell phones, internet and too many tv channels.  Truly a better time. Bike riding, tree climbing and hanging out with friends at the park!
My favorite thing about Arizona…
the weather, regardless of the heat, its still pretty consistent. Also its location to everything; seven hours from LA, Vegas, Utah, New Mexico. For me right now, it's centrally located.
I'm listening to…
Jazz. The best, most relaxing music, ever!
My family…
is the BEST. My rock. My inspiration. They are what inspire me and keep me going. They are there to cheer you on in good times, and catch you and hold you up in bad times.
If I could have dinner with anyone, it would be…
my mom and dad. They have both passed and I miss them terribly. They didn't get a chance to see a lot of my success and it would be nice to see them, talk to them and make sure they're okay and happy.
One thing I cannot live without…
again, my family.  
When I was younger, I wanted to be…
an actor. Because as an actor – you can be ANYTHING. Cowboy, mobster, lawyer, adventurer, anything!
I'm inspired by…
a great story.  Whether its a book, film or spoken – a good story!  Thats probably why I'm at the movie theater at least once a week.
The one person who motivates me is…
my wife. She is my best friend, love, counselor, motivator and best advisor!
If I could change anything in the world, it would be…
no more internet/cell phones. Instead of bringing people together, it's divided people further. People are completely disconnected with each other now. Don't believed me? Look around, people drive looking into their phone, walk around town looking into their phone. It's ridiculous and sad.
The perfect day would be…
with my family on a boat, in the Caribbean, music, beer and fishing. Ahhhh, paradise.
My first job was…
working in a movie theater. Ironic?  I call it…DESTINY.
My favorite escape…
being in a cold movie theater, anywhere. Letting the magic take me a way.
My life…
is good. Only through hindsight can you sometimes see how lucky and blessed you are.
I'm currently working on…
my next projects. TV shows, movies, commercials. I always have 6 or 7 projects lined up, in the works.
Always…
do your best and try your hardest. Sometimes you only get one shot so if you get a chance, swing for the fences!
Never…
give up, never surrender!
Favorite Quote…
"Better to prove them wrong, than to prove them right."
Biggest Dream…
to be in a position where my entire family would never have to worry about anything again. People say "I want my kids to be doctors, lawyers, etc." I just want them to be happy with no worries. Ever. Thats' my dream and goal.
My Pet Peeve(s)…
I have no pets, so I'm not peeved. Kidding. Excuses, people that have an excuse for everything. I think excuses are a way of lying to yourself. "I'm too old, can't get off work to do it, probably won't get it, they wouldn't like someone like me, etc."
More About Sean…
as an actor, Sean has appeared in over 98+ commercials and 50+ films and 17 national television series.  He's had network television appearances on Operation REPO, Discovery ID, Buried in the Backyard, The NightShift, Longmire, Brooklyn Nine-Nine, This is Us, There's Johnny, Yellowstone, and Gentified & Better Call Saul!  He has acted alongside Kevin Costner, Tony Danza, Jane Seymour, Patrick Duffy, Roger Bart, Don Ameche, Stacy Keache, John O'Hurley, Andre Braugher, Andy Samberg, Milo Ventimiglia, Bob Odenkirk, America Ferrera and more.  
As a standup, Sean is known as one of the finest improvisers in comedy. He uses this skill to interact with the audience – spontaneously creating jokes specific to any audience. Sean has the rare ability to play off the audience. He is able to discover things about audience members and create an interactive show that leaves everyone feeling like they were included in a part of something unforgettable.  Sean has trained with several of the top Improv Comedy Troupes in the country including The Second City, The Groundlings and I.O. West.
He was featured as a finalist and winner on the television show, America's Funniest People, where ABC television producer Stephanie Keane sited him as," another Robin Williams".  He was also a finalist on the Star Search spin-off, "Ed McMahon's Next Big Star" and has been featured on "XM Radio".  He's shared the stage with Louie Anderson, Gilbert Gottfried, Patty Loveless, Belinda Carlisle, Loretta Lynn, The Doobie Brothers, Rick Springfield, K.C. and the Sunshine band, Victoria Jackson and more. 
Click here to order a Trendsetters reprint.