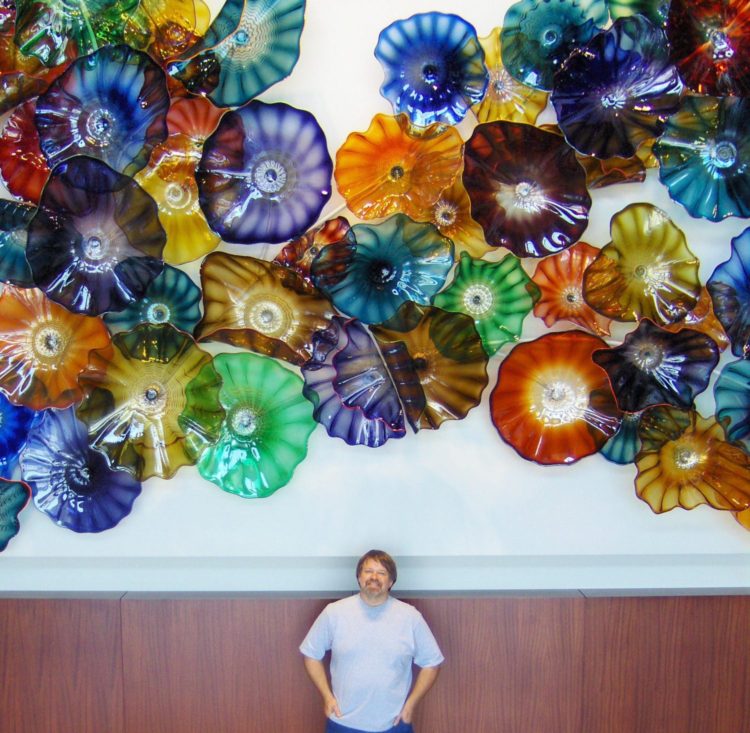 Name: Newt Grover
Age: 62
Title: Co-Owner/ Chief Creative Officer of Newt Glass
Married/Single: married 32 years
Kids: two
City you live in: Scottsdale
A typical day in my life includes…
fishing, glass blowing, working with my incredible clients.
I was born…
to be whatever I choose to become.
My favorite thing about Arizona…
the mountains, varied climates, the smell of rain in the desert.
I'm listening to…
whatever I like at the time.
My family…
is very entertaining.
If I could have dinner with anyone, it would be…
Leonardo da Vinci and Nicola Tesla.
One thing I cannot live without…
my studio, my garden and my fly fishing.
When I was younger, I wanted to…
play with fire and create art (ironically).
I'm inspired by…
my clients and very creative/energetic people.
The one person who motivates me is…
my wife Lee, she taught me to think big.
If I could change anything in the world, it would be…
pettiness, jealousy and judgement.
The perfect day would be…
fishing, glass blowing and cooking dinner with my wife.
My first job was…
assembling plastic trash cans for the city of Scottsdale.
My favorite escape…
fishing, cooking and gardening.
My life…
is the way I designed it. It never occurred to me to do something I didn't want to do.
I'm currently working on…
a large chandelier, wall sculpture and other evolving projects.
Always…
do your best.
Never…
give up on dreams.
Favorite Quote…
"Do what you love and you'll never work a day in your life."
Biggest Dream…
is to put more beauty and value in the world.
My Pet Peeve(s)…
stagnation, laziness and stubbornness.