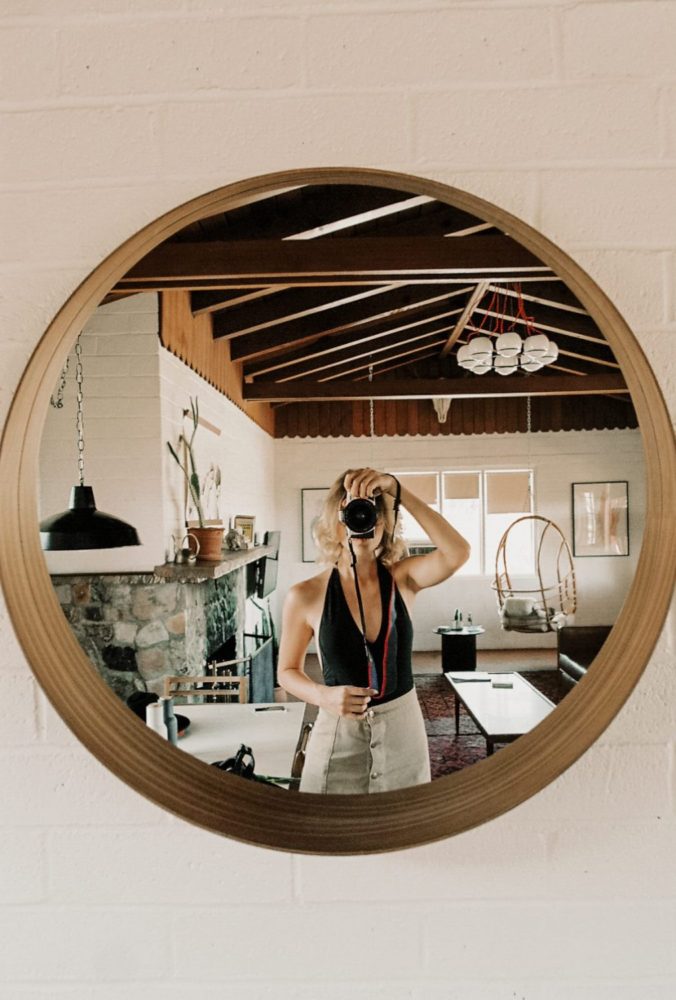 Name: Natalie Allen
Age: 22 years young
Title: Travel & Lifestyle Photographer
Married/Single: been dating / loving the same guy for over 6 and a half years.
Kids: none!
City you live in: Phoenix, Arizona
A typical day in my life includes…
I was born…
in Mesa, Arizona!
My favorite thing about Arizona…
the wild Southwestern landscape. You quite literally cannot get any better than this magical place.
I'm listening to…
my "Feelin' Good" playlist on Spotify! Currently playing "Shuffle" by Bombay Bicycle Club as I answer emails.
My family…
is the greatest group of human beings. Especially with my grandma and aunt — I'm best friends wit those ladies.
If I could have dinner with anyone, it would be…
Leonardo DiCaprio, hands down. My favorite actor and environmental activist. What a stud, am I right?
One thing I cannot live without…
coffee, my camera, my dog and maybe some wine (lol yes, I'm that person!).
When I was younger, I wanted to be…
a traveler of all sorts — whatever the job was, it has to get me to travel. I'd watch "Great Hotels" with my father on the Travel Channel every Saturday morning and I'd salivate at the beautiful places she got to visit. Samantha Brown, the host, is still my idol.
I'm inspired by…
people who work hard and never fail to chase after what they want. As photographer I'm inspired by the works of Ansel Adams, Sally Mann, Kevin Russ, Molly Steele, Theron Humphrey, Julia Davies, Kristen Blanton and Magdalena Wosinska.
The one person who motivates me is…
my boyfriend. He acts as my biggest advocate for hard work and determination when it comes to my career. He's truly a gem in every aspect.
If I could change anything in the world, it would be…
the way people treat others.
The perfect day would be…
lounging in the sun by the lake after a good, long hike with a glass of crisp prosessco in hand!
My first job was…
a hostess at a famous wine bar, Postino. Their bruschetta is to DIE FOR. Best first job a girl could have!
My favorite escape…
the open road.
My life…
is a beautiful and eclectic assortment of whatever, wherever.
I'm currently working on…
some travel plans and fun projects associated with each. 🙂
Always…
work hard, be humble and live with the utmost passion.
Never…
be a a jerk. No one has time for that.
Favorite Quote…
"A human being should be able to change a diaper, plan an invasion, butcher a hog, conn a ship, design a building, write a sonnet, balance accounts, build a wall, set a bone, comfort the dying, take orders, give orders, cooperate, act alone, solve equations, analyze a new problem, pitch manure, program a computer, cook a tasty meal, fight efficiently, die gallantly. Specialization is for insects." – Robert A. Heinlein.
Biggest Dream…
to build my own house on lots of land, to have healthy children, to be a traveling photographer, to live on the road for a little while and to learn how to spell "necessity" off-hand without spell check.
My Pet Peeve(s)…
pretentiousness and flaky-ness. Say what you mean and mean what you say.
***
Natalie Allen was recently named the second local artist to participate in Broadstone Arts District and Phoenix Center for the Arts first-of-its-kind Artist-in-Residence Program. The program offers local artists the chance of a lifetime to live rent-free for four months while developing their craft and making a name for themselves within the Downtown Phoenix arts community. During her residence, Natalie will also have the opportunity to publicly display her art at the community's flex space, the Canvas @ Broadstone and use the space to teach her craft and develop a following in the community through art gallery displays, community events, and resident classes and workshops. Resident events include meet-and-greets, art exhibits and more. In addition, Natalie will receive exclusive, one-on-one access to curators and influential mentors within the arts scene. The partnerships include Phoenix Center for the Arts who has arranged for the apartment to be fully furnished prior to move-in and Artlink Phoenix who has coordinated the donation of a Tuft & Needle Mattress for the apartment.Phoenix Center for the Arts will also provide monthly mentoring workshops. For more information about Broadstone Arts District, visit www.broadstonearts.com.