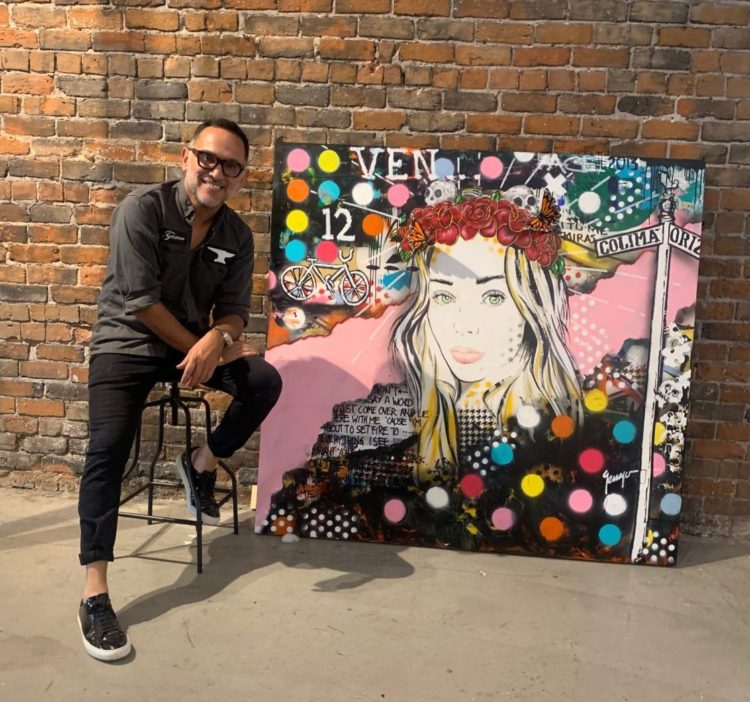 Name: Gennaro Garcia
Age: 47
Title: Artista
Single/Married: Married
Kids: One daughter, lil' Frida.
City: Phoenix
A typical day in my life includes…
double espressos, lunch at Taco Chelo or Bianco Pizzeria, work at my studio in downtown Phoenix, cook dinner and rest. 
My favorite thing about Arizona…
believe it or not, the weather. It's perfect for most of the year and when it's hot it's the perfect excuse to travel to Mexico or California.
I'm listening to…
Ed Maverick, Carla Morrison and Antonio Pinto. 
My family…
is my biggest support.  
If I could have dinner with anyone it would be…
my past self. 
One thing I cannot live without…
creating.
When I was younger I wanted to be…
an architect. 
I'm inspired by…
travels and people 
The one person who motivates me…
is my daughter lil' Frida.
If I could change anything in the world…
it would be hunger. 
The perfect day would be…
every day is the perfect day. 
My first job was…
as a waiter at my parents restaurant, I was 10 years old. 
My favorite escape…
MEXICO.
My life…
is full of blessings. 
I'm currently working on…
promoting my new Talavera collection, last week was the opening in Polanco in Mexico City. 
Always…
trying to be positive.
Never…
not creating and eating.
Favorite quote…
"At the table like brothers, in business like strangers."
Biggest dream…
I'm living it. 
My pet peeve…
people that are always late. 
More about Gennaro…
Gennaro was born and raised in San Luis Río Colorado, Sonora, Mexico. He migrated to Arizona in his early twenties with drive, passion and the desire to create art. In 2012, Gennaro reached his personal goal – a solo exhibit in San Miguel de Allende, in his native México. His art alludes to his dual identity as both Mexican, and now, American.
His use of Italian techniques with oils, acrylics, wood, and plaster, along with the combination of a Mexican color palette from his childhood, has resulted in art that showcases both world-class skill and a true Latino immigrant perspective. To create his first talavera collection, he traveled to Puebla, Mexico to study the original 120-year-old technique with Arte Ventosa. His art pieces are featured in many commercial and residential interiors, and he has participated in more than 60 exhibits in the last 4 years, including 9 solo shows. Currently, you can see Gennaro's art in 10 different galleries in the United States and two in Mexico. The Mexican film director, Carlos Muñoz, is working on a short film about Gennaro's journey as an artist in Mexico. Salvador Robledo, an American filmmaker, has been concurrently shooting a complementary documentary for the last 2 years about his transition and art in the United States.
In 2015, Gennaro was the Heard Museum's Signature Artist at their annual El Mercado de las Artes. In 2016, he received the Masters of the Southwest Award, a recognition presented by the Phoenix Home and Garden Magazine, as well as the Hispanic Heritage award presented by Cox Communications and the Arizona Diamondbacks.
Gennaro began an exciting partnership with Disney in 2016. The partnership includes a conference where he presented on his journey as an artist, as well as a mural in collaboration with his daughter, little Frida, in Mexico City. He has bridged his love and passion for the arts and the culinary world by venturing into the restaurant design field. As of now he has worked on the following restaurants: King and Queen, Barrio Queen, Tempo Urban Kitchen, Tio Chano, El Sonorense, Ghost Ranch and Co-Owner of Taco Chelo.