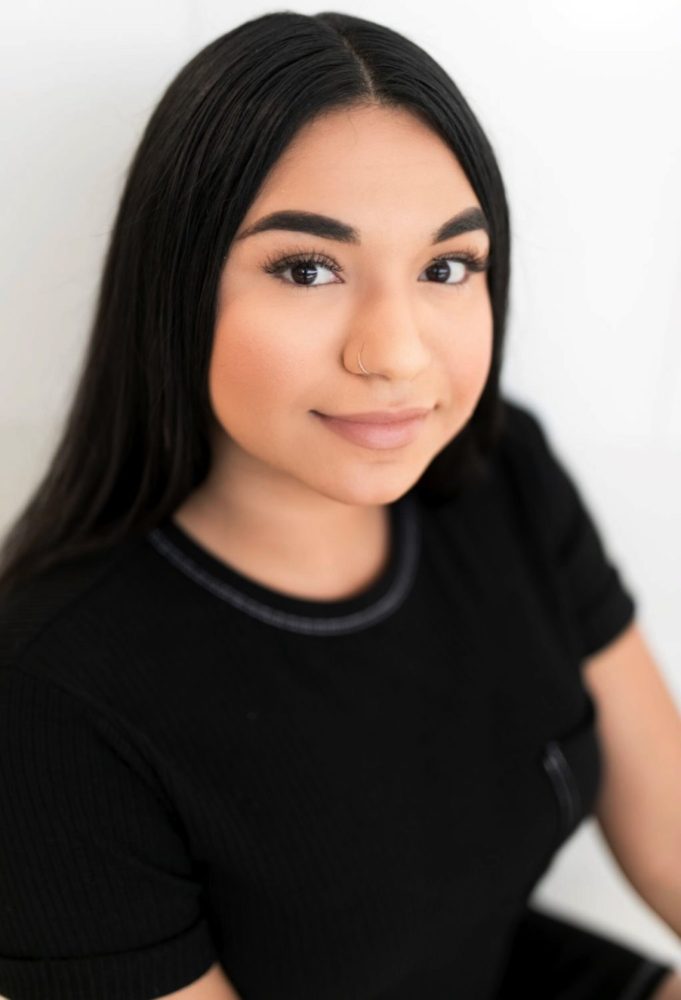 Name: Gabi Villalta aka Glambi
Age: 24
Title: Makeup Artist
Married/Single: SINGLE
Kids: future dog mom
City you live in: Scottsdale, AZ
A typical day in my life includes…
working my full time job, going to the gym, spending time with friends and/or working on my other projects.
I was born…
in Olney, Maryland.
My favorite thing about Arizona…
the sunsets (typical answer I know) and the lack of natural disasters.
I'm listening to…
Summer Walker.
 My family…
is the most important thing in my life.
If I could have dinner with anyone, it would be…
Cardi B, OKUURRT. Her hustle is inspiring and she just seems like an overall good time…plus she is my alter ego.
One thing I cannot live without…
curl cream…gotta have these curls under control or else.
When I was younger, I wanted to be…
a fashion designer and a WNBA player.
I'm inspired by…  
my mother. She has always been a strong independent woman and I hope to one day be able to provide for her as she has done for me. Also the many friends that I have that share the same entrepreneurial spirit, they inspire and motivate me with each business endeavour they take on.
The one person who motivates me is…
my dad. He always supports and encourages me to do my best at whatever I decide to take on and I just wanna make him proud.
If I could change anything in the world, it would be…
my bank account.
The perfect day would be…
spent on an island on the beach with two margaritas in hand…yes I said two.
My first job was…
TJ Maxx (lowkey miss that discount on top of the discount, lol).
My favorite escape…
late night drive listening to music or visiting family.
My life…
is like a soap opera…I need my own reality show. Kris Jenner wya?
I'm currently working on…
lots of things, stay tuned 😉 #GirlBoss
Always…
be kind, be grateful, love yourself, and stay positive.
Never…
stop believing in yourself. You can do whatever you set your mind to!
Favorite Quote…
"…do not let your hearts be troubled and do not be afraid." John 14:27
Biggest Dream… is to be a successful entrepreneur and to be able to provide and travel all over the world with my family. 
My Pet Peeve(s)…
when people don't say please and thank you and people who don't wash their hands after using the restroom.