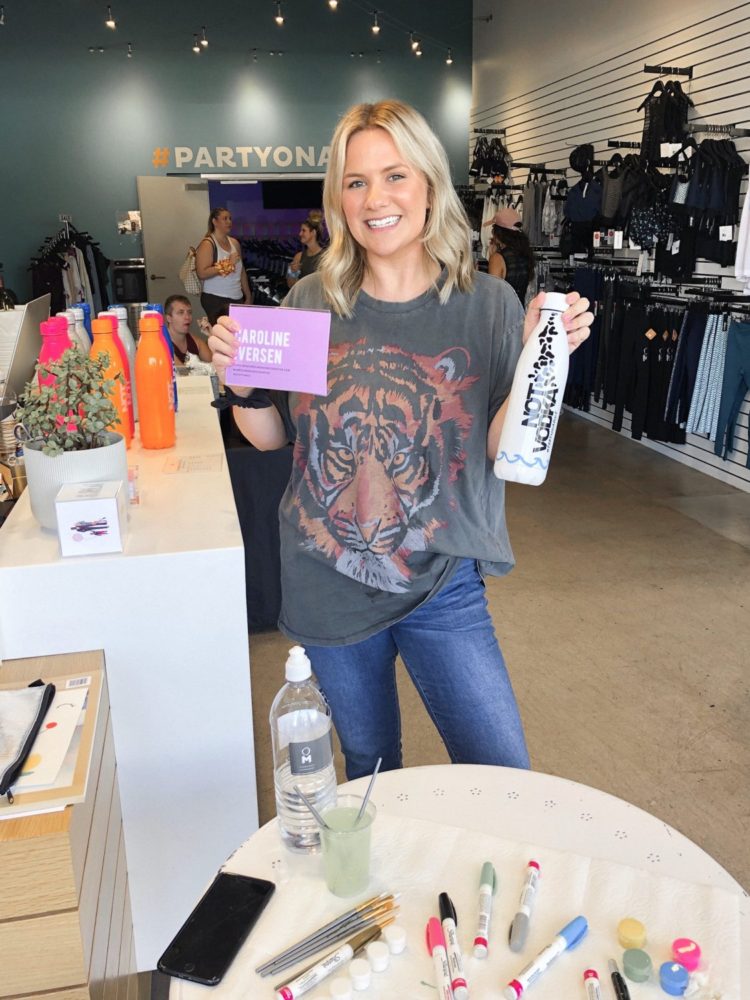 Name: Caroline Iversen
Age: 24
Title: Freelance Graphic Designer and Artist
Married/Single: In a relationship
Kids: Obsessed with them…but none of my own, lol.
City you live in: Scottsdale
A typical day in my life includes…
going to Orange Theory Arcadia at 6:15 am, coming back home to sit on my bed, on my laptop working (designing invites, replying to emails, typing up quotes) or drawing my custom illustration orders on a pad of paper on my lap… then making dinner with my boyfriend, reading *my new fave* whatever Elin Hilderbrand book I'm glued to at the time, watching some Netflix (or Live PD lol), and falling asleep by 9 like the grandma I am.
I was born…
in May.
My favorite thing about Arizona…
how EASY it is to live here. Although I absolutely hate the heat — when comparing to other places like California (anywhere) and New York, it's literally so EASY to live here. You can park for free basically anywhere. It takes no longer than like, 15-20 min to get anywhere. NSEW are pretty dang easy to figure out. Aaaand we have amazing sunsets. So, learning to love AZ as I get older. Oh, and it's not like $20 for a sandwich.
I'm listening to…
currently, Chelsea Cutler Pandora station. But usually: Lake Street Drive Pandora, Country Pandora, or Iration Pandora. Pandora never lets me down.
My family…
lives in AZ, CA, and MO. And I have lots of step siblings, but only one biological brother.
If I could have dinner with anyone, it would be…
these kinds of questions ALWAYS throw me off, because I ALWAYS want a super quick, no-doubt-about-it, interesting answer… but never have one. I think it would be super cool to have dinner with Britt Rohr from Swell Press in LA.. Her work just genuinely blows me away every time I see something new posted. And she kills it and just seems to totally know what she's doing. Something I'm working on ha!
One thing I cannot live without…
sooo, *hate this answer so much* but if I'm being realistic — Instagram. I would LOVE to delete Instagram for SO many reasons, BUT — I would not be able to be my own boss if it weren't for Instagram. To this day,  I would say I get about 90% of my business through Instagram. Other than that… gluten free pasta lol.
When I was younger, I wanted to be…
A GRAPHIC DESIGNER AYYYY. More specifically, a "menu maker" lol.
I'm inspired by…
again…Britt Rohr, Lauren Saylor (A Fabulous Fete), Becca Booker (just killin' it).
The one person who motivates me is…
can I say myself? Lots of people motivate me, but honestly when I wake up in the morning my biggest motivator is myself — trying to tackle the day's to-do list and do a better job than the last time.
If I could change anything in the world, it would be…
how much it costs to live on the beach lol. Or — how long it takes to get from one place to another (i.e. Arizona to Australia).
The perfect day would be…
finishing MY ENTIRE to-do list for the day on the actual day and then going to the beach.
My first job was…
sales associate at Alixandra Collections…then turned into 4 years of being the graphic designer and photographer for the company… first and only job before going off on my own with CHC.
My favorite escape…
turning my phone off, playing some super good music, and zoning out on my work.
My life…
currently living my best one!
I'm currently working on…
finishing painting on 8 bottles of Veuve Cliquot for a newly-engaged bride to give to her bridesmaids!
Always…
working
Never…
eating gluten, lol.
Favorite Quote…
"Remember when you wanted what you currently have."
Biggest Dream…
have my own studio space and absolutely kiiiillin' it
My Pet Peeve(s)…
LOUD CRUNCHERS. NAME DROPPERS. ONE UPPERS. PEOPLE WHO LEAVE THE CAP OFF THE TOOTHPASTE. YOUR WHEN IT SHOULD BE YOU'RE. BAD SPELLERS.

Click here to order a Trendsetters wall plaque.