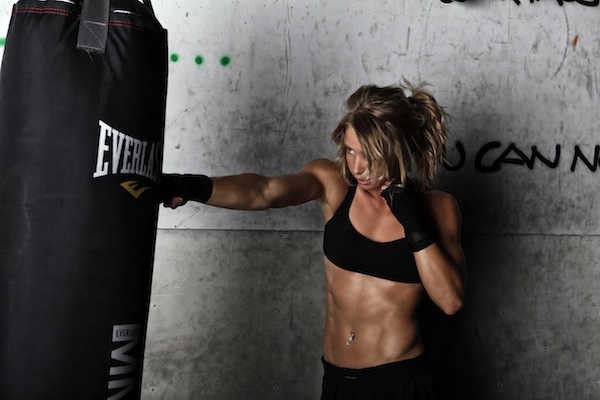 Taylor Wright-Johnson is the kinda gal who orders off the menu (salmon and steamed veggies not doused in butter), goes for a marathon hike on her day off and could give Rocky a run for his money in the boxing ring. She is fitness personified. So it makes sense that Taylor, a boxing instructor at Amenzone who also has a degree in Kinesiology from ASU, would be our first "Hot Body Secrets" – a new regular feature on the blog that'll reveal hot-body how-tos from local fitness personalities. Here, Taylor reveals why you should shop the perimeter of the grocery store and how to find your workout motivation…
How to find a workout you love… We're no longer confined to the treadmill and dumbbells. Grab a friend and try a Pilates, kick-boxing or Amenzone class! If you enjoy the outdoors, go for a hike, bike or join a local sports league. Fitness is a way of life – enjoy it!
How to tame trouble spots… Unfortunately, there's no magic exercise that targets trouble spots to blast away fat. Cardiovascular training burns calories while resistance training will improve muscular tone as well as boost your metabolism. Aim for a diet low in sugars and starches and implement a consistent cardiovascular and full-body strength routine into your daily regimen and your overall body fat will decrease, including those love handles or inner thighs.
How to stay motivated… You need to figure out what drives you to work out, whether it's your fitness fanatic friends, the money you spent on a personal trainer, motivational quotes on the mirror –  anything that'll push you through that feeling of wanting to give up. Commit to be fit!
How to eat healthy… Instead of focusing on the number of calories or carbohydrates, shift your attention to the quality of the food itself. Aim for "real foods" – foods that aren't processed and can most likely be found around the outer edges of the grocery store. A diet high in plant based foods and lean proteins and low in starches and simple sugars will properly fuel a healthy active body!
How to avoid overeating… Follow this simple rule: only eat when you're truly hungry and stop when you are full. And listen to your body! Are you really hungry or just eating because it's in front of you?
To learn more
Taylor teaches at all 3 Amenzone locations, including their NEW Old Town Scottsdale location