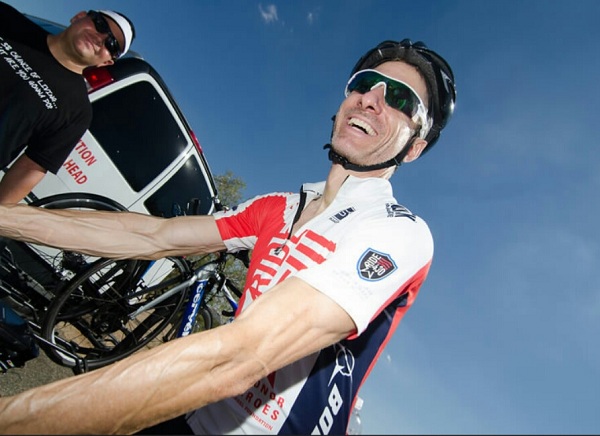 Blue Wasabi isn't your typical sushi bar (hello, they have gluten-free sushi!) and owner Jim Moran isn't your typical business owner: He's a cycling junkie with a penchant for healthy, nourishing food. Here he dishes on all his fitness faves…
Favorite gym
For the past several months, my "gym" has been a physical therapy office (Physiotherapy Associates on Mountain View and 92nd) as I have been rehabilitating a ruptured dish and a torn herniated disk in my lower back. I've just been released to build back up to my normal physical fitness routine. I generally don't go do a gym; I use Camelback Mountain, road cycling and the jungle gym at the Train Park as my fitness equipment. I use the jungle gym to do all kinds of body weight exercises.

Favorite calorie-burner
My second favorite way to burn calories is to do long rides (50 to 100+ miles) on my road bike.
Favorite healthy dish
A platter of tuna, salmon and yellowtail sashimi with a side salad of spring greens, avocado and asparagus at Blue Wasabi.
Favorite healthy snack
I make a mix of raw almonds, raw walnuts, raw sunflower seeds, raw pecans and raw pepitas and snack on that during the day. All of these nuts and seeds have various health benefits — and raw almonds are a great way to keep my blood alkaline. Being over 40 years old and very physically active, my blood pH (age and activity make the blood acidic and it should be alkaline) is something I pay extra attention to.
Favorite alternative medicine
I have an acquaintance who's studying holistic medicine and is a certified yoga instructor and massage therapist (Lauren Wojcik of "Be Well with L"). Between the therapeutic massage techniques and stretching and restorative poses she's taught me, I've been able to address virtually all of my nagging long-term aches and pains, and have been able to recover from soft tissue "use" injuries much, much faster than in the past. Lauren is amazing!