I loooove Gina Marciano's yoga class. She has a knack for turning power yoga classes into exercises of fun, and she pushes you with positivity… so before you know it you're doing some crazy arm balance you never thought you could do. No wonder she was nominated for best yoga instructor. You can catch her class at The Madison – or join her yoga retreat to L'Auberge de Sedona November 15-17, a 3-day celebration of yoga (both group and semi-private sessions with Gina), Red Rock hiking, creekside dining and, of course, sangria. Here, the dancer-turned-yoga-instructor shares all her fit favorites…
Favorite time to workout…
I absolutely love working out in the morning. Whether I'm sweating it out with a bootcamp workout at Arizona Training Lab or practicing yoga with one of the many phenomenal instructors at The Madison Improvement Club, I'm a huge fan of starting the day with movement. Connecting the body and mind before jumping into my day allows me to heighten my sense of awareness, ground down and stay engaged with whatever life brings my way.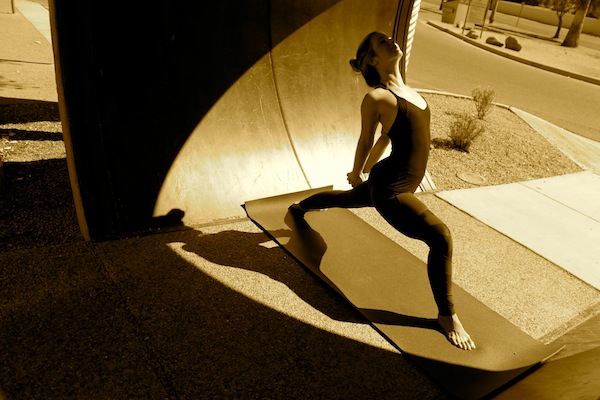 Favorite yoga instructor…
Oh boy, this is tough! I have a long list of favorites when it comes to teachers in the Valley: Dave and Cheryl Oliver, John Salisbury, Alex Austin, Anton Mackey and Jenn Chiarelli are some of my main teachers. They provide endless inspiration for my personal practice and for my teaching. I am so grateful for every single one of them.
Favorite workout wear…
My dresser drawers are packed to the brim with lululemon clothes. Some days I forget that I own other articles of clothing! The Wunder Unders are by far my favorite, and I love how creative lulu has gotten with fun colors and patterns. They're functional, fit great and allow me to move comfortably and freely in my yoga practice. Their Free To Be Bra is also fantastic, providing equal amounts support and comfort – and a cute design with the straps on the back!
Favorite beauty product…
Burt's Bees Pomegranate Lip Balm is my #1 beauty product. I keep one in my purse and one on my nightstand. I don't think I could go one day or night without it!
Favorite healthy restaurant…
If I'm dining out, chances are you'll find me at S.E.E.D. Cafe at The Madison. Chef Joe Meyers has done it right, creating the perfect blend of deliciousness and health! The Turkado Chavokey is my favorite breakfast burrito. And the peanut butter cupcake is hard to pass up (it's gluten free and vegan so that passes for healthy, right?).