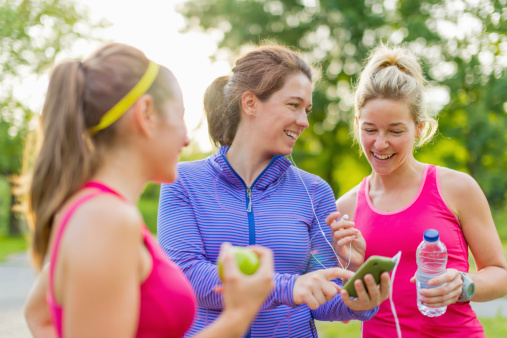 For many, 'W-O-R-K out' has become a four-letter word that conjures up feelings of dread, stress, and resistance. As a result, exercise either becomes a thing of the past that gets put off day after day, or remains a regular, boring part of your routine that you force yourself to do.
As you may have experienced with past fitness routines, rigid and unrealistic exercise plans that you don't enjoy will likely cause you to burn out long before you achieve your physical health goals. Research has shown that when people establish a moderate, flexible, and enjoyable exercise routine, they are more likely to maintain a long-term commitment to healthy, consistent exercise. This type of exercise is called Intuitive Exercise.
Rather than rigidly focusing on the number of calories burned, heartbeats per minute, or average speed, intuitive exercisers seek out non-punishing, non-extreme physical activities that help them feel strong, confident, and proud of their bodies. Intuitive exercise does not rely on hard and fast rules about what you should or shouldn't do; rather, it gives you space to listen to your body to determine when and how to exercise on any given day, with the ultimate goal being progress, not perfection!
So, how do you become an Intuitive Exerciser? Ask yourself these three questions:
What does your body need? For most of us, our bodies need a healthy balance of cardio and strength training. With that in mind, identify your physical priorities and then which exercises will help you achieve that goal in a healthy way. Traditional cardio and strength training exercises can be 'intuitive' if they are done in response to your body's own personal needs and signals. Examples of this may include:

Running on a treadmill at a pace that feels good to your body and helps you relieve stress, rather than forcing yourself to keep a speed that is uncomfortable and overly challenging.
Lifting weights at a gym and using proper form because it leaves you feeling strong and builds your confidence, rather than overextending yourself with too much weight or improper form.
Switching up your routine each day based on how you feel. If your plan was to run, but instead you feel like cycling, allow yourself to be flexible so that you can better listen to your body.

What kind of movement interests you? A key element of intuitive exercise is FUN! The more you like the movement, the more willing you are to find the time and energy necessary to incorporate this into your daily routine. For some, going to the gym is fun; for others, it is awful. Think outside of the box and find what you like – the goal is to keep moving! Some examples of FUN movement include:

Walking around the park with your kids as they ride their bikes
Dancing to your favorite music
Hiking in the mountains on a beautiful spring day
Playing Frisbee with friends
Shooting hoops at a local park
Attending a new group exercise class at a local gym or studio.

What do you need to be consistent? Identify the factors that help you achieve success in maintaining this movement on a regular basis. Know what works best for you and what helps you look forward to exercise and you will be much more likely to consistently maintain this exercise.

Social? Try a group class, team sport, or neighborhood boot camp.
Love the outdoors? Try a gentle hike, walk through a park, or a ball game.
Short on time? Try a gym that is open 24 hours or use workout videos at home.
Need diversity in routine? Try to attend various gym classes or identify different outdoor paths that offer new scenery.
Looking to save money? Try an exercise MeetUp group or schedule walks for business meetings in place of lunch or coffee dates.
Need to stay close to home? Map walking or running paths in your neighborhood.
Intuitive exercise is all about listening to your body's intuition of what it wants and needs, letting go of preconceived ideas of how exercise should be, and having FUN! Use these three questions above to create a relationship with movement that is fulfilling, interesting, and enjoyable – and remember, the goal is progress, not perfection!
By: Marta Mallory, MS & Dr. Ashley Southard
Marta Mallory, MS, is the certified personal and weight trainer at A New Beginning and for its newest program TheHealthyWeighOut, a healthy weight loss program created specifically for individuals struggling with emotional overeating and binge eating disorders. Marta has 20 years of experience in the health and fitness industry and helps her clients improve their health and wellness by focusing on full body strength and resistance training.
Ashley Southard, Ph.D., LAMFT, is a licensed associate marriage and family therapist specializing in the treatment of eating disorders, trauma, abuse/neglect, relationship problems, depression, anxiety, and related issues. Dr. Southard is also the co-founder and clinical therapist of A New Beginning's newest program TheHealthyWeighOut.