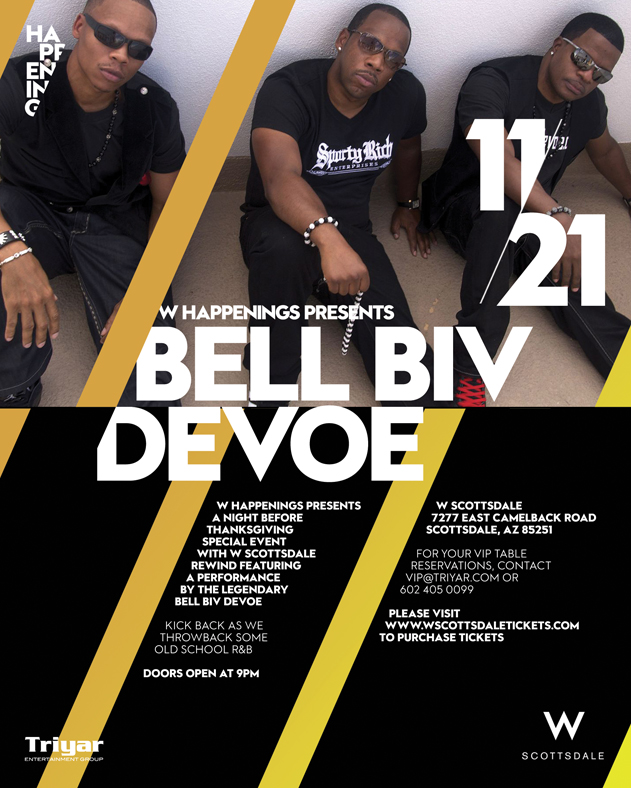 W Scottsdale continues its 'W Scottsdale Rewind' event series this month featuring Grammy nominated '90s R&B and hip-hop group Bell Biv DeVoe on Thanksgiving Eve, Wednesday, November 21. Doors open at 9:00 p.m.
W Scottsdale Rewind launched in March 2012 with hip-hop classic Rev Run of Run D.M.C. performing a special DJ set for fans. This Thanksgiving Eve, W Scottsdale Rewind will bring a performance by Ricky Bell, Michael Bivins and Ron DeVoe, better known as Bell Biv DeVoe (BBD) that will take place on a stage in the WET pool on the second level WET deck, providing guests with the classic hits including "Poison," "Do Me!" and "BBD (I Thought It Was Me)."
Bell Biv DeVoe received fame from their unique collaboration of hip hop beats, R&B harmonies, and street-styled dance moves. In 1990, their debut album, Poison sold over four million copies which garnered them the platinum title and number one spot on Billboard's R&B/Hip Hop chart.  Their success continued with the top three single on the Billboard's Hot 100 chart, "Do Me!" and popular hits like "BBD (I Thought It Was Me)" and "When Will I See You Smile Again?"
After three albums and over 20 million copies sold, the Grammy nominated artists reunited after taking a break from music to make their fourth self-titled album, Bell Biv DeVoe. The group worked with old friends to create the new album: past group member and lead singer of New Edition, Ralph Tresvant; Grammy nominated songwriters Jagged Edge and Heavy D from the early '90s hip hop group 'Heavy D & the Boyz'. Bell Biv DeVoe worked with well established hip hop and R&B producer, Rockwilder, who is known for his work with high-profile artists including Mary J. Blige, Christina Aguilera and LL Cool J.
To purchase tickets to 'W Scottsdale Rewind', please visit www.wscottsdaletickets.com.
For VIP table reservations, please call 602.405.0099 or contact vip@triyar.com.