So you're looking for somewhere to party this Halloween? Here are the TOP 5 parties to be at… PS… The following are in NO specific order. ALL 5 of these parties guarantee an EPIC time. Seriously.
1. SLE's 12th ANNUAL GHOSTBALL BLOCK PARTY FEATURING MORGAN PAGE AND STAFFORD BROTHERS on Saturday October 27th 
This year's Ghostball is adding new production and high resolution LED lighting production, in addition to staging that will be constructed in the center of the block,creating a larger than life outdoor dance club, while still being able to view the Halloween celebration. Guests also have the option to purchase any of 10 cabanas, two of which will be placed directly on either side of the stage giving prime viewing of the costume competitions and both DJ performances to its VIPs.
"We really wanted to revamp our block party into a clubbing environment to suit the great talent we booked this year," said Mike Burstein, Entertainment Director at Evening Entertainment Group. "This will be our most spectacular Ghostball yet."
WOW… If you have never been to SLE's Ghostball Block Party… This is a MUST!!! Just make sure you wear your dancing shoes. Because with the Australian DJ duo Stafford Brothers and two-time Grammy nominated DJ Morgan Page, you will be dancing the night away in the streets of Old Town.
For tickets or more information: www.SLETickets.com
2. THE HAUNTED HOTEL BALL @ HOTEL VALLEY HO on Saturday October 27th
Relentless Beats & GlobalAdrenaline.net, Platinum Nightlife Group and Scottsdale Nights presents Haunted Hotel Ball, at Hotel Valley Ho in Old Town Scottsdale.
Now with Two Ballrooms of Dark & Dirty Music, and a $5,000 Costume Contest – Thrilling Theatrical Performers – Spine Chilling Décor – Arizona's Top Club DJs.
VIP Table Reservation
(Two Premium Bottles, Reserved Seating for Eight & Private Cocktail Server – Tax and Tip Included)
A Special Room Rate of $199 is Available October 26 and October 27 at Hotel Valley Ho. Book Online (Link above) or Call (480) 421-7600 and Mention "Haunted Hotel Ball".
Last year tickets sold out QUICK!!! So don't miss your chance to party with some of Scottsdale's elite party-goers and TOP club DJs.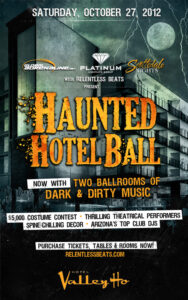 For tickets and more information: www.relentlessbeats.com
3. MIDNIGHT MASQUERADE FEATURING TOMMY TRASH AND ALVIN RISK @ MADISON EVENTS CENTER on Saturday October 20th 
Start Halloween a little early this year! With artists like Tommy Trash and Alvin Risk.. Why wouldn't you want to start you're Halloween celebrations early!
Relentless Beats and Rhogue Entertainment are proud to present The Third Annual Midnight Masquerade. It's back and bigger than ever. And that's a PROMISE!!!
For tickets and more info: www.relentlessbeats.com
4. Gabriel & Dresden Halloween Bash @ The MINT on October 31st
Even though Halloween falls on a Wednesday this year… Steve Levine Entertainment is bringing superstar trance duo Gabriel & Dresden for all you music lovers out there who didn't get their fill over the weekend!
Gabriel & Dresden's comeback marks one of the most notable moments in EDM this past year, finally answering the call of millions of dance lovers. With gigs at some of the world's biggest festivals, clubs and events planned and a new compilation in the making, Gabriel & Dresden are all set to do what they love most: celebrate music. And we're all invited.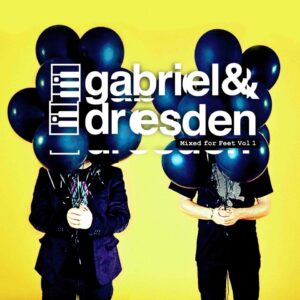 For tickets and more information: www.SLEtickets.com
5. 911 Halloween Massive on October 27th … Venue will be announced the day of.
Finally… For all you massive/festival/rave lovers out this will be the place to party for you! 911 Massive is a yearly EVENT running for over 2 years now as we enter the 3rd annual. Every year is a different theme and this year YES you guessed it right! Halloween Theme! We are bringing a massive production with hot attractions and of course live music to be banging your ear drum all night! Now experience the party of your life! 911 Halloween Massive is gonna have decked out in costumes, makeup and props crafted specifically for this event.
Headliners: Dank, Sazon Booya, Deorro, Bizerk, Jayyfresh, Daelo, Michelle Sparks, Juheun, Dan Lunsford, Rolando Hodar
[youtube id="s5TI4d26WC4″ width="600″ height="350″]
For tickets and more info: www.911halloweenmassive.com
And there you have it! The 5 BEST places to party this Halloween!
See you on the dancefloor!