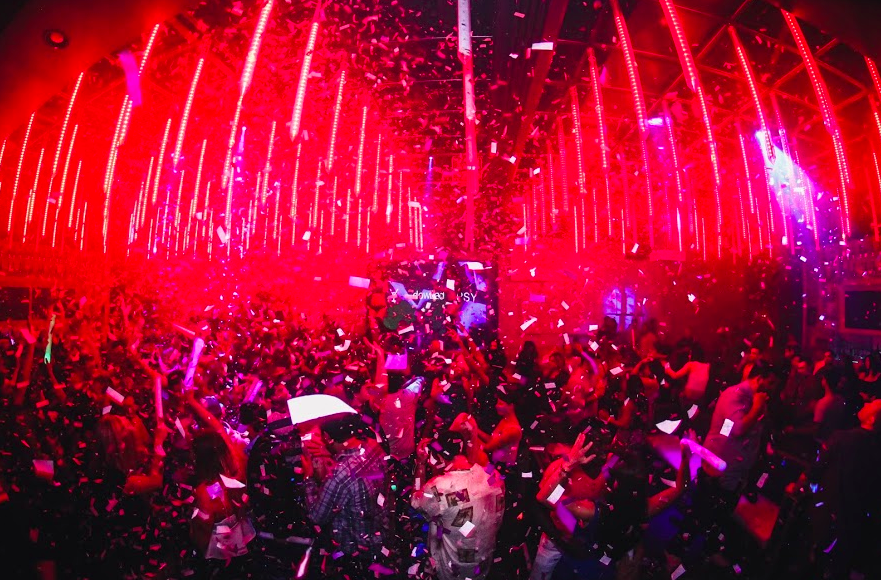 Going to the gym can lead to a fit body, healthier lifestyle, and a positive mind. Sometimes it can lead to even better things, like Tipsy, the new nightlife app that helps support and promote your healthy partying habits. After returning from the gym one September day, Eli Chmouni and Blake Wilson were inspired by the idea of gym memberships and all the perks they have to offer. Curious if there was a way to create a similar concept for the beloved nightlife scene, Tipsy was soon born. We had the chance to talk to co-founder Eli about the app, it's growth, and all the alcoholic perks it comes with.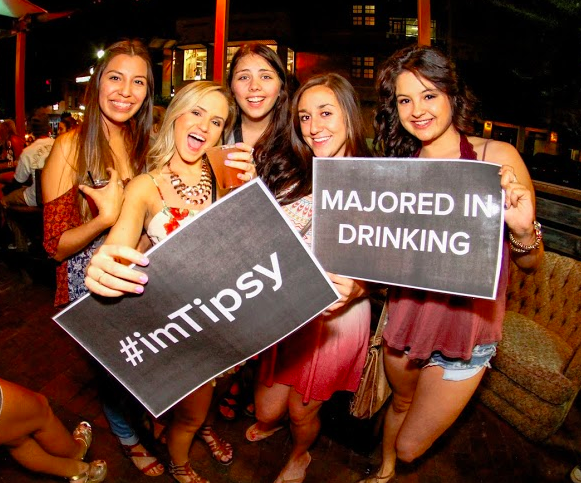 Tipsy, an app currently available on iOS and Android, is a nightclub membership that treats its users like VIP, handing you free drinks and granting you quick access to hot spot clubs and bars you frequent every weekend. While a free version is available that allows you to easily peruse happy hour specials and promotions at Tipsy's sponsored venues, it's the premium version that really upgrades your night. For $15/month Tipsy users receive 5 vouchers every month, each redeemable for a free drink, no cover charge, or front of the line pass at Tipsy supported venues. The vouchers can be mixed and matched so when you really don't need another drink, just redeem the front of line pass and head straight to the dance floor.
Gaining the support of multiple venues in return for customer analytics, Eli and his team had venues signing up only months after thinking up the idea. "We basically just went to work," says Eli, "all of our development is done internally on our team and we basically just developed it." The app is simple to use, because let's face it, an app that offers free drinks has to be. Tipsy presents a simple and clean presentation with easy to find venue information and specials along with vibrant photos. "My biggest thing is customer service and the smoothness of the experience," explains Eli. Redeeming the vouchers is about as smooth and easy as it gets. The process is one click so you don't have to spend any unnecessary time waiting to sign a receipt or shout a secret code word over the deafening bass while all your friends take the shot without you.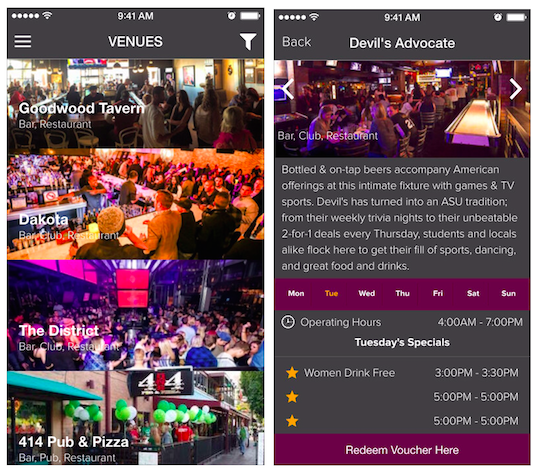 With 30 supported venues in Tempe and Scottsdale, we guarantee you've spent at least one night stumbling out of one of them and most likely stumbling into another. Their supported venues are on the top of everyone's list, and not just the lame, kind-of-cool bars you end up at when you've had one too many. Maya, Dakota, The District, and INT'L are a few in Scottsdale, while Tempe includes bars such as Cue Club, CASA, and Zuma. There's also some restaurants thrown in the mix for when you need a quieter evening to rest your liver.

"The reason that we started it was because we personally like to enjoy the nightlife scene and we wanted to make it in such a way that you don't have to get a table to be treated like VIP," explains co-founder Eli. And who wouldn't want that? On April 3 of this year, the Tipsy crew went public and held a bar crawl in Tempe with an expectation of 50 people, and instead got more than double that. Since then, Tipsy has taken off with more than 1,000 users. Not only are their users growing by the day, but so is the app. Currently in Tempe and Scottsdale, Tipsy will soon be expanding into Chandler, Mesa and Gilbert. In fact, they're even working on an Austin, Texas launch. "We want to have a Tipsy USA app where you can go to all clubs and be treated like a VIP," says Eli. We even hear Vegas is in the works – we'll take a shot to that.
The best part of all is you can get your first month of Tipsy for FREE just by entering the promo code "Foothills." So get Tipsy, because drinks are on the AFM family – and that's worth a couple five cheers.
A full list of potential party sites along with additional information for users and vendors can be found on their website at www.imtipsy.com