On Tuesday July 24th, in the heart of Old Town, the speakers at Smashboxx played to the heartstrings of music lovers everywhere, 12 local Arizona DJ's playing on vinyl.
With DJ popularity growing and technology pushing the boundaries, it's rare to see a DJ these days playing on nothing but vinyl records. Technology has quickly taken over and introduced new ways for DJ's to deliver music to the audience, using computers, CD's, midi controllers, etc. Some new school DJ's have never even had the opportunity to play an all vinyl set, and some of the old school guys haven't touched vinyl in years.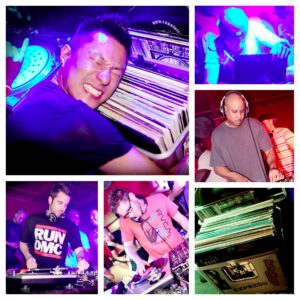 The energy was awesome and the DJ's surely didn't disappoint. They played everything from hip hop to house and made playing on vinyl look like it was something they never stopped doing. One of the highlights of the night was watching legend DJ Robbie Rob play an original Notorious BIG track on a vinyl that was given to him from the late artist. The night was best summed up by DJ Tranzit,  "Blast from the past….Hot Tub Time Machine action all night long!"
This is the third "Project Fusion" resident DJ's Tranzit and Circle have thrown at Smashboxx and surely not the last. With impressive beats, amazing talent, beautiful people, and of course the epic party atmosphere Smashboxx (and its crew) provide, the next Project Fusion is definitely a party you do not want to miss.