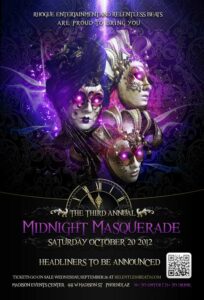 WHEN: Saturday October 20th 2012
WHERE: Madison Events Center | 441 W. Madison St., Phoenix, AZ 85003
INFO:
Relentless Beats and Rhogue Entertainment are proud to present The Third Annual Midnight Masquerade on Saturday, October 20, 2012 at Madison Events Center. It's back and bigger than ever. Featuring Tommy Trash, Alvin Risk, Skull Kids, Ecotek and Brett Ortiz.
Rhogue Entertainment is ASU's biggest party promoter. For the past three years, they've brought ASU Midnight Masquerade and Reading Day Riot parties that have featured the likes of R3HAB and Designer Drugs. The Rhogue team are active in ASU's Greek community and are proud to call themselves Sun Devils.
Look out for announcements on www.relentlessbeats.com and on Facebook. Like Midnight Masquerade on Facebook to get all the latest updates.