by: Amanda Savage and David Jackman
One of the founders of the Chicago house music movement, Mickey Mixin' Oliver, talks about his upcoming 3D Vegas show, having a street named after him in Chicago, his new album and what it was like making electronic music in the 80's.
AFM: Let's start with some ice breakers, what are you doing right now?
Mickey: I'm in Las Vegas producing a new exciting 3D show that will premiere later this year. I'm also putting the finishing touches on a new album that is coming soon.
AFM: What's the last song you listened to, besides your own?
Mickey: I just listened to "Get Lucky" by Daft Punk.
AFM: What city are you living in?
Mickey: I'm living between Las Vegas and Scottsdale, Arizona.
AFM: What's your favorite place to eat? Or favorite local menu
 item,
or both!
Mickey: I really enjoy going to Sting Ray in downtown Scottsdale. Great sushi.
AFM: Best place to have a beer? Or cocktail if that's more your thing?
Mickey: The atmosphere at Fashion Square Mall is one of my favorite locations to have a beverage of choice. There are several establishments to choose from there, as all are friendly happy hour spots.

AFM: For the younger crowd out there, what are your credentials?
Mickey: This past year, I was honored as a semi finalist for the Grammys. It was a special honor for me. In 2011, I had one of the top songs of the year on Billboard's dance chart topping off at # 16. The song I wrote and produced is called "As Days Go By." I actually was the lead vocalist on the verses. Also in 2012, the city of Chicago passed a resolution and honored me as one of the creators of house music by naming a street after me called "Mickey Mixin' Oliver Blvd". The London Observer, which is like the New York Times of Europe, recently named me one of the top 10 most influential DJs of all time. These accolades have been a very humbling experience for me to say the least.
I'll just name one more thing, in that a couple years ago I produced and starred in a national cable television series called Intensi-T TV. This show aired on DirecTV, Fox Phoenix, Fox, Chicago & Milwaukee, ABC in Las Vegas, as well as in Dallas, Houston, San Diego, Louisville and many other cities. It was fun acting, singing, playing keys and doing crazy turntable tricks while starring in this Entertainment/variety show that performed at one of the theaters inside the Planet Hollywood complex in Las Vegas. We even did a sketch comedy gag every week. Some of the clips from the show are on my youtube.com/mickeyoliver channel.
AFM: Let's get into some music questions, who are some of your favorite
 producers at the moment?
Mickey: I'm a fan of Daft Punk, Calvin Harris, Oingo Bingo and Ferry Corsten.
AFM: If you could tour with three other DJs, who would they be?
Mickey: I'd like to tour with Bad Boy Bill, Marcus Shultz, and Felix The House Cat, mostly because we all grew up together.
AFM: What's your dream venue to play at?
Mickey: In America one of my favorites is the Avalon in Los Angeles. In Europe, Barcelona has some super clubs that were once castles. I have to mention Ibiza as another favorite. The crowd is super responsive there.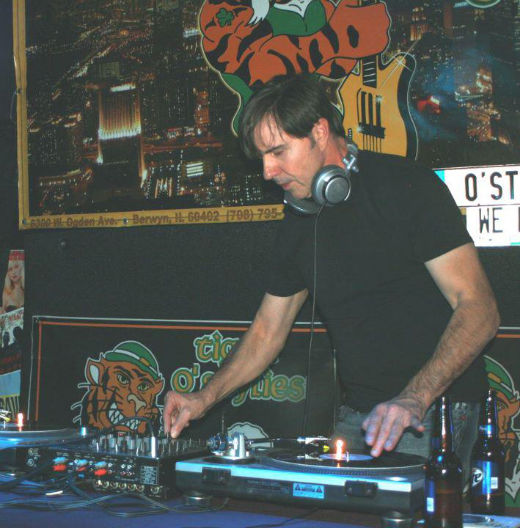 AFM: What was your first music love? Or were you always into EDM? How does
 your past music experience impact the DJ you are today?
Mickey: Actually, when I started as a DJ there was no dance music to speak of. Things started for me as a little boy. I got hired by a radio station called WBMX on premise of my DJ skills, who did crazy turntable tricks. This radio station had the lowest ratings of any music station in Chicago. But there was this innovative program director that wanted to bring the art of DJ antics to the airwaves. Some how I got selected. I thought to myself at that time, "what were they thinking? Hiring someone like me so inexperienced?"  There were five of us selected and thus we were called "The Hot Mix 5". Soon, we introduced drum machines to the masses, (replacing the drummer) and then sequencers with keyboards, (replacing the musician). Enter Electronic Dance Music. This was something we decided to call House Music. Also at this time, producers all across Chicago were creating new tracks like us utilizing this new sound and before we knew it, this sound called House Music became an overnight sensation. But how does a new genre sweep the world? It needed a mouthpiece, which was Radio Station WBMX out of Chicago. This station soon rose to #1 in the Chicago market and today, holds Arbitron Records as the Hot Mix 5 show became the most listened to Radio show in a major market. It was an amazing time. But getting back to this new sound in what made it blast off. It was our turntable skills, as they were so advanced for the world. We had no idea that Chicago was so far ahead of the curve at that time. I found myself touring the world at a young age and doing manufacturers turntable and mixer demonstrations.
AFM: What about the music you create? Would you say that you have a
 distinct sound? Is it something that just happened or something you chose
 and aspired for?
Mickey: Being involved in the beginning of house music, I guess people would say that my sound was a particular vibe back then and that it morphed into trance and rave. Today, I'd say I produce mostly progressive house.
AFM: Any big plans for 2013? Tour, shows, etc.? Tell me about the Vegas 
show.
Mickey: I'm in the midst of producing a show call(ed) MickeyOliver3D which is a 3D experience. This show will be the first of its kind, as it will be a technology bonanza. Describing the show, it incorporates 3D projection mapping on a specifically designed set, intertwining Dancers, Musicians and Holograms.
The show is themed to originally produced Electronic Dance Music, with sci-fi scenarios and high energy dance routines choreographed with 3D animations projected onto our set. If that isn't enough, at the entry point of the venue, while patrons are waiting in line, I'll be DeeJaying as a Hologram in a glass case.
AFM: What about your new single and album? What direction should we expect
 you to take? Fusion? progressive?
My new album titled "IntensiT" will be a collection of progressive house, disco house and top 40 radio dance songs. My new album titled IntensiT will be a collection of Progressive House, Disco House, and Top 40 Radio Dance songs featuring recording artists Roxie Wagner, David Jackman and myself. This album is on IntensiT Records and is aligned with Del Oro Records a division of Universal Records.
AFM: You're Quite an Inspiration behind the development of early Chicago
house in the 80s and the boom of EDM in general. Having started with
tape-cutting, old school samplers and vinyl, what's it like operating now? 
In an era of remote midi controllers and virtual instruments?
Mickey: It's definitely A lot easier today.  You had to think outside the box when I started as a little boy. There was no one to go off of to get an inspiration, since we were the trendsetters. I used tape editing as a technique, to do crazy edits for my DJ show. I once bought a speak & spell game for children and I sampled its vocabulary onto a sampler. Being that the vocabulary was so limited, I had to tape edit words together to make other words (as In-Ten-Si-T became the name of the song). I felt that this children's device would be a great vocal for a house
record. This song ended up being a huge hit worldwide and the speak and spell is still used today in current songs as well as on XM Radio's BPM channel for their voice drops.
AFM: What about the way you share and save music? How has cloud computing
changed music for you?
Mickey: I use Soundcloud for previewing new songs to the public prior to their release, as well as for letting the world hear some of the club tracks that I've produced. I actually like to use drop box when sending and exchanging files to Producers that I work with.
AFM: Do you have any favorite tools? What do you like most about
Mickey: I use Ableton Live for Production. My favorite VSTs are Sylenth, Massive and Nexus. When it comes to mixdowns, I use Pro Tools HD because the Headroom is greater for sound quality. Mastering is the final step and I use Real Tube Amps to customize the sound so it is friendlier to the ear.
In closing, I can always be found on Facebook,  I enjoy sharing with everyone new music, clips from my new 3D show, giveaways and more. Thanks for having me as your guest here.
Follow Amanda on Twitter @Amanda_Savage