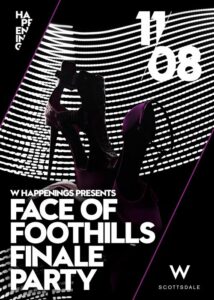 Join us at The W Scottsdale Hotel where the Face of Foothills top 20 finalists will strut their stuff in a series of three runway fashion shows presented by Dillards and Neiman Marcus! This is a FREE event and will be going on from 7pm all the way to 2am.
The winner will be presented with a Jaqueline Nerguizian designer necklace, a contract with Agency Arizona, an Arizona Foothills Magazine cover shoot for its January 2013 issue, and a featured spot on Arizona Foothills Magazine website for 2013.
On top of all the flashy fashion that will be making its way down the runway, Scottsdale's #1 Resident DJ, Soloman, will be controlling the decks and providing music for you throughout the night. Come out, get a drink, socialize with other beautiful people, and even get your picture taken as the cover of Arizona Foothills Magazine. Hope to see you there!
Admission is free. Seats for the fashion show are $25 and can be reserved at www.wscottsdaletickets.com