The Las Vegas Strip is filled with some of the hottest nightclubs and resorts in the country. With varying themes, crazy pool parties, celebrity performances and a glitzy nightlife scene, there's plenty of places to end up on the Strip. The north end of the Strip, however, is not usually where you do. With few hotels seemingly miles and miles away from the center of it all, the north end is lacking. But that could change very soon.
Construction has just begun to start renovating the northern end of the Strip to add a mega-resort by Resorts World Las Vegas. According to an article in Successful Meetings, the new Chinese themed resort will be built by Malaysia's Genting Group, who recently released a statement saying that "rich cultural attractions, varied cuisine, and jaw-dropping entertainment from China's many diverse regions and ethnic groups" will be featured. Along with the resort's initial plans and future additions there are talks of a large-scale attraction that is "still-to-be-determined." But if Genting Group's past projects lend any clue to what they're working on in Vegas, you can bet it's going to be huge. The Genting Group is best known for building Resorts World Sentosa in Singapore, which is a resort, casino and theme park combo; a Universal Studios theme park to be precise. We can't help but wonder.

Universal Studios Singapore
The initial plans, however, for the resort will be a 1,000-room hotel tower, 100,000-square-foot casino, retail village, aquarium, convention center, observation deck with views down the Strip, and 30 dining and nightlife hot spots. Naturally a bar and showroom for live entertainment will be in the mix as well. But it wouldn't be Vegas if it weren't over the top, which is what the future plans sound like they will be. Later additions to the mega-resort will not only include three more hotel towers, but a bowling alley and water park to top it off. Talk about a day in Vegas. You have about three years to prep yourself for the after effects of intoxicated roller coaster rides. The first phase isn't set to open until mid-2018.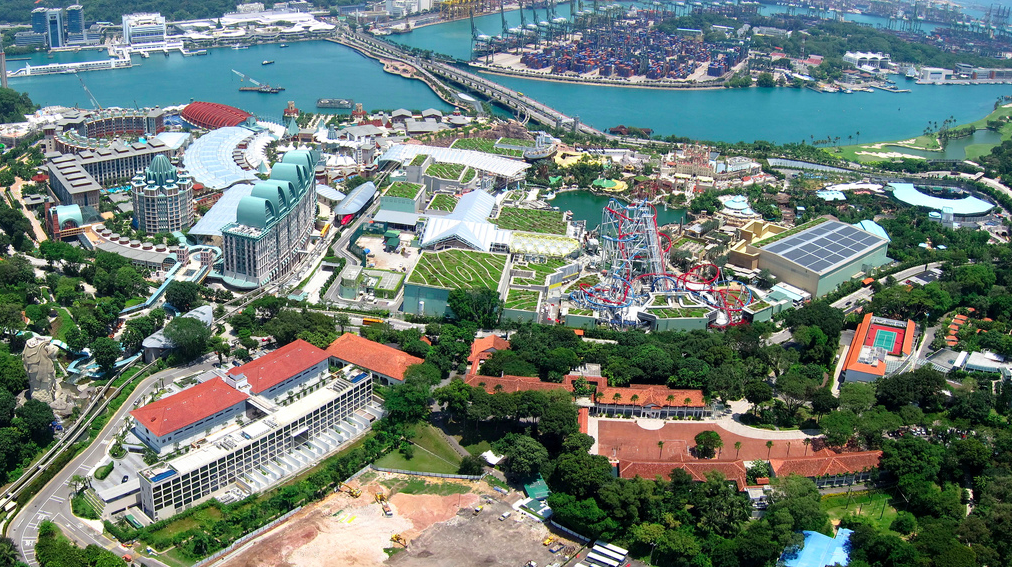 Resorts World Sentosa in Singapore