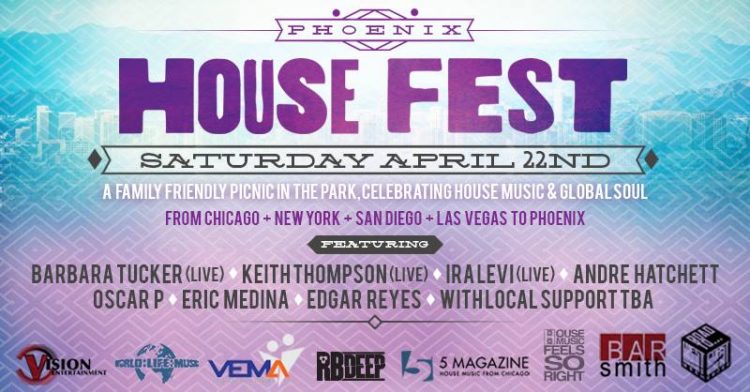 Phoenix House Fest returns to the Valley for its fourth year this Saturday April 22 from 9a – 7p. The free, family friendly event promises to be the biggest yet with a new home at Steele Indian School Park. Attendees of all ages are encouraged to bring tents, chairs, coolers and enjoy a full day of House Music & Global Soul in the park. Phoenix House Fest 2017 headliners include "The Queen of House" Barbara Tucker and Ira Levi, set to perform hits like "Free Your Mind". Special Guest DJs include Andre Hatchett, Oscar P, Mark Di Meo, Eric Medina, Edgar Reyes and more. Local DJs will also hit the stage including Phoenix House Fest co-founder WF Rani "g".
Festival goers can kick the day off by arriving early for the Wellness Segment at 8:30am. The pre-show session will feature a pilates warm up by Jennifer Miles, yoga led by Dre Dygert & Sarah Hunt, and live sound healing shavasana by Alexandra Sirocky. DJ Marija on the decks. This years fest also marks the addition of a special live segment in collaboration with BlackAlive Entertainment, to present SUPERSTARS OF HOUSE, their first major national tour initiative to feature House music artists.
The once one day event has now expanded into a three-day house music extravaganza jam packed with goodness, check out the full schedule of events below.
House Fest Welcome Party x BFF Fridays
Friday April 21st, 8pm at Bar Smith – 130 E. Washington St. Phoenix, 85004
Featuring: Barbara Tucker Live Performance, Mark Di Meo, Edgar Reyes, Senbad & Pete Salaz, Rani "g", Sean Watson, Brian Barry, Andre Parker. 21+ w/ valid ID.
House Fest Picnic and Main Event
Saturday April 22nd at Steele Indian School Park Amphitheater/Bird Lake – 300 E. Indian School Rd. Phoenix, 85012. All ages, children welcome & encouraged.
House Fest After Party x Road To West Coast Weekender (SD) x Solstice
Saturday April 22nd, 8pm at Bar Smith – 130 E. Washington St. Phoenix, 85004
Featuring: Ira Levi Live Performance, Andre Hatchett, Oscar P, Eric Medina, Kevin Brown, Larry Pena, Cormac, Flipstylz . 21+ w/ valid ID.
House Fest Farewell Brunch
Sunday April 23rd , 1pm at FOUND:RE Phoenix – 100 N. Central Ave, Phoenix, 85003
Featuring: Rani "g" w/ Kris Hill & Ted Belledin, Maji, Josh Quintero, Jonny Rogers, Blaq Barry, Charlie Meyer
Family friendly, children welcome with parents.