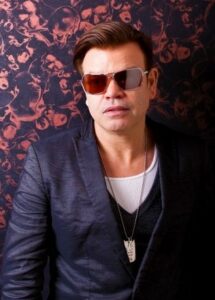 Godfather, Icon, Superstar…. With a career spanning over 30 years in electronic dance music, Paul Oakenfold has single handedly expanded the way people view DJs and electronic music. Oakenfold's story is the stuff of clubbing legend. After training to be a chef, Oakenfold's life was changed forever when he and his friends Trevor Fung, Nicky Holloway, Danny Rampling and Johnny Walker took a trip to a place called Ibiza in 1987 – the infamous "Summer of Love". Blown away by the Balearic sound he heard there, he went back to the UK, took helm at the biggest clubs in the world and launched his own record label Perfecto. The rest is dance music history.
After a two year absence, this Friday, September 21st, Oakenfold will make his return to the valley of the sun to headline one of the biggest summer closing parties on the West Coast, 'Relentless Beach' at El Santo in North Scottsdale.
This is what the dance music legend had to say about touring with Madonna, Ibiza, the ever changing EDM scene and what he has in store for Scottsdale on Friday.
AMANDA: "You're currently on tour with Madonna… How has that been so far?"
PAUL OAKENFOLD: "Really good! The energy is great! This is my 3rd tour with her. It's been really relaxing."
AMANDA: "Oh wow! You're the first artist I've ever heard say a tour is relaxing!"
PAUL OAKENFOLD: "[Laughter] Well, since this is the 3rd tour I've been on with her, I know everyone and feel at home. That's probably why I feel relaxed."
AMANDA: "The dance music scene has always been evolving and changing, especially right now. As the 'Grandfather of EDM', how do you feel about the direction we're going?"
PAUL OAKENFOLD: "I think its great! It's good for all of us really. I've seen this happen before in the UK. It isn't a bad thing like everyone thinks. We have a strong infrastructure and we all have been working very hard at this. It's what we've always wanted."
AMANDA: "Who's your favorite up and coming artist right now?"
PAUL OAKENFOLD: "A German techno artist named Gesaffelstein. Right now everyone is playing the same 10 tracks. Gesaffelstein is playing this new form of techno and doesn't sound like anyone else. There's no one like him. He's very good. "
AMANDA: "In August you played the ASOT takeover with Armin van Buuren at Privilege in Ibiza. How was the show and what's the scene like in Ibiza these days?"
PAUL OAKENFOLD: "It was fun! Ibiza has changed but in a good way. The scene is the strongest I have ever seen it. On the island, techno is what's hot and what is being played everywhere. It's quite amazing really."
AMANDA: "What's next for you after you get off tour with Madonna?"
PAUL OAKENFOLD: "I'm going to finish my new album, which will feature compilations with a lot of different artists, like Owl City, and has many different sounds. Also continue working on my radio show 'Planet Perfecto'. Are you coming to the show on Friday?"
AMANDA: "Ummm of course I am! I wouldn't miss it for the world! You're the reason I do what I do! You were the first DJ I ever saw and that experience has made everything I do today in the industry possible. So thank you!"
PAUL OAKENFOLD: "Very cool Amanda! Please come and say 'HI!'"
AMANDA: "Oh I absolutely will! Ok so, It's been over two years since you've played in Arizona. How excited are you to make your return to the valley at El Santo for Relentless Beach?"
PAUL OAKENFOLD: "I'm very excited! Arizona has always been one of my favorite places to play. The energy is always great in Arizona. I'm definietly looking forward to being back!"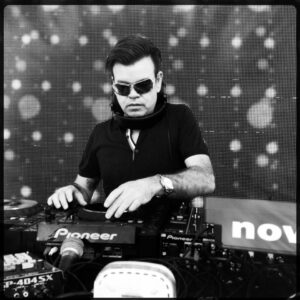 AMANDA: "We can't wait to have you! What can fans expect from your set on Friday?"
PAUL OAKENFOLD: "I'm planning on playing some brand new tracks from my new record. Some old stuff for sure. Definitely plan on me banging it out!"
AMANDA: "That's amazing! We seriously cannot wait! Finally Paul… What piece of advice can you give to someone who wants to become a DJ?"
PAUL OAKENFOLD: "Don't do it! [Laughter from us both] My best piece of advice is to work hard. There's a lot of people trying to jump on the band wagon right now which means there's a lot of competition. Stay focused and dedicated. That's what will make you stick out from the rest."
Check out the latest 'Planet Perfecto' mix here: 
[soundcloud url="http://api.soundcloud.com/tracks/60129629″ comments="true" auto_play="false" color="ff7700″ width="100%" height="81″]
For more information or to score tickets to Relentless Beach Feat. Paul Oakenfold: www.relentlessbeats.com