Funny or Die's Oddball Comedy & Curiosity Festival @ Ak-Chin Pavilion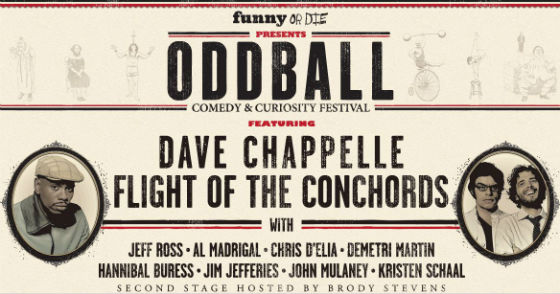 The Oddball Comedy & Curiosity Festival is traveling comedy show infused with equal part intrigue and jokes, coming to the Ak-Chin Pavilion on Sept 22. The headliners, Dave Chapelle and Flight of the Conchords, both left highly successful TV shows to pursue other interests (movies, farming, etc. . . ).
Ever since, the masses have been waiting with bated breath to see the cult comedy heroes rise again. Your funny bone will be remiss if you don't catch this outdoor comedy behemoth, which features the likes of Chris D'Elia, Al Madrigal, Kristen Schaal and Jim Jeffries. Even if the jokes don't quite hit, everyone has been witness to something special (see: Chapelle's alleged meltdown), not to mention the bonus perks of a side stage, hosted by the enthusiastic Brody Stevens. One part comedy show, one part freak show (no really, there are freaks); 100 percent unmissable.
Ak-Chin Pavilion
2121 N. 83rd Ave.
Phoenix