Looking for the hottest spots to party post-ballgame or simply the best Phoenix nightlife? From high energy bottle service to laidback classy cocktails, karaoke bars and historic speakeasies, there's plenty to be experienced (and drank) in the Valley of the Sun. Keep reading for some of the best places to hit up during your time in town.
Updated November 1, 2019.
Scottsdale
Entertainment District
If you're looking for a hub of upscale nightclubs and bars, it's safe to say that Old Town Scottsdale's Entertainment District is where you want to be. Like a "mini Vegas," the area is packed with all different types of outlets from country bars to day clubs with pools and cabanas and is often the nightlife destination of choice for tourists and locals alike.
For heart-pumping music and premier bottle service, opt for tropical-themed Riot House, Bottled Blonde, Hi-Fi Kitchen & Cocktails, The District, Whiskey Row, El Hefe, Dakota, Int'l, Bevvy or The Mint — all within steps of each other. For a day-night option, Maya Day + Nightclub throws Vegas-esque pool parties in the day and transforms to a high-energy nightclub after dark, often hosting DJs, celebs and star-studded guests on the weekends. During winter months, the pool area is covered up and transformed into the ultimate backyard playground, the Clubhouse at Maya. Enjoy oversized yard games, picnic benches, arcade games, a custom treehouse bar and more.
Still in the middle of the action, W Scottsdale offers a quieter, but stylish lounge bar. Casa Amigos and Skylanes make up a two-story concept featuring a boutique bowling alley and bottle service upstairs and a Mexican-themed bar downstairs. If you wander a little further, Wasted Grain, Boondocks and Social Tap offer more relaxed settings. Other spots include whiskey bar Three Wisemen and the popular L.A. karaoke lounge, Asian-themed concept Blind Dragon.
Tip: The Entertainment District is a short distance from Scottsdale Fashion Square Mall and the boutique shops and restaurants that Old Town Scottsdale is known for (and even more bars and lounges — see below). Grab one of the many golf carts cruising the streets for a quick ride anywhere. And if you happen to wake up in a club, there's plenty of trendy brunch options around. In fact, many of the nightclubs double as restaurants and serve brunch on the weekends.
Old Town Scottsdale
If Vegas-style nightclubs are too much for you, Old Town Scottsdale has more laidback options that are just as enticing. Kelly's at Southbridge is an indoor-outdoor traditional pub with comfy couches and a large patio. Nearby Beverly on Main is an intimate, upscale cocktail lounge, reminiscent of a speak-easy. For a true Western-themed bar, visit tourist-favorite Rusty Spur Saloon. Or head to Scottsdale's oldest tavern, Coach House, a small, laidback bar that's been family-owned since 1959. If local craft beer is your jam, Goldwater Brewing Co. is a small brewery with 20+ of their own brews. Make sure to check out The Goldmine, the bar's underground tap and barrel room. For a trendy indoor-outdoor wine bar, head over to Postino, a local favorite known for their bruschetta boards and extensive wine offerings.
Phoenix
Downtown & Central Phoenix
The Valley's urban center is home to an eclectic art scene, sports arenas, concert halls, a thriving dining scene and plenty of nightlife options, many that hold quite a bit of local history.
For a truly historic spot to grab a drink, visit Hanny's, a former department store built in 1947 that now serves as a bar and restaurant. The building features three stories, a basement and a mezzanine level. Visit the rooftop bar LUSTRE at Hotel Palomar where you'll find a pool and outdoor bar with killer views. If sipping on innovative cocktails sounds like your thing (calling all cocktail snobs), Bitter & Twisted features a book of them and is constantly winning local and national awards including recently being voted one of the top 10 "World's Best Cocktail Menu" in 2019 by Tales of the Cocktails. It's housed inside the former Arizona Prohibition Headquarters and has a vintage, stylish vibe. The Churchill, a recent addition to downtown, is a unique gathering space made up of shipping containers housing local small businesses. The open-air space makes it ideal for great-weather days.
Copper Blues, located in Cityscape, is a rock bar and restaurant with live music every night. The stage is lined with beer tap handles and its menu emphasizes local craft beers and signature cocktails. Post up next door at Lucky Strike Lanes & Lounge for a night of bowling and drinks, or set out to find some of Downtown's speakeasies. Valley Bar is located underground and features a small music venue, game room and central bar. For a real speakeasy experience, head to the basement of the Renaissance Phoenix Downtown Hotel where you'll discover Melinda's Alley. Find it by venturing down the narrow alley between Adams and Monroe Streets. off Central Ave. Look for the single red light under a large mural-covered wall. Open only on Fridays and Saturdays and allowing just 69 guests at a time, the tiny bar features eight new cocktails every week
Perhaps the most unique place you'll find is The Duce, a 1928 warehouse that really just needs to be seen to be understood. The large venue features a bar, soda fountain, bleachers from a local Phoenix high school, tons of backyard games, a boxing ring, a kitchen housed inside a camper and more funky features, plus their handcrafted cocktails are delicious.
The Breadfruit & Rum Bar is home to more than 150 of the best rums, a humidor and a Jamaican-inspired dinner menu. Angels Trumpet Ale House boasts one of the top patios (dog friendly too!), a chalkboard menu of its extensive craft beer selection and homemade pop tarts. But if classic sips are what you're after, head a little north to Central Phoenix's Honor Amongst Thieves. Located above Stock & Stable, mixologists are pouring up the originals with a twist. The bar also features a DJ on Friday and Saturday nights. Take it back to Phoenix in the 1960's at The Womack. The classic cocktail lounge tribute to the former Chez Nous — known for its cocktails and soul music — and is a dark and swanky hideout.
Tip: Depending on where you're located in the Valley, the Light Rail offers a quick and easy way to get around. Stretching from East Mesa to upper Central Phoenix, it's ideal for traveling back and forth between Downtown Tempe and Downtown Phoenix. The station has stops on Arizona State's campus as well as multiple ones in the heart of Downtown Phoenix. Ride once for $2 or all day and night for $4.
North Phoenix
North Phoenix's Desert Ridge has recently become more nightlife-friendly with the addition of CB Live. The venue features two areas, The Rock Pub, featuring a restaurant with free live music, and The Showroom, a ticketed venue hosting bigger musical performances, comedic acts and more. Within walking distance, The Whining Pig is a laidback underground bar featuring beer and wine and cheap eats like charcuterie boards and grilled cheese. Furthermore, their happy hour lasts until 8 p.m. daily. For family-friendly fun, Dave & Busters is steps away.
Neighboring High Street also offers late-night fun. Blue Martini is a chic cocktail lounge with a sophisticated yet playful vibe. Rick Bronson's House of Comedy offers up endless laughs with a lineup of A-list comedians plus food and drinks.
Tempe
Downtown Tempe
The center of Arizona State University's nightlife scene, Downtown Tempe is within walking distance of the campus. Home to famous Mill Ave., expect everything from small dive bars to larger, bottle-service clubs. While you can find nightclubs similar to that in Scottsdale, this area tends to lean more to the casual side. Find sports bars, dive bars, restaurants and boutique shops sprinkled all around the college town.
Located just off Mill Ave., Culinary Dropout at Farmer Arts District offers a trendy atmosphere. Enjoy comfy couches and games like table tennis, bean bag toss and more. Or drink like the Irish at Casey Moore's Oyster House, a neighborhood haunt with a hipster vibe. Home to famous $1 you-call-its every Monday and Wednesday, the Vine is a student favorite and great for cheap drinks. For one of Phoenix's most popular breweries, head to Four Peaks. Their large 8th Street Brewery (the original) is housed in a small neighborhood in an 1890s brick building. As the original location, it attracts all types of people, from families to college students.
Mill Ave.
Along Mill Avenue itself, there's plenty of options for a night of drinking. For high-energy bottle service, visit El Hefe or Whiskey Row (who have sister locations in Scottsdale). AURA is a traditional nightclub with VIP tables and DJ entertainment. Head to Casa for game day fun, where guests can sip their famous 32-oz. buckets of booze on the patio. For a longstanding favorite, head to Cue Club, a pool hall that features cheap drinks including their infamous Long Islands. A great indoor-outdoor option, The Handlebar has a 2,000-sq.-ft. patio and extensive beer list. Pop over to Pedal Haus Brewery for a great lineup of local craft beers. For live music, Low Key Piano Bar is an underground dueling piano bar. Other great spots include the Irish pub Rula Bula or Zuma Grill, home to their famous Snorkels. Just order one and see.
Glendale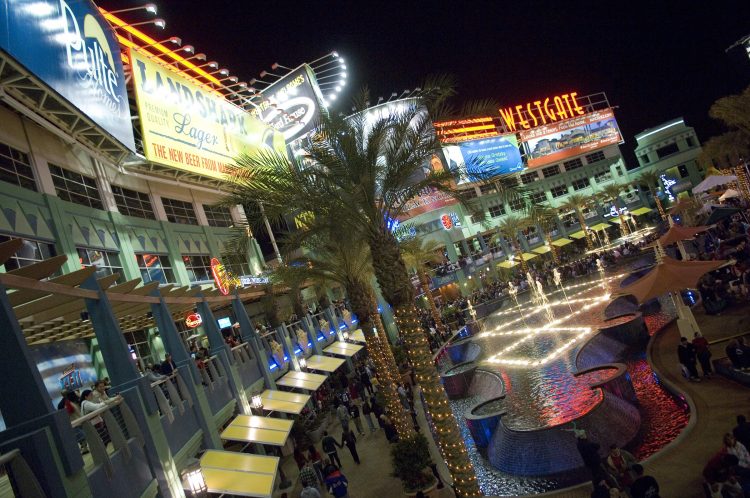 Westgate Entertainment District
For West Valley nightlife, Westgate offers plenty of dining and entertainment. While many of the dining options are chain, a couple local options are perfect for a night out. Low Key Piano Bar (with a sister location on Mill Avenue) is a dueling piano bar while Saddle Ranch offers a high-energy mix of western and rock. the district offers live music every Friday and Saturday night. Perfect for families, there's also a movie theater, Dave & Buster's and Tavern + Bowl, complete with bowling lanes, billiard tables, a full restaurant, outdoor patio and microbrewery.
————————————————————————
Looking for something else? For an ultra-classy way to spend the evening opt for a stylish hotel bar at one of Arizona's countless upscale resorts. Trust us, they're worth visiting. With award-winning mixologists, city views and many spring training specials, these are just as hot as the nightclubs. For the best resorts closest to every spring training stadium in the Valley, click here.
Make sure to also check out our weekly concert collection here, a roundup of the latest concerts in town.