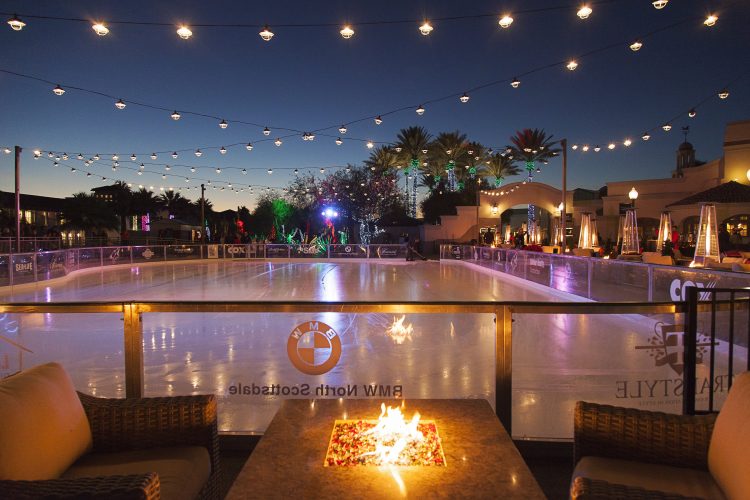 Looking for that perfect holiday date night with twinkling lights, ice skating, hot chocolate and cozy fires to snuggle up with your special someone? Open nightly from November 22 to December 31, the Eighth Annual Christmas at the Princess at the Fairmont Scottsdale Princess is a true winter wonderland and our top pick for a festive holiday night. Keep reading for the top 4 reasons it's the ultimate date night during the Christmas season.
1. Desert Ice Skating Rink
The 6,000-sq.-ft. Desert Ice Skating Rink is the highlight of the Fairmont's Christmas celebration and has even been named one of the "Top Ten Holiday Ice Rinks in the World" by the Vancouver Sun. Made with real ice, guests can lace up their skates and cruise around the rink that's surrounded by desert landscape, twinkling lights and nightly snowfalls.
2. Extravagant Light Displays
What's a Christmas without an endless amount of twinkling lights? Marvel at more than 4.5 million LED lights while riding the Princess Express Train throughout the resort's lagoons. The Lagoon Lights can be enjoyed 5 to 9 p.m. In the plaza, a four-story Christmas tree with 70,000 LED lights dance to 17 classic holiday songs for a five-minute high-definition video show projected against the resort's facade. The plaza shows happen on the hour from 6 to 9 p.m. nightly. And for a new light show head to the resort's Copper Canyon Christmas Village for holiday music accompanied by synchronized lights and a new Christmas Visions Tree. The Copper Canyon shows begin every 15 minutes from 5 to 9 p.m. (Dec. 8-9, 15-31). The Nativity Garden also features a 10-minute program including an 88-foot narrated light and music show.
3. Rinkside Fire Pit Tables
For the coziest of experiences rent a rink-side VIP fire pit during the evening that includes s'mores and blankets. Rates and dates vary by capacity and demand. Submit an inquiry here.
4. Delicious Dining
Why not make a whole night of it and visit one of the resort's restaurants offering a full experience. Spend $75 at any of the resort's outlets including Bourbon Steak, Toro Latin Restaurant & Run Bar, La Hacienda and Ironwood American Kitchen and receive complimentary general admission and access to rides and attractions plus complimentary valet parking.
For more information, visit: scottsdaleprincess.com/Seasonal-Events/Christmas-at-the-Princess