Everywhere I go I feel like I am reliving the 80's. Just yesterday one of our AFM models arrived wearing a Madonna tee shirt purchased at Forever 21. While we talked about all the 80's music that she loved I mentioned to her that I had the exact tee shirt when Madonna did her first big tour in '83.


She of course was fascinated by all things "retro" and wanted to hear more about the bands and concerts I had seen first hand when I was a carefree teen and college student. The conversation turned to all sorts of throwbacks including "mix tapes" Back in the day mix tapes were reserved for only those people that you were truly crushing on because getting the needle in the exact right place on the record (as in 33 and 1/3 or 45) and capturing it on tape (cassette not 8 track..that's a whole other story) often required a steady hand or the patience to keep repeating it until you reached perfection. After all your true love….no matter how temporary deserved only the best!
Of course we know that the 80's fashion inspiration have been living on in one form or another since the decade came to a close and no I am not talking about people who just don't have good taste I am talking, booties, shoulder pads, acid wash, neon, word like douche bag and lately lingerie inspired day wear.

This Spring Marc Jacobs sent wispy of lingerie looks down the runway as did Christian Dior and Valentino. Interestingly enough CD's models hair and makeup look strikingly like Madonna in her Bombshell phase.

Not everyone may be able to embrace wearing your skivvies up front and center or even on the outside but for those young enough to not have done it the first time in the eighties, if you have the confidence and the figure…I say go for it! Just keep this look away from the office my dear, otherwise the team with think you have gone a bit nutty.
Maria Paz Navales darling deco inspired creations Undrest Haute Couture is available at www.anthropologie.com This set Is perfect for layering, wear the bra over a sheer tee and under a blazer.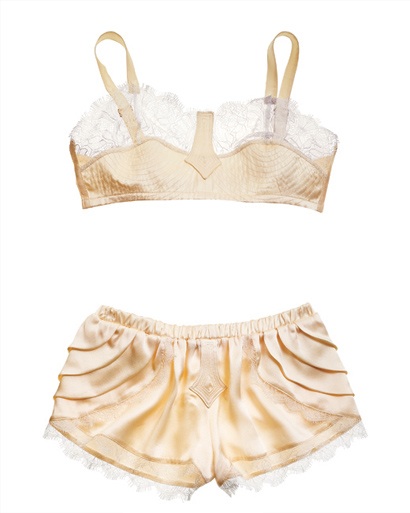 A few other options to snap up 3.1 Phillip Lim sunshiny yellow and dotted print set, or Nina Ricci just a hint of color mauv-y flesh toned set at www.ninaricci.com.
If you want to keep your lingerie semi-private try it under a sheer blouse like this organza and chiffon number by Opening Ceremony, or this Just Cavalli blouse at www.netaporter.com
Pair these Alexander Wang chiffon shorts with a belted blouse to emulate the look at Dior.



As always wear this look with a tad of restraint too much of a lacy thing and people will mistake you for a Grammy Awards performer.
For just a touch of boudoir for evening I ADORE this Christian Louboutin tulle bag, or these Valentino satin and tulle court shoes unfortunately the only place I have found them is a Colette www.colette.fr