It seems lately that every young twenty-something photographer I meet is obsessed 80's music, but strangely not the cool, cutting edge music that we all loved so much…the very same tunes that defined the era, but rather the overplayed top forty stuff turned Muzac in our fav fast food chains. Though I am sure they like the cool stuff too it is so bizarre to me that a twenty five year old would really want to listen to music that my retired parents find acceptable. In any case when it comes to fashion, the eighties have certainly lingered longer and caused much debate over the authenticity of whether leg warmers, acid washes or neon were actually coming back or going out again. Pick up any gossip mag these days and it's hard to deny that Hollywood's young and rich haven't jumped on the bandwagon in some form be it clothing, hair makeup or nails. And it doesn't stop there A-list celebs, songstresses and even fashion mag editors are taking the plunge as well.
Recently I caught the latest photos of Tilda Swinton who I have always thought an acting genius and a fashion risk taker in the best sense. Her latest "do" is featured prominently in Pringle of Scottlands ad campain. Shorn and blonde and edgy, I dig it! Of course my friends and I all test drove the look at least once in our day- bleached, clippered and swept over one eye. The buzzed look has also been showing up on runways from stateside to across the pond and beyond. Though the look is more punk edge than military-esque it's certainly not for the wallflower or the pedestrian fashionista. The hottest way to wear it is closely shaved on one side (a la Cindy Lauper) or zipping off a chunk of hair from temple to ear. The uber cool look has been a signature for Elle Editor Kate Lamphear for some time now.

R & B singer Cassie created a sensation when she first went under the shears months ago, and she's still rocking the look. Rihanna has partially tested the waters with a super close crop and Alice Delal hailed as the "new" Kate Moss has sported the look on and off since 2008 spawning a legion of followers.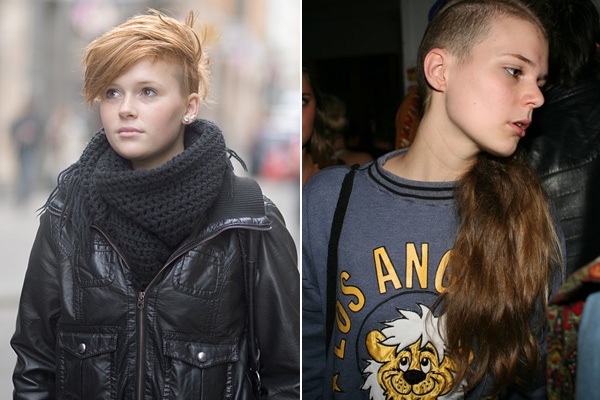 If only I were twenty years younger…I just loved having convertible hair and being able to change my look just by flip flopping from side to side. Of course this look requires a full commitment in dress and makeup otherwise the asymmetrical edge is sadly lost in translation.