Contributor: Dani Medin, Fashion Communications Director, Dillard's
'Tis the season for galas, charity events and holiday parties. Your big night out might mean making a big statement. Whether you decide to sparkle and shine, or keep it sleek with a velvet touch, find your perfect, special occasion dress at Dillard's. Granted, your average weekend doesn't involve a red carpet, but you can dress like it.
Here are the season's most wanted trends with the following 10 styles available at your valley Dillard's stores. As the night goes on the temperature will go down. Warm up on a cool, desert evening by layering a chiffon or faux fur cover-up over your favorite dress. Some styles are shown with a recommended cover-up that's paired just right and won't hide the details.
Shop the trend: The Classic Black Dress
Xscape Metallic Applique Velvet Gown
Eliza J Faux Fur Shawl Capelet
Dial up the drama in the Xscape gala ready gown. The metallic sequin and embroidered applique bodice combines with velvet for a must-have trendy sheath with plenty of glam. It has a mesh bodice up top and floor sweeping length down below. A faux fur capelet from Eliza J is the perfect cover-up to complement the style.
Shop the trend: Sequins Shining Bright
Cachet Cowl Neck Stretch Sequin Gown
Tahari ASL Chiffon Shawl available in aubergine
Embellished garments are our favorite trend in holiday dresses year after year. The Cachet gown proves that all-over shiny, glistening detail sets the stage for a sparkly night out. Coordinate a champagne sequin gown with a burgundy chiffon cover-up for an outfit worthy of fall's hottest trends. At Dillard's, sequin dresses in the assortment of evening-ready looks include slinky knit gowns with newness in cowl neck styling to daytime velvet mini dresses covered in abstract sequin designs. Simple jewelry and you're a modern-day Cinderella off to the ball.
Shop the trend: Velvet Done Right
Xscape Off-the-Shoulder Velvet Gown
Tahari ASL Chiffon Shawl available in metallic gold/silver
Velvet is a scrumptious material that is high fashion and, more importantly comfortable, with just enough sheen. It's a favorite fabric for another season. Burgundy shades are best sellers. Look for deep wine shades in the velvet trend from brands like Xscape. Newness in the must-have fabrication includes beaded bodices with attention grabbing glitz and off the shoulder sexy necklines.
This luxe gown is figure-flattering from head to toe. The classic sheath has an off the shoulder neckline and slit back. The number one trending color wears well with any metallic cover-up. Shown is the gold, black and silver from Tahari. Any of the three different ways to wear it will flatter the silhouette. When you try on the dress, try wrapping it over one shoulder, or both shoulders, or tie in the back. The chiffon shawl is an evening gown accessory.
Shop the trend: Jump on the Jumpsuit
Tahari ASL Metallic Blouson Jumpsuit
Tahari Brooch Faux Fur Cape
The Tahari belted foil jumpsuit is effortlessly elegant. The novelty foil knit fabric is trending in the metallic story adding a new touch to the jumpsuit category. It features a halter neckline with soft pleats below and a belted sash defining the waist. This style will make you a trendsetter. It's hot off the press and with the right amount of sparkle and shine.
Shop the trend: One shoulder on order
Jessica Howard Ruffled One Shoulder Gown
The one shoulder trend is sophisticated and oh-so-stylish. This season show off your shoulders with shape accentuating silhouettes. The style from Jessica Howard comes in red, navy and black. It is designed with just the right amount of stretch for a perfect fit and all night comfort. Petite and missy sizing is available in-store.
Shop the trend: Make a metallic statement
Tahari ASL Long Cap-Sleeve Metallic Knit Gown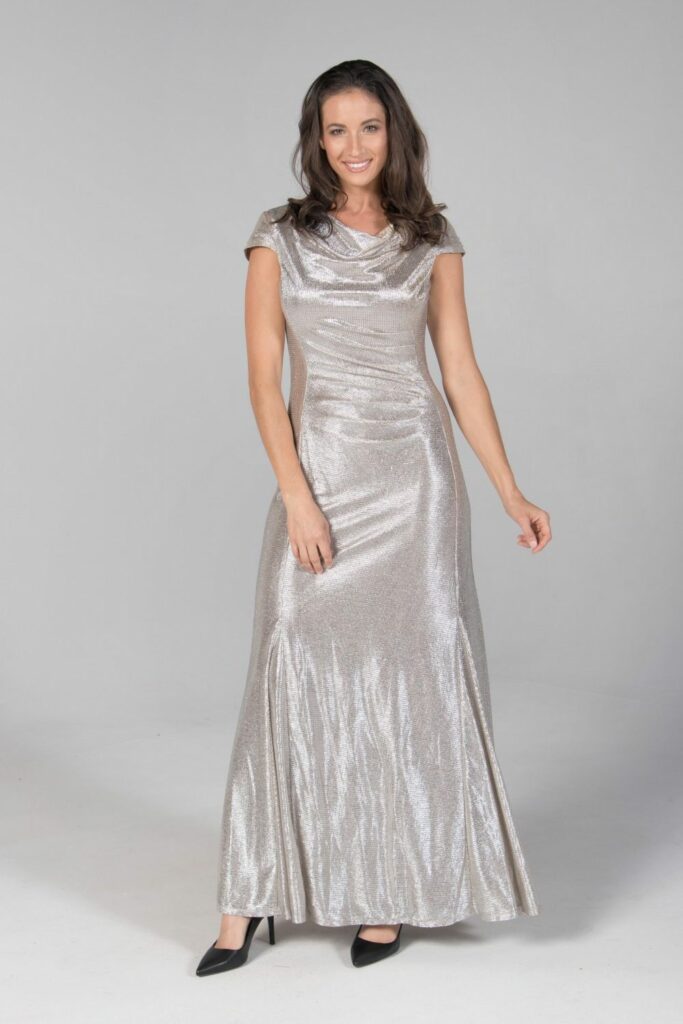 Make a metallic statement in a trend from the catwalks and the concert stages. If you're looking now for your New Years Eve party dress, don't wait for the future. Reflective fabrics with high shine are even hot for daytime and one of the season's hottest trends. The Tahari gown with metallic treatment is a statement piece with cowl neckline and the right amount of flare. If you want to make an entrance, go rockstar-chic in full-length metallic.
Shop the trend: Timeless Tea Length
Tahari ASL Floral Embroidered Dress
Matching Tahari ASL Chiffon available in aubergine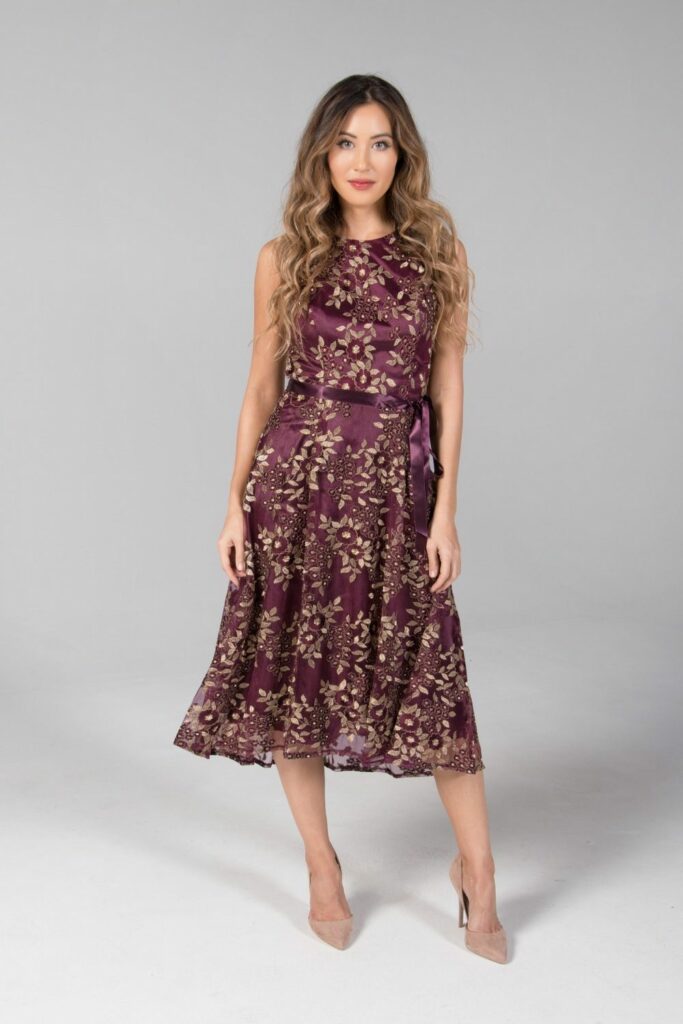 Fashion's common thread continues to be embroidery. The stunning gold detail added to the silhouette has instant appeal in timeless craft. Plus, it mixes with the season's hottest color – burgundy.  The Tahari tea length style is great for any occasion especially the work holiday party. A classic satin ribbon defines the waist and embroidered floral mesh. Sway this way in a mesh overlay that provides plenty of coverage. This style is available in petite and missy sizing.
Shop the trend: Jolly Jacquard
Adrianna Papell Floral Jacquard One Shoulder Gown

Jacquard fabric features a raised pattern that is woven (instead of printed) onto the fabric. Popular jacquard designs include damasks, florals, and geometrics. This season floral continues to be a red hot trend. Beautiful red floral jacquard is an elegant addition to the one shoulder Adrianna Papell gown. The ruffle styling adds just enough flare for any event. Gift yourself this gown. You'll love it.
Shop the trend: Moody Floral
Tahari Burnout Floral Tiered Dress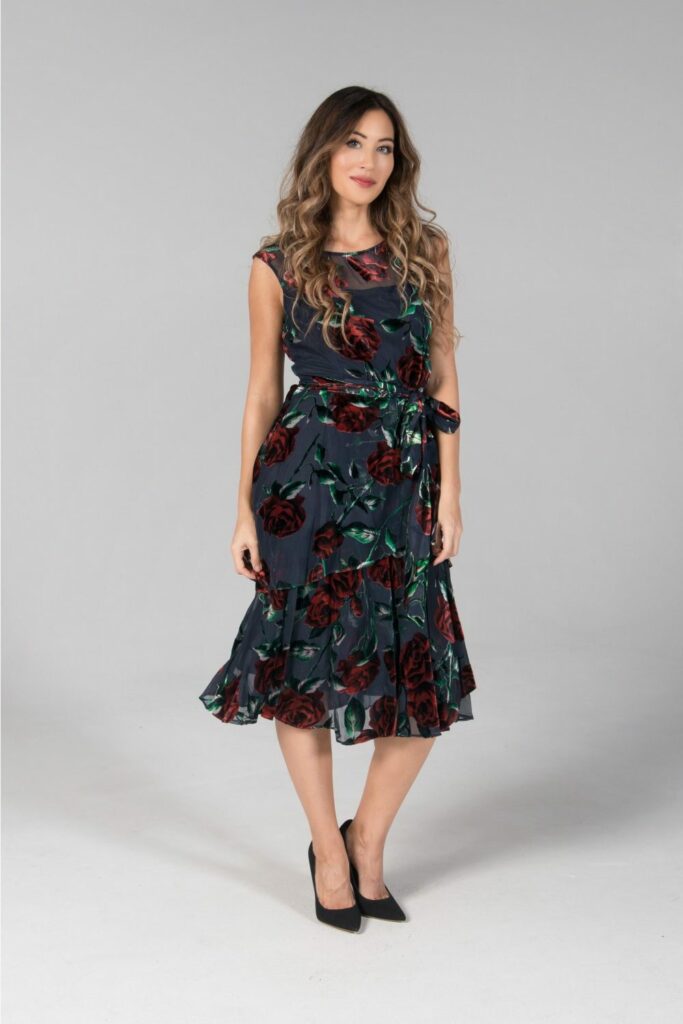 If you're looking for a dress to from desk to holiday party, slip into burnout velvet with a moody floral print. Resist the go-to little black dress and reach for a stylish blend of the season's holiday colors that you can take into midnight. You don't need to go any darker than this. Dark green and deep red colors mix with navy and all-over texture. An irresistible flounce hem with tiered skirt, tie-sash for a waist hugging fit, and illusion neckline wrap up the perfect Christmas day dress. The tea length silhouette from Tahari is conservative for any occasion and the trend to try now.
Shop the trend: Holiday Plum
Xscape Beaded Illusion Neck Ruched Gown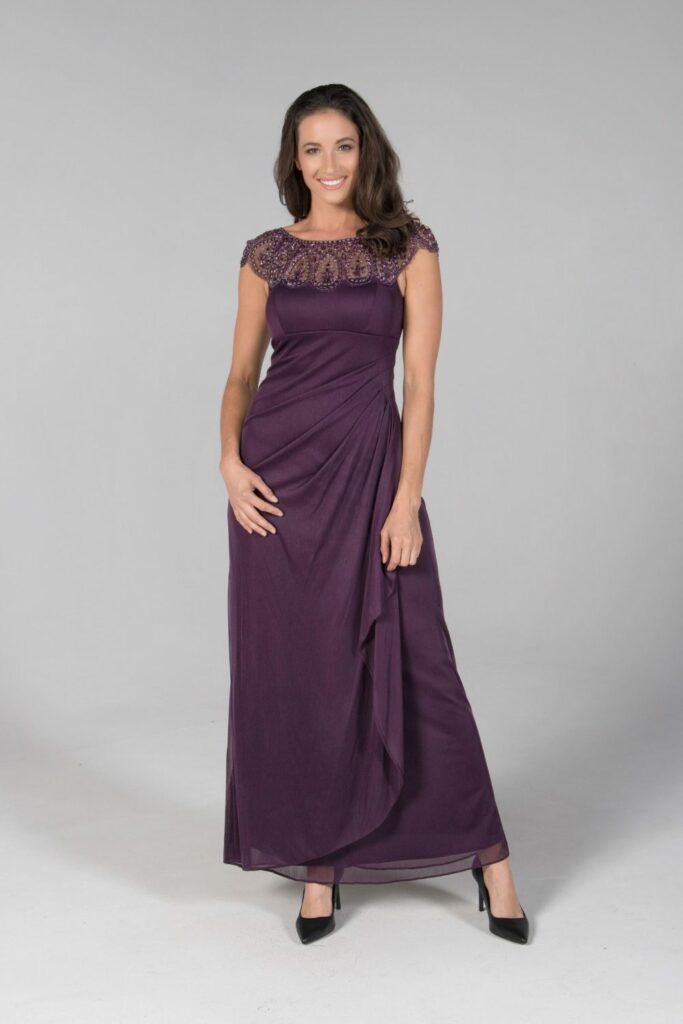 Ultra Violet is the 2018 Pantone Color of the Year, and there is still time to get in on the trend. It's "An enchanting purple shade that offers designers versatility of expression," per its press release. The shade represents "our shared desire for deeper understanding in an increasingly complex landscape, and our eagerness to experiment to reach that level". For the holidays, a deep purple evening gown is ultra-stylish and more appropriate for season's festivities – especially with sparkle and shine. Get an effortless glamour look with an embellished illusion scoop neckline complemented with cap sleeves. Skip the necklace because the beaded decor  accents your décolletage. If you're looking for a figure flattering gown that isn't a bodycon silhouette select a style like this with side ruching. The style is available in missy and plus sizing.