Lindsay Lohans notorious and tearful trip to the big house may be just the thing to help her fledgling fashion empire.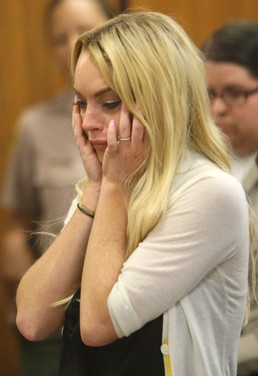 Lohan was all about tears Tuesday as she was sentenced to 90 days in jail for violating terms of her probation for driving under the influence of drugs in 2007. Her recent stint on Bravo's Double Exposure reality show featuring photographers Markus Klinko and Indrani shooting her for her 6126 apparel line gave Lohan a boost in the right direction
(SIDE BAR: this episode is a must watch if for no other reason to see Lohan keep the dynamic duo waiting and revel in her snappy remarks to the often pouty and babyish Uber photo team) and now…the jail time may even boost sales more.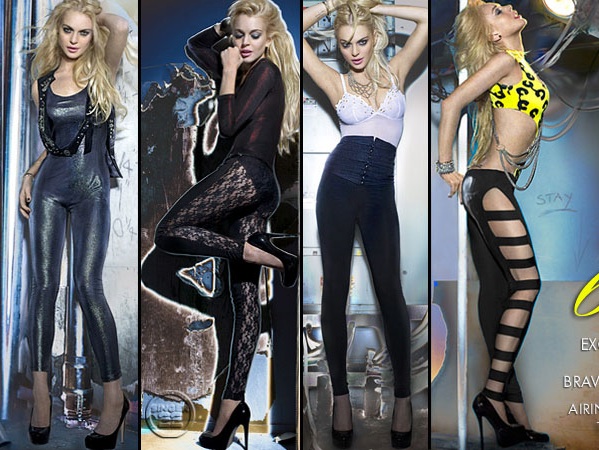 The collection, which hits stores this month, has estimated annual sales of $3 million and with all the hoopla, who knows if that will increase. In the celebrity obsessed culture it seems that scandal only fuels the fires, hello Paris, Nicole, Tiger….so if Lindsay actually reforms, recovers or shows any sense of remorse it's a sure bet that fans may get behind her, rooting her on and laying down hard cash at the counter. There are a some cute pieces for the forward fashionista from mostly leggings to draping tees and form fitting skirts.
"Lindsay has mind share right now, so people will be interested to see what the merchandise looks like," said Jeff Vansinderen, a senior retail analyst at B. Riley & Co to WWD. "Times are tough right now in the retail environment and if I'm a retailer, I'm going to put the merchandise out there and try to sell it.
Lohan had some very well-chronicled difficulties in her collaboration with Emanuel Ungaro when the French fashion house appointed her as the artistic adviser to work with chief designer Estrella Archs on her debut collection in October. Needless to say the collaboration didn't fly and both Lohan and Archs parted ways from Ungaro.
Personally I have to say I am pulling for LiLo to get her stuff together. The girl clearly has some talent but who can remain any shade of normal considering the circus environment in which she was brought up. I'm not so sure that I would be the picture of togetherness if I had a fame seeking- spotlight craving Mom and my Dad had strewn all my dirty laundry front and center for the world to see… okay I digress, I will remain a lady and refrain from all other forms of mud-slinging., wishing you the best La Lohan!