This past year was full of crazy nail trends from the caviar nail to the galaxy mani. Being that we are only a few months into the New Year I had not given much thought to the whole nail scene, that is, until the weather hit 80 degrees and I realized that I would soon be wearing sandals! This realization sent me into an mani-pedi frenzy in which I scoured the interwebs for this year's must-do nail trends.
Glamour came up with 15 manis to try from the spring runways and I'm on board with the Ultra-Shiny Metallics: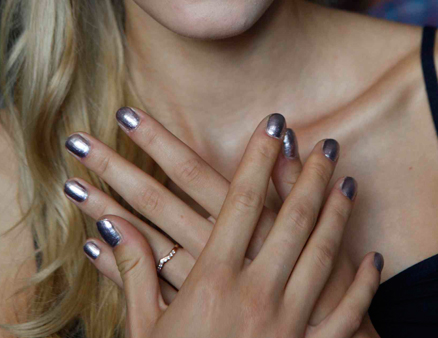 Purple metallic nails with an unbelievable sheen were the name of the game at the Erin Fetherston show. The color used here?Butter London's Lillibet's Jubilee.
Another great and easy (because in my world if it isn't easy it isn't happening) is the Diagonal Pop of Color: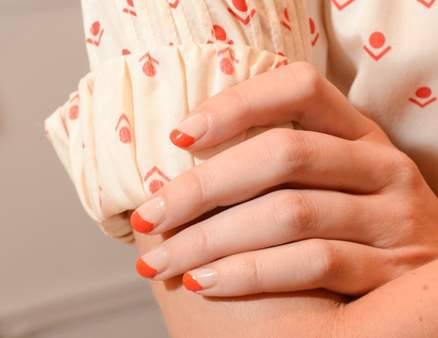 As our blogger Petra put it, the nails at the Lauren Moffatt show were "a cross between bright contrast tips—which are getting kind of played-out too, no?—and color-blocking." All you have to do to copy it is place a piece of tape diagonally across the tip and paint 'em in a bright hue!
It may be the season for eye-poppingly bright colors, but the runways and the stylists are telling us something different. Refinery29 tells us why we should get in on the nude mani trend: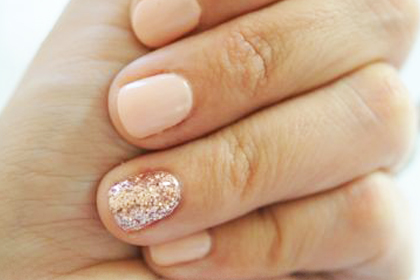 Photo: totalbeauty.com
We know, we know: Nude nail polish as a trend is not exactly earth-shattering news. It's been around since what feels like the dawn of time (or at least the dawn of nail polish), but what strikes us as unique this season is the way it's being used. As nail art fatigue starts to settle in, many nail artists turned to simpler nude and earthy hues for nails, throwing in some fun metallic finishes for added interest. The array of tans, browns, and cocoas hitting shelves this month is mind-boggling.

One of our favorite beauty tutorial sites, Thebeautydepartment.com, tells us how to use our favorite marker to accomplish a super cool and totally cute chevron mani. Remember when you used to take marker in grade school and give yourself an impromptu mani while listening to your boring teacher drone on and on about social studies? Well, you may have had it just right. The ladies at TBD used sharpie markers to accomplish this look.
The steps to this are pretty simple:
Start by prepping your nails with a bright color as a base– try hot pink, coral or green. I used THIS ONE. You don't want to do this on bare nails because it could stain. I waited about 2 hours for the green to really harden so that there wouldn't be any "sticking" when I was using the pens. If you have time to let the color dry over night that's even better!
1. Using your Ultra-Fine tip Sharpie, make a zigzag pattern horizontally. You don't want it to be overly pattern-y. Might sound silly but I tried thinking of an electrocardiogram pattern from when a doctor is looking at your heartbeat.
2. Follow the ultra-fine pen with your Sally Hansen nail art pen.
3. Next use your gold metallic Sharpie in between.
4. Last, take your topcoat and slowly add a layer. The lines will smudge into each other creating the look. Wait for that first topcoat to dry entirely before adding another if desired. You'll want to wipe off your topcoat brush each time as it will get a little color on it. I used polish remover and a paper towel.
If you want to see a short video clip on running the topcoat over, you can see it on our Vine! We're "The Beauty Department".

By Kristianne Young