Maybe it's just me, but sometimes it seems like Phoenix restaurants close a bit too early, right when I'm wanting that late-night snack (OK, full-on meal). These late-night Phoenix restaurants will assuage your midnight craving, from a classic cheeseburger to quality ethnic fare.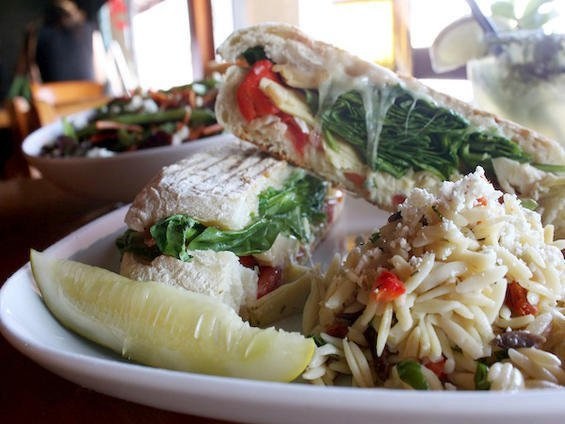 Panini with side of orzo at Carly's Bistro
Carly's Bistro
Set right in the heart of the Roosevelt Arts District, Carly's is a favorite among downtown Phoenicians. From light fares, like hummus dip and olive tapenade, to something more filling, like the Europa sandwich, stuffed with roasted red peppers, artichoke hearts, tomatoes and spinach with smoked mozzarella on crispy ciabatta bread, there is something for any witching hour belly.
Hours: Monday thru Friday 11:00 a.m.-midnight / Saturday, 9:00-2:00 a.m. / Sunday, 9:00 a.m.-midnight
Petite Maison
Enjoy the night dining on traditional French cuisine like escargots, and steak frites in the cozy wood-paneled dining room and bar, or outside on the garden patio.
Hours: Tuesday thru Sunday, 5:00-10:00 p.m. (Dinner) / Thursday thru Saturday, 10 p.m.-midnight (Staff Meal)
Delux
Known for its burgers across town, the "Classic" Delux boasts flavorful Niman Ranch beef dressed with cheese, lettuce, tomato, onions and pickle on a brioche bun. Don't forget to order a side of mixed sweet potato fries, served in a cute mini shopping cart.
Hours: Open until 2 a.m. daily.
Four Peaks Brewing Company
Although the signature Kilt Lifter brew is worth the trip by itself, the food at Four Peaks is incredible. Indulge in delicious bites like spanakopita, chicken chile cheese rolls and beer-breaded sandwiches. Note: You must be 21 and over to enter.
Hours: Open until 2 a.m. daily
Jobot
It's your pick between sweet and savory. Serving up crepes and coffee, this downtown Phoenix walk-in is comfortable goodness. Savory crepe options include swiss cheese, fresh spinach and house honey mustard, while sweet crepes boast classic Nutella banana or inventive sweet ricotta with toasted almonds and chocolate chips. Also be sure to check out Nachobat next door; true to its name, the place serves up cheesy nachos with the same hours as its neighbor.
Hours: Monday thru Friday, 7 a.m.-midnight /  Saturday & Sunday, 24 hours.