The almighty cronut has descended upon Phoenix. What started as an unassuming marriage of a croissant meets doughnut in a New York City bakery has turned into a nationwide phenomenon.
Chef Dominique Ansel of Dominique Ansel's Bakery in New York's SoHo neighborhood spent a couple of months in the kitchen before perfecting what he dubbed the cronut: a deep fried croissant that's shaped into a circle, rolled in sugar, filled with cream and decorated.
Now, at least two Valley bakeries are serving up their own versions of the cronut, and it's proven to be a quick-selling hit.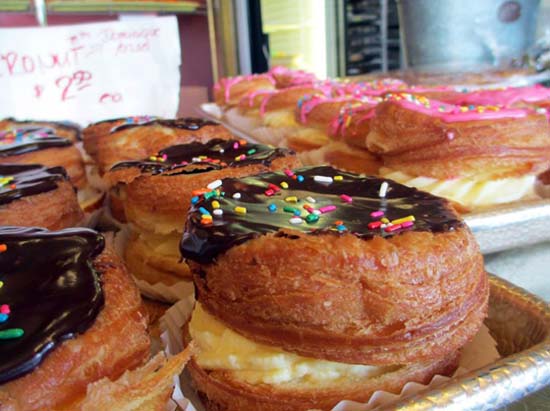 "Kronuts" at Karl's Quality Bakery
Karl and Christine Boerner over at Karl's Quality Bakery in Sunnyslope call their version of the trendy treat the "kronut."  Instead of croissant dough, the father-daughter pastry chef team opts for buttered up doughnut dough.
For $2.50 each, customers can grab and enjoy either Karl's kronuts filled with vanilla pudding and topped with vanilla or chocolate icing, or Christine's lemon cream-filled number coated with basil and sugar.
"Croissandos" at Victorian Cake Company
Meanwhile, Sheri Cahn of Victorian Cake Company & Candyland Cupcakes in Phoenix improvised with her creation of the "croissando." Placing more emphasis on the croissant side, Cahn folds loads of butter into traditional croissant dough until it flakes just right. Pastry cream and sprinkled sugar are the finishing touches. Each croissando takes two days to make and costs $5.00.
As noted on Victorian Cake Company's Facebook page, the bakery sold out 50 croissandos in less than two hours on July 6.
Lesson learned: If you're looking for cronuts in the Valley, get to these sweet spots competitively early.
For more information:
Karl's Quality Bakery
8847 N. Seventh Ave., Phoenix
Monday-Friday: 6:00 a.m. – 6:00 p.m.
Saturday: 6:00 a.m. – 5:00 p.m.
602-997-7849
Victorian Cake Company & Candyland Cupcakes
402 E. Greenway Parkway, Phoenix
Tuesday-Friday: 10 a.m.-6 p.m.
Saturday: 9 a.m.-5 p.m.
602-246-4633, victoriancakecompany.com