Beautiful weather pairs perfectly with outdoor spring food festivals in Phoenix.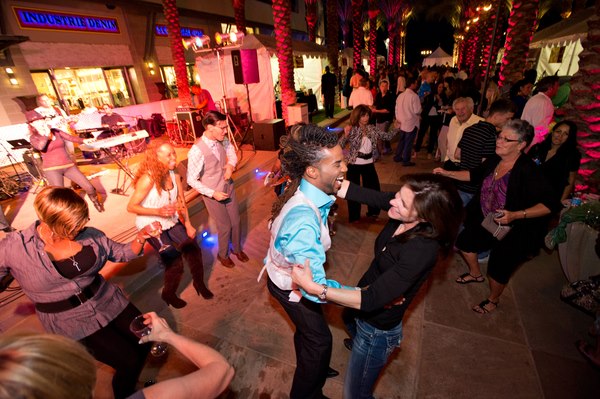 Guests enjoy the Arizona Wine and Dine festival
What: Arizona Wine and Dine
Arizona's premier chefs from top restaurants and resorts join together to showcase their fine wines and craft beer that is paired with delectable dishes for guests under the star-studded night sky.
When: April 4, 2013, from 5:00 – 8:00 p.m.
Where: Scottsdale Quarter
For tickets and more info, visit azwineanddine.com.
What: Scottsdale Culinary Festival
Get ready for nothing but six fun days of food, wine and music. 2013 marks the 35th anniversary of the festival, which is the longest-running event of its kind in the country. Feast from a diverse menu of luxurious dinners, themed cocktail parties and the Great Arizona Picnic, which features 50 restaurants, chef demonstrations, live local bands and specialty tasting venues.
When: April 9-14.
Where: Various locations
For tickets and more info, visit scottsdalefest.org.
What: Arizona Barbecue Festival
Sample food (think brisket, pulled pork and ribs), listen to live music and hit up the Bacon Zone.
When: April 20, 2013, from 11:00 a.m. – 9:00 p.m.
Where: Salt River Fields at Talking Stick
For tickets and more info, visit azbbqfestival.com.
What: Schnepf Farms Peach Festival
Fun for the whole family, pluck peaches right off the branch and eat 'em. The event also includes a peach pancake breakfast, rollercoaster and giant slide, among other rides, and a peach pie eating contest. Peach goods fresh from the farm are also available for sale throughout the day.
When: May 18th, 19th, 25th, 26th, 27th from 7:30 a.m. – 4:00 p.m.
Where: 24810 S. Rittenhouse Road, Queen Creek, AZ 85142
For more info, visit schnepffarms.com.