You're dazzling in the perfect New Year's outfit, surrounded by loved ones and at one of the best New Year's Eve parties, yet might be missing that extra sizzle. Buzz in the new year in style with the classic accoutrement of a chic glass of champagne with a twist.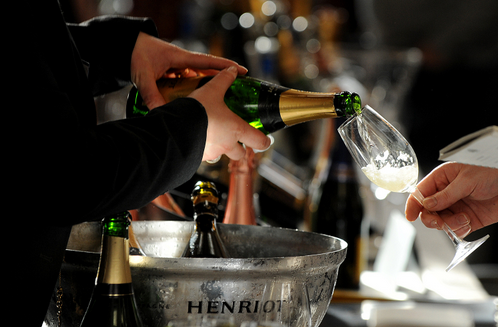 1. Sorbet and Champagne Cocktail
The classic Champagne cocktail is updated with sorbet in place of the traditional sugar cube and bitters. Use raspberry, passion fruit, lemon, or whichever sorbet flavor you prefer.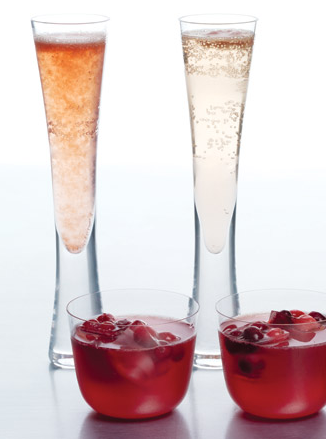 Ingredients:
1 teaspoon sorbet (we like raspberry or passion fruit)
Chilled Champagne or Prosecco
Directions:
Scoop sorbet into a champagne flute. Fill with chilled Champagne or Prosecco; stir.
2. Thyme Bomb
Your stem glass of champagne gets dolled up with some sweet agave and pomegranate juices with a hint of thyme.
2 oz Blanc de Blanc Champagne
.75 oz Gran Classico
.5 agave juice
.5 oz pomegranate juice
1 thyme leaf
.5 oz lime juice
Directions:
Combine Gran Classico, pomegranate, and lime juice into a shaker.
Pinch and slide thyme leaves into the mix. Follow by shaking a few times.
Strain mixture into a flute.
Top the cocktail with Blanc de Blanc Champagne, and garnish with thyme.
3. Red Currant-Champagne Cocktail
A few spoonfuls of tart red-currant puree add brightness to this easy, elegant cocktail.

Ingredients:
2 tablespoons Red Currant Puree, chilled
Champagne, chilled
Directions:
Place red currant puree in a Champagne flute. Slowly pour over Champagne to fill. Serve immediately.
4. Lemon-Drop Champagne Punch
Simple syrup infused with lemon zest adds aromatic sweetness to this punch made of vodka, lemon juice, and a bottle of Champagne.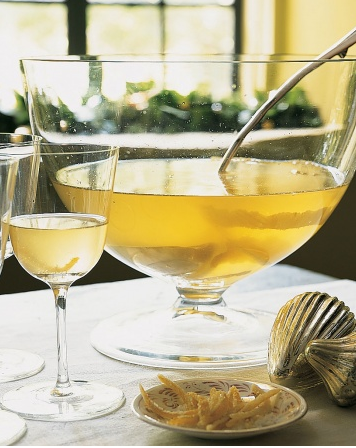 Ingredients:

3 lemons, room temperature
1/2 cup sugar
1 bottle (750 milliliters) Champagne, chilled
3/4 cup best-quality vodka, chilled
4 ounces candied lemon peels
Directions:

With a vegetable peeler, remove zest from each lemon in a long, continuous spiral. Juice lemons, and strain pulp (you should have 3/4 cup juice). Set aside.
Heat sugar and 1/2 cup water in a small saucepan over medium-high heat, stirring until sugar has dissolved. Bring to a boil. Remove from heat. Add zest. Let syrup cool completely, about 2 hours.
Pour Champagne, vodka, lemon juice, and syrup into a punch bowl; stir. Serve glasses of punch with candied peels.
5. Vanilla Charentais
Champagne mixed vanilla-infused brandy is highlighted with a hint of herbed rosemary honey and topped off with drizzled lemon for a tart twist.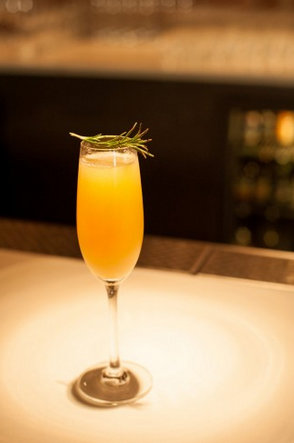 Ingredients:
2 oz Brut Champagne (we used Veuve Clicquot)
1 oz vanilla-infused brandy
.75 oz rosemary honey
1 rosemary leaf
.75 oz pear purée
.5 oz verjus
.25 oz lemon juice
Directions:
Pour the vanilla-infused brandy into a shaker.
Measure and add in the verjus, lemon juice, pear purée, and rosemary honey.
Pinch and slide in the rosemary leaves. Then, add ice and shake things up!
Strain mixture into a flute, top with champagne and enjoy!