Just a stone's throw away from Postino Winecafé is the newest Craig DeMarco concept: side-by-side businesses Windsor, a neighborhood restaurant and bar, and Churn, an ice-cream parlor. Barely seen from the street apart from a freestanding bleak-colored sign, the treasure hides behind the old 1940s-era brick exterior of 5223 N. Central Avenue.
After dropping my car off at the free valet service, I meandered into the back entrance of Windsor for lunch and experienced a bit of déjà vu: the vibrant, high style atmosphere reminded me of Postino, but cozier. A friendly host seated me in a jet-black leather booth with a high wooden table. With overhead wood beams, worn cement floors and regal accents of black and olive green, the small L-shaped seating surrounds a centered bar as the focal point, giving a sense of comfort and community orient.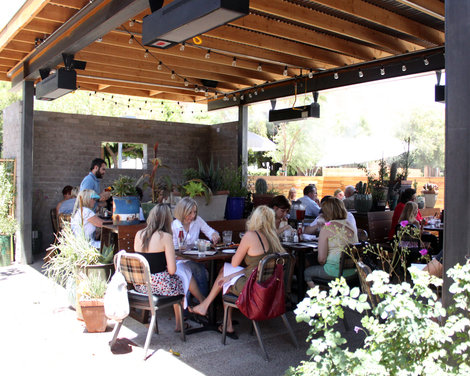 The outside dining patio at Windsor
The midtown Phoenix restaurant offers an all-day menu of glorified bar food comprised of delicious sandwiches and burgers ($9-$15), salads ($9-$10) and wine-friendly appetizers ($6-$10) that are easy to share with friends (or devour alone). The most in-depth study you'll encounter arrives with the cocktail and spirits menu that provides everything from the introductory aperitif, the finishing digestif or the complementary cordial.
I started out my meal with blueberry lemonade. Call me partial to anything in the berry family, but my dining companion will readily attest: the blueberry lemonade is a must, and I'm happy to relay that it is available at both Windsor and Churn.
The food at Windsor is classic enough to still be safe and satisfying but surprises you with a creative twist. Each main dish order comes with a side order such as fried okra, house chips or chopped Kale salad. I lunched on the Veggie Stack, a health nut's dream; a warm grilled pita with bean spread, pickled beets and black quinoa among other toppings, sprinkled with green goddess dressing and a side of the most heavenly golden Mac and Cheese.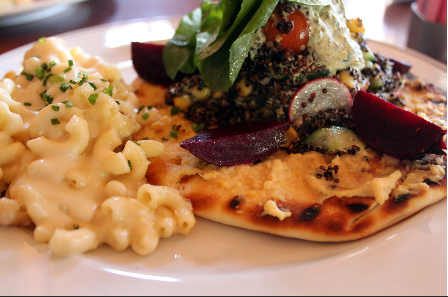 Windsor Veggie Stack with side of Mac & Cheese
My food accomplice dined on the Windsor-style Backyard Burger topped with sharp cheddar, shredded iceberg, garlic aioli, tomato and caramelized onion, noting that it was good, but just another burger. A side of Jo's Church Potatoes was the redeemer to his meal. Another friend lunched on the Brown Bag Chicken Sandwich with a side of Savoy Cabbage Cole Slaw. While the coleslaw was mediocre, the pulled chicken sandwich had just the right bite with the crunch of toasted hazelnuts, dried tomatoes and herbs.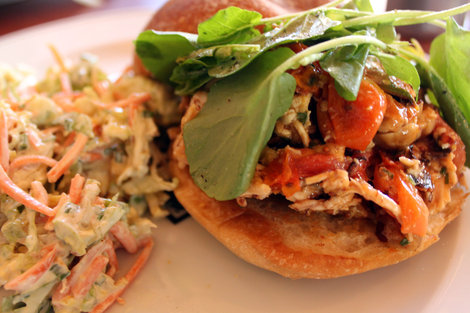 Windsor Brown Bag Chicken Sandwich with side of Savoy Cabbage Coleslaw
After feasting on the main course at Windsor, we moseyed over to Churn, through the connecting hall, tiled with old cassette tapes. Bright and white, tailored with swirled marble counter tops, Churn also sports a pleasing interior with a color scheme of red, white and gray, reminiscent of a vintage soda fountain.
The eight homemade ice-cream flavors stick to the basics, such as vanilla, chocolate, butter pecan and marble fudge. Don't be fooled by anything plain or simple, for the vanilla and butterscotch flavors were the perfect blend of sweet and salty.  Personalize your choice ice cream with select toppings like gummy bears and mini M&Ms or request an ice-cream sandwich, created with two Churn-made cookies. Muffins, scones and daily pastry specials adorn the counter, along with classic candy favorites like Wonka Nerds.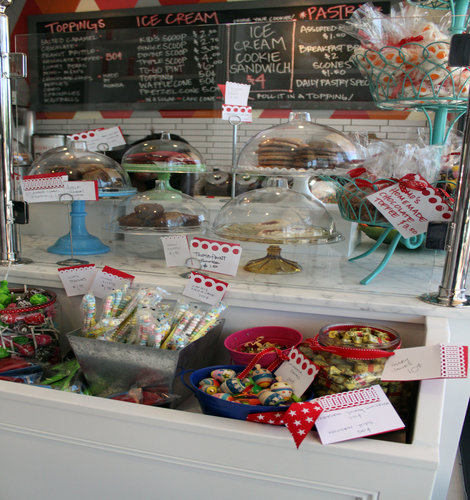 Churn interior
If the food and atmosphere weren't good enough, Windsor and Churn are light-rail accessible from the Camelback and Central station. Plenty of bike racks are available in the back between the two eateries as well.
If there were any suggestion for Windsor, it would be to have an entree-sized Mac & Cheese available.
I decided to revisit the following evening, snagging a latte from Churn made with Miscela d'Oro espresso. I was surprised to learn only 2-percent milk was available, but a scoop of toasted coconut ice cream and a coconut macaroon more than compensated.
How sweet it was.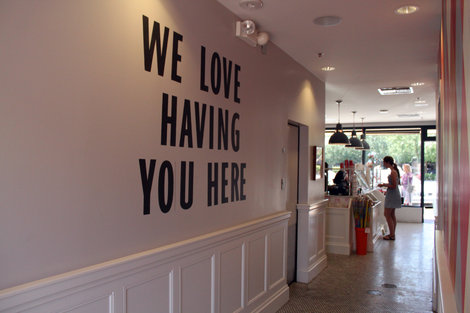 Churn interior side wall
Details:
Windsor, 5223 N. Central Ave., Phoenix. 11 a.m. to 11 p.m., daily. 602-279-1111, windsoraz.com
Churn, 5223 N. Central Ave., Phoenix. 6:30 a.m. to 10 p.m., daily. 602-279-8024, churnaz.com
Photos by Evie Carpenter