Unwind after a long day or catch up with friends on a weekend with some of the Valley's best drinks and bites at can't-beat prices.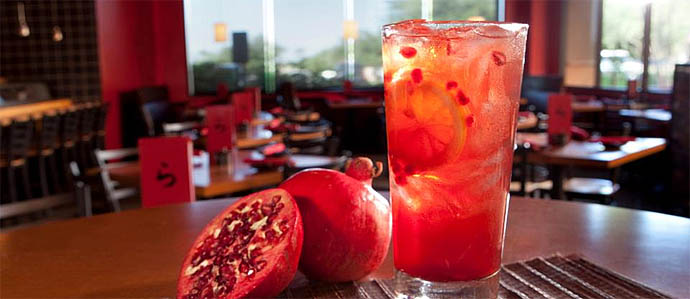 Caffe Boa
4-7 p.m. daily: Happy-hour fare at this upscale Mediterranean wine bar includes bruchettas and pastas. Build a meal from reduced-price appetizers and small bites at the bar, half-off glasses of wine, $2-off premium drafts, $2-off premium draft wine and $2-off signature cocktails.
398 S. Mill Avenue, Tempe. 480-968-9112, cafeboa.com.
RA Sushi
3-7 p.m. Monday-Saturday; Flying Fish Lounge, 8-11 p.m. Sundays : Enjoy not only happy hour every weekday, but happy hour on Saturday! Sip on domestic beers for $3, imports for $4, well drinks for $5, specialty drinks for $6 and sake bombers for $7. The special happy-hour menu includes sushi, tapas and appetizers from $2 to $7.
Five Valley locations. rasushi.com.
Gallo Blanco
3-6 p.m. daily; all day Tuesdays: Enjoy select wines for $5 and select beers for $3 in Gallo Blanco's hip atmosphere daily, with Tuesdays being extra special with happy hour offered all day long. Appetizers, including quesadillas, queso fundido and guacamole, priced at $6 and less; tacos, in varieties including carne asada, halibut, cochinita and shrimp, all priced at just $1.50-$2.50.
Claredon Hotel, 401 W. Clarendon Ave., Phoenix. 602-327-0880, galloblancocafe.com.
SOL Mexican Cocina
3-6 p.m. daily: New to the Valley scene, this upscale Mexican cocina offers its handcrafted House Margarita for $5, and the low-calorie Skinny Margarita is $6.50 during its daily happy hour. Bottled beer is $3.50, well drinks are $5.50 and wines by the glass are $3 off. Be sure to also check out the food menu for further specials.
Scottsdale Quarter, Scottsdale Road and Greenway-Hayden Loop. 480-245-6708, solcocina.com.
RnR
3-7 p.m. daily: The two floors of outdoor patio seating at this Oldtown hangout offers half off draft beer, well, call, wine and margaritas during happy hour. Great food is also on special with select small plates like animal fries, ahi tacos or veggie tacos priced at $5.99.
3737 N. Scottsdale Road, Scottsdale. 480-945-3353, rnrscottsdale.com.
Source: azcentral.com.