With temps tipping triple digits this weekend, relax and cool down with some booze-infused summer desserts that are easy to make and even easier to enjoy.
Ingredients
3/4 cup sugar
1/2 cup hot water
1/4 cup orange juice
1 16-ounce bag frozen sliced peaches, thawed, juices reserved
1 cup chilled Prosecco or other sparkling white wine
Preparation
Stir first 3 ingredients in medium bowl until sugar dissolves. Blend peaches and reserved peach juices in processor until peaches are finely chopped. With machine running, gradually pour in sugar syrup; process until smooth. Add Prosecco and blend well. Transfer mixture to container. Cover and freeze until firm, at least 3 hours.

Apple Croustades with Brown Sugar-Bourbon Ice Cream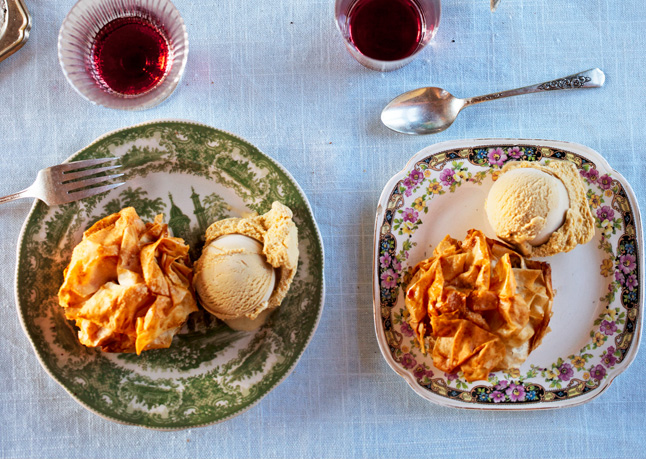 Ingredients for Filling
1/2 cup sugar
1/4 cup (1/2 stick) unsalted butter
1/2 vanilla bean, split lengthwise
3 pounds large Honeycrisp apples (4–5), peeled, cored, cut into 1/2-inch cubes
1 1/2 tablespoons brandy (optional)
1 tablespoon fresh lemon juice
1/8 teaspoon kosher sal
For full recipe click here.
Pink Grapefruit, Strawberry, and Champagne Granita with Sugared Strawberries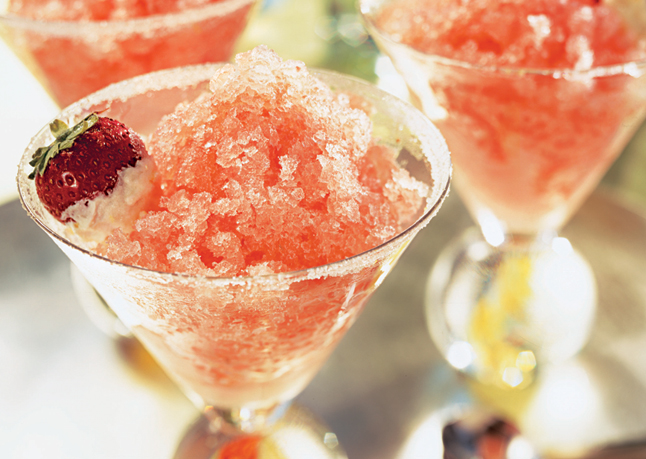 Photo by Scott Peterson
Ingredients
1 1/4 cups sugar, divided
3/4 cup water
1 cup small strawberries, hulled (about 6 ounces)
3/4 cup fresh pink or ruby grapefruit juice
2 1/4 cups chilled brut Champagne
1 1/2 teaspoons grated lemon peel
9 teaspoons mascarpone cheese
18 whole small strawberries
For full recipe click here.
Photo by Romulo Yanes
Ingredients
1/3 cup sugar
1 3/4 cups fresh orange juice
1/3 cup Campari
1/4 cup fresh lemon juice
Preparation
Bring sugar and 1/2 cup water to a boil in a small saucepan over high heat, stirring until sugar dissolves. Transfer syrup to a medium pitcher; chill until cold, about 1 hour.

Stir all remaining ingredients into syrup. Divide among molds. Cover; insert ice-pop sticks. Freeze until firm. Dip bottoms of molds into hot water for 20-30 seconds to loosen pops. Remove pops from molds and serve