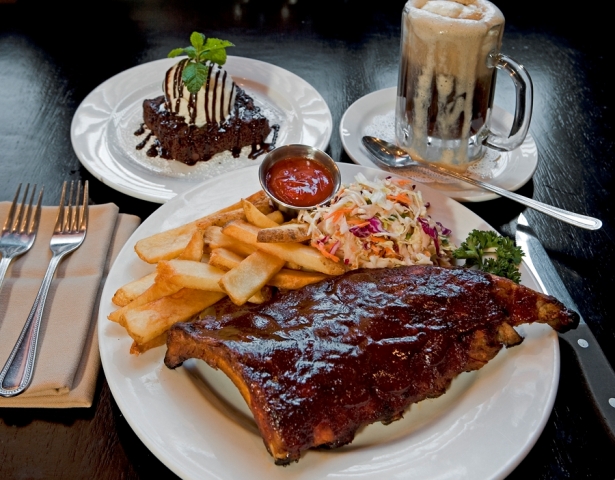 The Valley is full of amazing, sleek steakhouses. However, The Stockyards Restaurant & 1889 Saloon offers something a bit different. The Phoenix-area steakhouse doesn't just pay homage to the wild, wild west. It actually was part of the wild, wild west. Stockyards, which is considered an Arizona landmark, was once located next-door to the largest feedlot in the world. It is even on the National Registrar of Historic Places and the City of Phoenix Historical Registrar. There are no sweeping views, floor-to-ceiling windows or high-end furnishings. Instead, you'll get rustic chandeliers, a gorgeous pressed-tin ceiling and 50's-era murals on the walls. The restaurant delivers a peek at the days of yore–with great, hearty food to top it off.
First of all, before you even have a moment to look at the menu, you receive a basket full of amazing cornbread muffins (not kidding, amazing) and yummy buscuits, alongside cinnamon butter. So good! Plus, you also get a serving a veggies–maybe so you don't feel really, really bad eating three muffins covered in butter? Stockyards is known for its wonderful game dishes and my favorite was the wild boar and venison sausages with apple-cranberry chutney. I'm pretty sure the chef should bottle up and sell the sweet-tart chutney. It reminded me of Thanksgiving–a welcome feeling in August, for sure.
For the main event, we ordered a half-rack of the sonoran-sauced barbecue ribs. The meat fell right off the bone (and it made great leftovers the next day for lunch). The portion was so huge, we were scared to see was a full-slab looked like. We also took advantage summer dinner specials by ordering the baked orange roughy with tequila-lime butter and rice pilaf. (The summer special menu features several entrees, like a spinach salad with grilled raspberry chicken and prime ribs, for a mere $25.) While the rice was almost a little too fluffy, the fish and its sauce were out of this world. The fish was flaky and the sauce had a bit a tang–very good. Much like the ribs, there was plenty of the fish to go around as well. (Entrees are also paired with a soup and salad.) When dessert time rolled around, there was one thing on our minds: Stockyards' Thomas Kemper Draft Root Beer Float. Though you can get it with Jack Daniels, we opted for strictly root beer and it really hit the spot. 5009 E. Washington St., Phoenix, 602.273.7378, http://www.stockyardsrestaurant.com/.