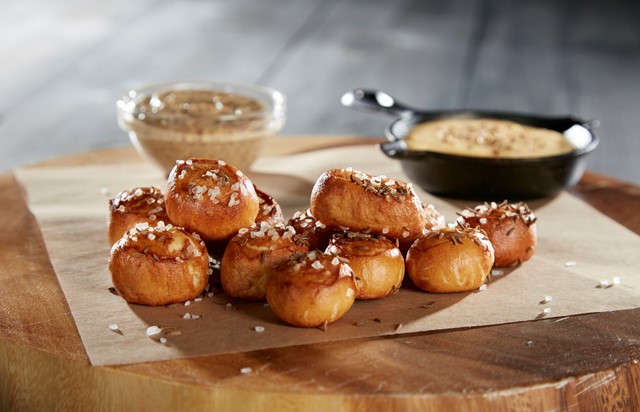 Isn't it the best when a beer-centric restaurant also happens to have killer food? Such is the case with The Phoenix Ale Brewery Central Kitchen. The restaurant is a collaboration between The Phoenix Ale Brewery, and Rich Stark, who is the former CEO of NYPD Pizza. The gastropub, which is over a year old, not only boasts a incredible list of brews from Phoenix Ale, including favorites like Biltmore Blonde and Orange Peel IPA, but its dishes go beyond the typical, just-OK bar fare. And many of the dishes feature Phoenix Ale beers, to boot!
Diners will first notice the comfortable, laidback atmosphere of the restaurant, found in Uptown Phoenix at the Crown on 7th. If the weather is right for patio dining, this restaurant has a great one. Otherwise, grab a seat at one of the communal high-top tables in order to make a friend or two while you imbibe. (Heck, perhaps they will take part in the super-cool Buy a Buddy a Brew program and you'll have a pint ready for you the next time you pop in!)
A meal at Central Kitchen simply can't commence until there is a helping of Pretzel Bites on the table. Though these golden nuggets are delicious, the magic comes in when paired with Biltmore Blonde cheese fondue and house-made, tangy Ironwood Porter mustard (they should bottle this stuff). A natural food fit for a brewery restaurant is the Alaskan cod and chip. The Biltmore Blonde-battered wild cod is flaky, light and crispy, paired with creamy cilantro slaw and seasoned fries. A dish that might not be as expected is the root beer-brined and smoked pork shoulder tacos. The assemble-your-way tacos includes a large helping of flavorful, shredded pork shoulder, corn flour tortillas, agave onions, whipped avocado, fire-roasted salsa, cilantro, cabbage, Camelback IPA-pickled jalapeños and cowboy caviar, which is a black beans, corn peppers, cilantro and lime.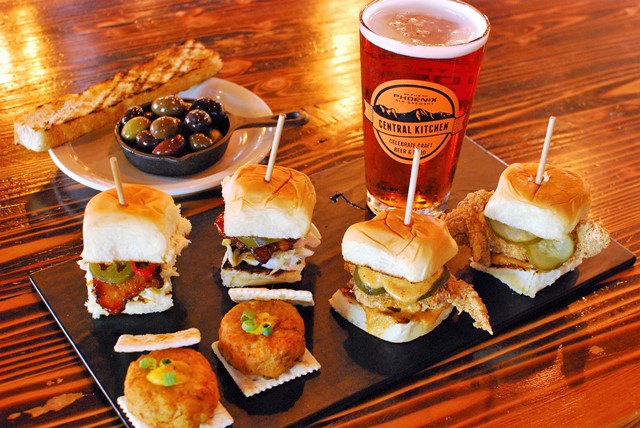 A must-order at Central Kitchen is a slice of Black Iron pizza. Years ago, Stark's aunt and uncle owned a popular pizzeria that served skillet pizzas that didn't have the traditional crust "handle" along the edge. Instead, the ingredients topped the entire pizza so that they would envelope the sides and even bottom of the crust to create a crispy, lasagna-like affect. Stark tried to recreate these pizzas of his childhood with Central Kitchen's lineup of thin-crust, square pizzas that are baked and served in a black iron pan. Meat lovers will adore the Brew Master with house sauce, smoked mozzarella, pepperoni, sausage and bacon. Though the crust is thin, it still has a welcome bit of chew to it. (We won't judge if you have to throw an elbow or two to get a crisped corner slice.)
If a slice of the Brew Master pizza wasn't decadent enough, stick a spoon in the Ironwood Porter brownie. The warm, ooey-gooey brownie is topped with vanilla gelato and caramel and chocolate sauces–basically, what dreams are made of.